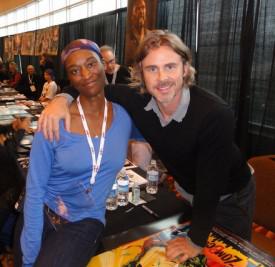 ZomBcon staffer, Tamar Bains, poses with True Blood's Sam Trammell
Record numbers of horror-loving fans turned out last weekend for the original ZomBcon in Seattle. In a unique environment, fans of horror and science fiction came together in one zombie-fied groan of love for the genre.
HBO's True Blood made an appearance with shape-shifting character Sam Merlotte, Sam Trammell, who posed with fans and hosted a Q&A.
ZomBcon staff member Tamar Bains had a chance to hang with the star, "He was really nice and laid back even though he's a big star in Hollywood." At his panel he discussed what it's like to shoot in 15 days per episode, versus the regular 8 days that other shows shoot. He also said that because of the amount of characters on the show and story lines, he doesn't get a lot of time to interact with the cast… which keeps the tension down between the stars on set.
Rounding the three day event out was a party theme, "Prom-of-the-Dead," in which folks showed up dressed for their High School Prom – but with a twist. Some were inspired by Halloween while others just love to dress up year round at events like this. For those who do participate year round, its called Cosplay and thousands of people (maybe millions) love to participate. For more photos of the event check the official ZombCon website soon.
source: culturemob.com