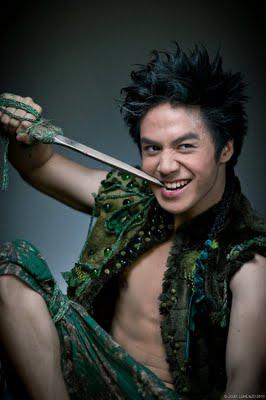 This September 29-October 30 at the Meralco Theater, teen star Sam Concepcion takes on the title role of Stages and Repertory Philippines' "Peter Pan."
"Peter Pan" marks Concepcion's theater comeback after starring in highly-successful shows like "NOAH," "High School Musical" and "The Lion, The Witch, and The Wardrobe."
This is the Asian premiere of this version of "Peter Pan," the spectacular musical by Stiles and Drewe and the late Willis Hall, that relives Sir James Barrie's timeless tale of the boy who never grew up.
"People tell me I am like Peter Pan because even if I am already 18, people perceive me still as that young boy who starred in that 'sinigang' mix commercial," says Concepcion. "I am thankful that I have been given this big opportunity to star in a grand production like 'Peter Pan.'"
Among his contemporaries, Concepcion may be the only one who can be considered a "triple threat," someone who can sing, act and dance exceptionally. This made him the early favorite and eventual winner in the ABS-CBN talent search "Little Big Star," the show that launched his career.
Aside from Concepcion, "Peter Pan" also stars Michael Williams as Captain Hook and ABS-CBN's rising star Tippy Dos Santos ("Idol," "Shoutout") as Wendy, with Cara Barredo as alternate.
"Peter Pan" also marks a milestone because it is the first time that Stages and Repertory Philippines are co-producing a show. The show will be directed by Menchu Lauchengco-Yulo and Jaime Del Mundo.
For interested blockbuyers and sponsors, please contact Stages at (02) 818-1111 loc. 225.