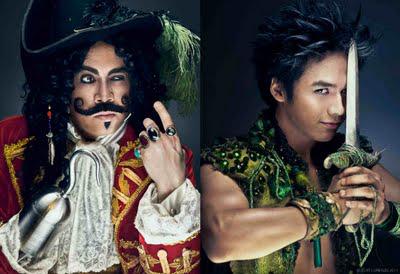 Singer-actor-TV host Sam Concepcion is set to star in Stages and Repertory Philippines' production of "Peter Pan," which goes onstage September 29-October 30 at the Meralco Theater. Veteran actor-director Michael Williams will play Captain Hook.
"Peter Pan" serves as Sam's musical theater comeback after headlining the successful run of High School Musical, where he played the role of Troy Bolton.
"I am excited to perform in a musical once again. After all, it has been around three years," shared Sam. "I am looking forward to all the flying scenes and performing all the wonderful songs from the musical."
"Peter Pan," the spectacular musical by Stiles and Drewe and the late Willis Hall, relives Sir James Barrie's timeless tale of the boy who never grew up.
Sam adds that this production, to be directed by Menchu Lauchengco-Yulo and Jaime Del Mundo, will not just be an enjoyable experience, but also an inspiring one.
"Peter Pan" also marks a milestone because it is the first time that Stages and Repertory Philippines are co-producing a show.
For interested blockbuyers and sponsors, please contact Stages 02-8181111 loc. 225.