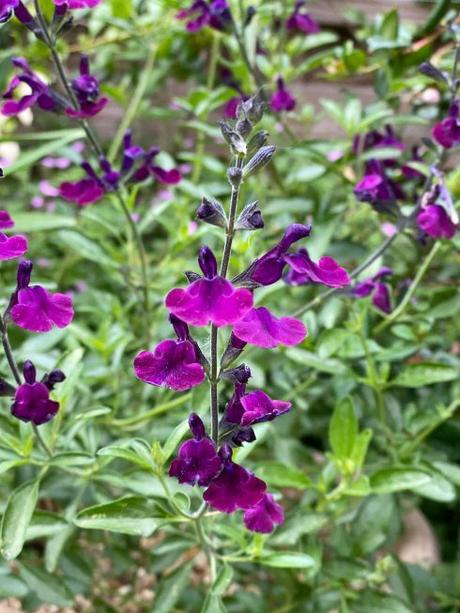 Salvias are just starting to flower in my garden and in a few of my client's gardens and it's the perfect time to add these to a border or plant in a pot or two. Usually I head down to a plant fair in Highgate (in North London) in May and pick up some gorgeous specimens from Dysons Salvia Nursery, but as  this couldn't take place this year, Dyson's have over 50 Salvias on offer on their mail order service. And their nursery (near Sevenoaks in Kent) has just opened again to the public. Hurrah!
Above is Salvia x jamensis 'Nachtvlinder', a most elegant plant (growing to about 75cm tall) and should you brush up against the leaves, a heady aroma of mint, sage and a touch of something spicy will delight your olfactory organs. The whole seeing and smelling experience combined is a delight. And while this plant is borderline tender, the plants above came from cuttings taken in autumn (by my lovely garden colleague @Lauraarison) and over-wintered in a greenhouse, so treated right, they're easy to propagate. In London they survive in a pot outside over the winter months, but with all the old growth left on until new leaves have started appearing in Spring.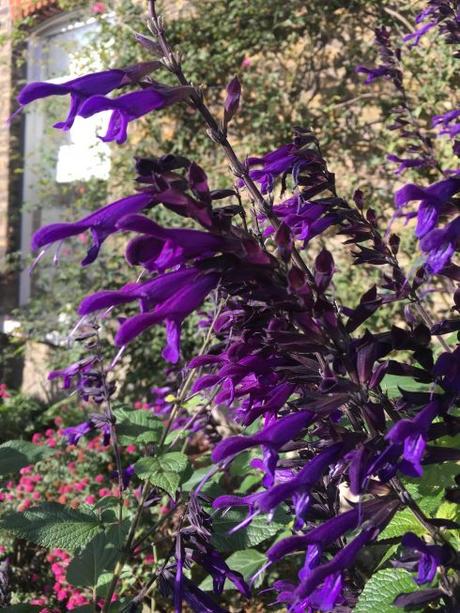 Likewise, I managed to kill off this meatier S. Amistad (above) the first year I grew it by cutting it right back in autumn, but now I know to leave well alone (well, until late Spring at least), these gloriously rich purple blooms appear for 5 to 6 months solid, from June and well into November and return year after year.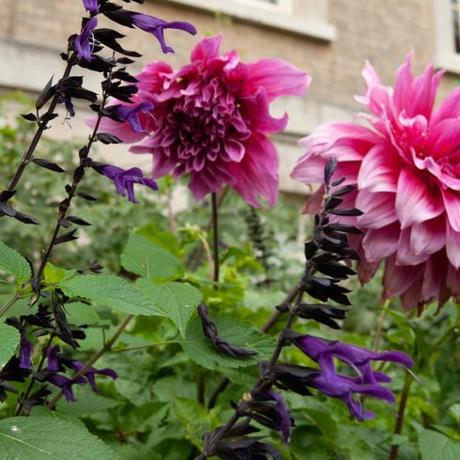 Growing to roughly 120cm tall, it's a superb splash of color in the garden and I love to surround it with deep orange Tithonias or giant red hot pokers, Kniphofia uvaria and here above @Innertemple  they're prefect companions for the riotous heads of Dahlia Emory Paul. By the way, I've hugely enjoyed the virtual garden tours of the Inner Temple Gardens on Instagram at 4pm every Wednesday with Sean, the head gardener, generously sharing his knowledge.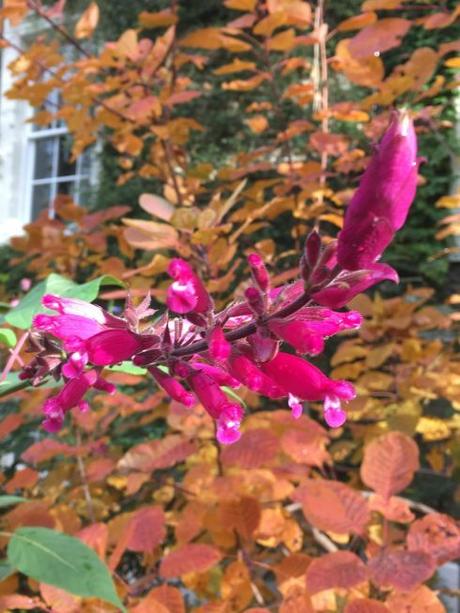 And if you have a larger garden (which sadly I don't!), you could grow this stunning Salvia involucrata 'Bethellii' which will occupy a chunky space of about 2 meters high and wide. Again the leaves are wonderfully scented and it flowers and flowers, right up until the end of November-shown here with a Cotinus in the background turning orangey-red in autumn. Eventually the long stems collapse after the first frost and are all cut back, but the plant is carefully mulched with a generous helping of manure to ensure that we see it in Spring again.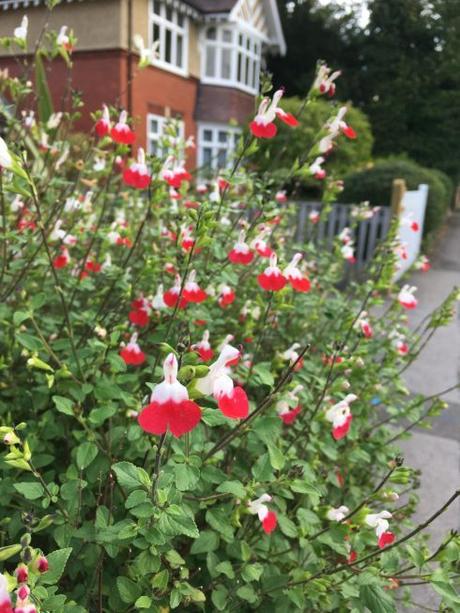 Then there's the ubiqitous S. Hot Lips. I'm definitely not a huge fan, but again, it pumps out color for months on end, and in London, it seems to be a s tough as old boots and can be hacked down in autumn with no concerns about its reappearance the following year.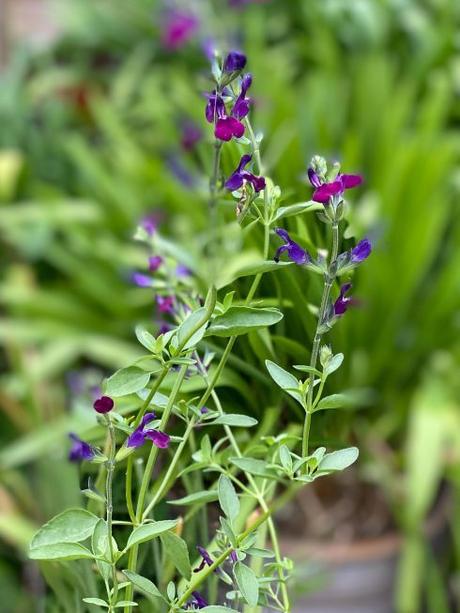 Saw these (above) the other day at a local garden center that has recently reopened. This is S. Amethyst Lips, with similar sized small blooms to S. Hot Lips and a tad more purple in it and smaller blooms than S. Nachtvlinder.  I couldn't resist!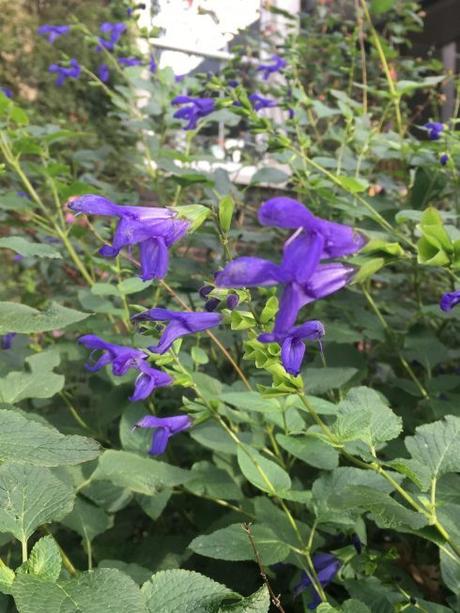 There really are so many glorious Salvias to choose from. Above is Indigo Spires, another long flowerer and reaching a heady height of 1.5m,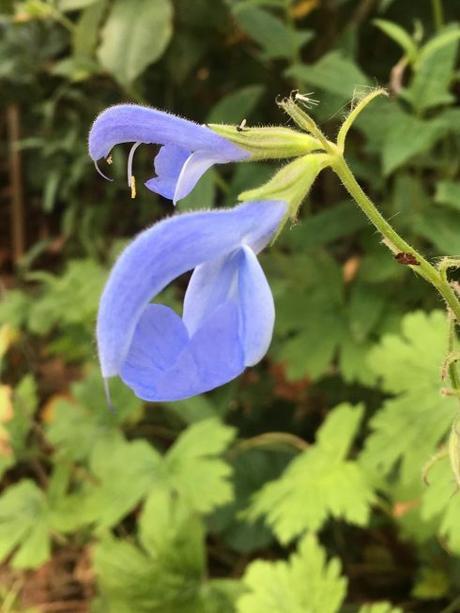 or here's S. Cambridge Blue, a shorter variety, up to 75cm, but with with larger clear blue blooms which are ideal for a front a of a border, although they start producing blooms a bit later, from July.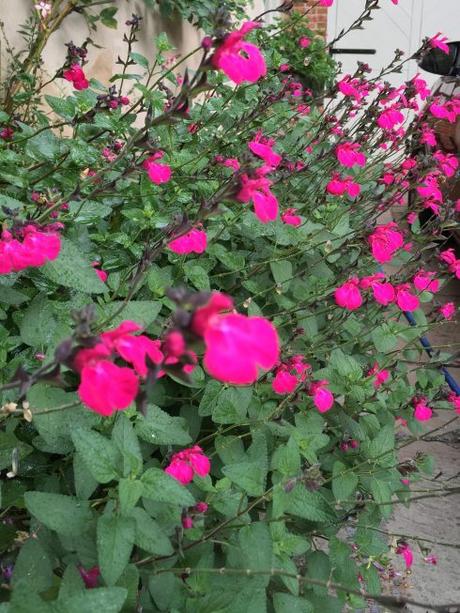 And last, but by no means least, is the zingy Salvia Cerro Potosi. Blimey, it's such a joyful sight and a hit of the scent from the leaves is a knock-out too.
I've been wanting to go to the Dyson Nursery and the attached Great Comp gardens in Kent for some time now. Not sure this is the year to do it, but if you live nearby, and you're in need of a garden fix, definitely worth a trip to see the Salvias in bloom.
N.B.You'll need to buy a pass online beforehand if you want to visit the garden
And both Great Dixter and Beth Chatto Gardens will be opening from June 9th, but booking is essential! Both have a great selection of Salvias to buy in their respective nurseries.