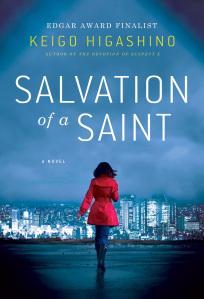 "From a cup of coffee what dreams may bloom…"
I have just finished Keigo Higashino's Salvation of a Saint, the first book of September to have caught my interest sufficiently to see it to the end. It is a fabulous mystery, exactly the kind of book which keeps you reading until you are done.
When Ayane's husband is found dead on the floor of their home, with the contents of a cup of coffee spilled around him, we are immediately brought to the awareness that this cup of coffee was his demise.
But how? His wife, Ayane, was visiting her parents a train ride away. His new mistress had just left after a late night tryst. So who plotted such an ingenious plan which would kill a man from afar, through his own desire for a perfect cup of coffee? And most of all, why?
I was riveted to the exploration of the characters' personalities and pasts; the things they held on to that made them act a certain way in the present. Discovering their flaws made discovering the intricacies of the mystery all the more fascinating.
I read this book for the Japanese Literature Challenge 8, and for Aarti's A More Diverse Universe. It is the second book I've read by Keigo Higashino, an author who "is currently the most widely read author in Japan, with more than three dozen best sellers, hundreds of millions of copies of his books sold worldwide and nearly twenty films and television series based on his work. He won the Naoki Prize for The Devotion of Suspect X"…which is the next book of his I want to read.