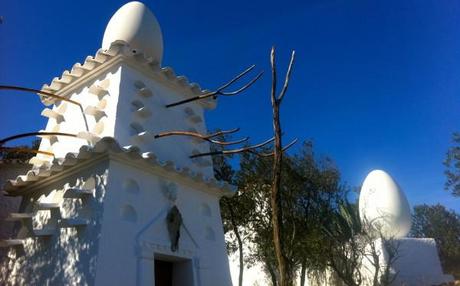 Salvador Dali is my new neighbor – or at least he was for one magical day.  He even invited me into his home which is as surreal as his artwork.  Sadly he didn't invite me to stay for dinner, although I'm sure our dinner conversation would have been unforgettable.  I'm chalking up the lack of dinner invitation due to the fact that he passed away in 1989.  Ditto for why a tour guide welcomed me into his house rather than him personally.  But make no mistake, a tour of Salvador Dali's house shows he is alive and kicking – even if only in spirit. 
Salvador Dali was often described as "eccentric," "unusual," and "highly imaginative," words that would also describe his house and decorating style: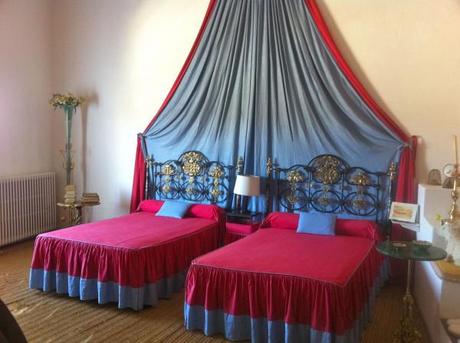 Salvador Dali's bedroom.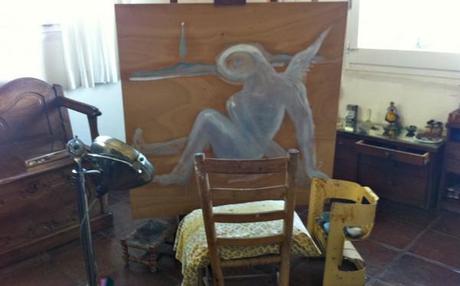 One of Savador Dali's unfinished works.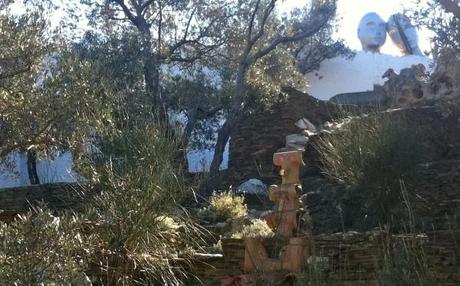 Numerous sculptures Savador Dali's outdoor space including this one of 2 heads.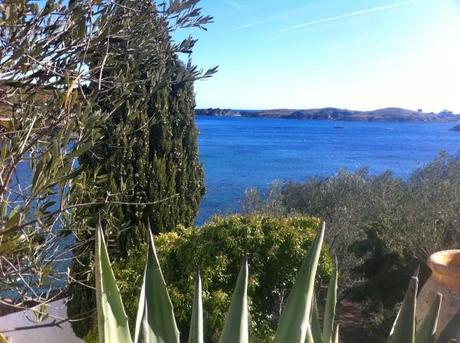 View of the Mediterranean Sea from Salvador Dali's home.
While Salvador Dali may have preferred more conventional views, his use of sculptures was anything but.  Dali used eggs, not only in his art, but also in his house where numerous egg sculptures can be found: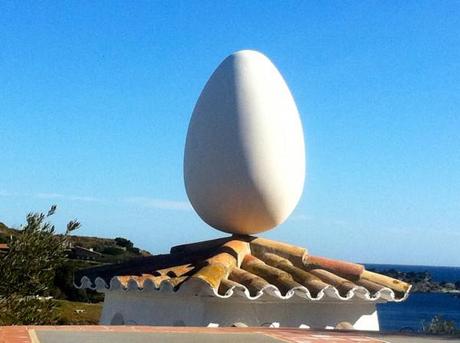 One of many egg sculptures found in Salvador Dali's home.
It's not everyday that I get to have a neighbor as famous as Dali, but that was the case when I stayed in the luxurious villa in Cadaques, only a few minutes walk from Savador Dali's house in Cadaqués, Catalonia.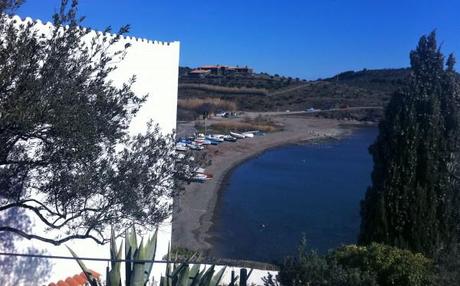 View of our charming villa (in the distance) from Salvador Dali's home - only a few minutes walk.
I observe Dali's stark white house from the villa's kitchen window as I prepare my morning coffee.  I can barely make out one his egg decorations.  To Dali eggs  were symbolic of love and hope.  To me eggs are symbolic of breakfast, but after seeing so many egg sculptures I'm not in the mood for eggs.  I sip my coffee, stare at Dali's house and try and make sense of Dali's unconventional ideas…for a couple of minutes.  It's going to take a whole lot more coffee and contemplation before that ever happens.  I turn my chair and decide to stare at the Mediterranean Sea instead….much better!
See the Portilligat House-Museum of Salvador Dali for more info about visiting the museum-house.  Note:  entrance is only available with a reservation.  Thank you to Charming Villas for giving me the privilege of calling Salvador Dali my neighbor – even if only for a short time.