Only 15 minutes effort for perfect soft and chewy almond butter bars topped with dark chocolate and a sprinkling of sea salt!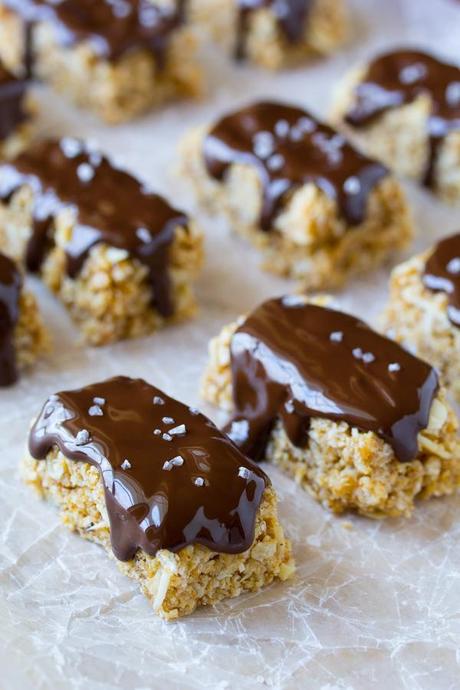 Between being a mom, doing my PhD, and running a food blog, there doesn't seem to be much unoccupied space in my brain.
Which means that some useless information has finally escaped.  I used to be right up on my celebrity gossip…I could tell you who was dating  who and who was wearing who (whom?).  I had the hardest time memorizing things for midterms in my undergrad, yet I could tell you the name of the rehab center in which Lindsay Lohan was currently residing.  It drove me crazy that I could remember such useless details and not the important ones!
These days, though, I can't identify half of the 'celebrities' on magazine covers let alone tell you who they are dating or wearing.  And then today, I read somewhere that Cameron Diaz and Benji Madden got married and I was so confused…they're a couple?!  I didn't know they were even dating, and given that they are such an 'odd couple', my former self would have loved this type of gossip!
Then I realized that they actually got married a month and a half ago.  And I was secretly happy to have had no prior knowledge of this totally useless information.
Continue reading: SALTED DARK CHOCOLATE ALMOND BUTTER GRANOLA BARS