This post may contain affiliate links. As an Amazon Associate, I earn from qualifying purchases. Please read my disclosure.
A delicious salted caramel sauce is the star of this thick and creamy no bake salted caramel cheesecake. This easy recipe can be whipped up in just 30 minutes and stored in the fridge until you're ready to indulge.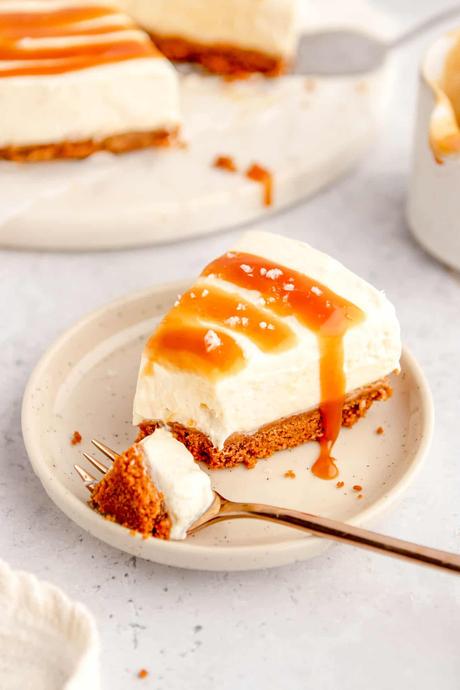 Who doesn't just adore a good cheesecake? The combination of sweet sugar and salty cream cheese makes the perfect base for flavors like passionfruit, chocolate, and salted caramel.
This sweet and comforting no bake salted caramel cheesecake is the perfect way to finish just about any meal. Ribbons of homemade salted caramel sauce are suspended throughout a light and creamy cheesecake filling, all of which is resting on a homemade caramel biscuit crust. Trust me, this sweet and salty cake is sure to please even your pickiest eaters!
Latest Recipe Video!
👩🏽‍🍳 Why This Recipe Works
No need to turn on the oven
Decadent and delicious dessert
Perfect balance between sweet and salty
Easily refrigerated or frozen
Family friendly
Gluten-free option
Best salted caramel cheesecake no bake recipe ever!
🥘 Ingredients
This easy recipe calls for just a handful of ingredients that you can find at your local grocery store! See the recipe card below for a full ingredients list and detailed instructions.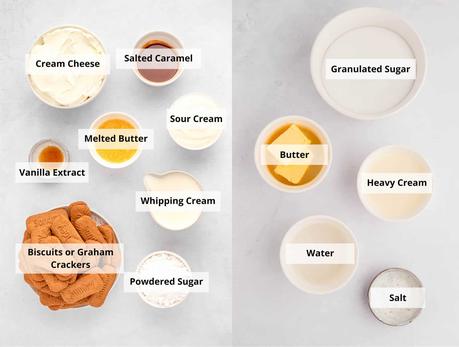 Caramel Biscuits: When pounded into fine crumbs and mixed with melted butter will form the biscuit base of your cheesecake. Graham crackers or graham cracker crumbs would also work well.
Cream Cheese: Tangy and creamy, this soft cheese forms the base for your caramel cheesecake filling. I recommend using room temperature cream cheese as it will be easier to mix!
Whipping Cream: Also called heavy cream or double cream. When whipped to stiff peaks will add a light airiness.
Sour Cream: Helps to soften the texture of your caramel cheesecake and adds some moisture.
Powdered Sugar: This light and airy sweetener dissolves easily into your cream cheese mixture. You can also use granulated sugar, but I like the texture of powdered sugar better - I think it gives the cheesecake mixture the perfect amount of sweetness. You can adjust the quantity of sugar up or down to suit your sweetness preferences!
Vanilla Extract: Rounds out the other tangy, salty, and sweet flavors in this salted caramel cheesecake recipe. You can also use vanilla bean paste.
Simple Homemade Caramel Sauce: A mixture of granulated sugar, water, butter, heavy cream, and sea salt.
🍽 Equipment
The most important piece of equipment you'll need to make this no bake caramel cheesecake recipe is a springform pan. In addition to your springform tin, you'll want to make sure you have a good mixing bowl, a nonstick saucepan, a food processor or rolling pin, an electric mixer, and a rubber spatula or offset spatula.
📖 Variations
This no bake cheesecake base is one of those amazing recipes that can easily be tweaked to create any kind of cheesecake!
No Bake Apple Cheesecake: Simply replace the salted caramel sauce with apple pie filling to create this twist on an apple pie.
No Bake Caramel Apple Cheesecake: Try topping your no bake caramel cheesecake with apples sautéed in brown sugar to create a perfect treat for apple season.
Gluten Free Cheesecake: Use gluten free graham crackers or biscuits for the crust.
No Bake Caramel Pecan Cheesecake: Chop up a few candied pecans and fold them into your caramel cheesecake batter to create this smooth and crunchy treat, or simply add them as a topping!
Baked Caramel Cheesecake: Swap out the heavy cream for 3 large eggs and a splash of lemon juice, place your cake tin in a water bath, and bake in a 350°F oven for about an hour or until the center is almost set. Allow to cool completely before serving.
Crust Alternatives: Try oreos for an oreo no bake cheesecake (that you can also top with chocolate chips!), or you can use graham crackers, Nilla wafers, shortbread cookies, crisp chocolate chip cookies, ice cream cones, pretzels or even cold cereal!
Turn it into no-bake cheesecake bars! Instead of using a round springform pan, use a square springform pan, baking dish, or loaf pan, and cut your cheesecake into bars or squares before serving.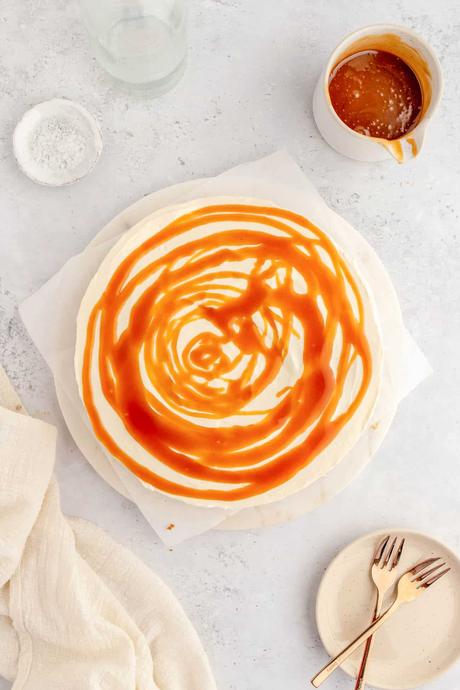 🔪 Instructions
Begin making your salted caramel sauce by heating together your sugar and water in a nonstick saucepan over medium heat (or low heat, depending on how strong your stove is). Do not stir this mixture after the sugar has melted (should only take a couple of minutes at most).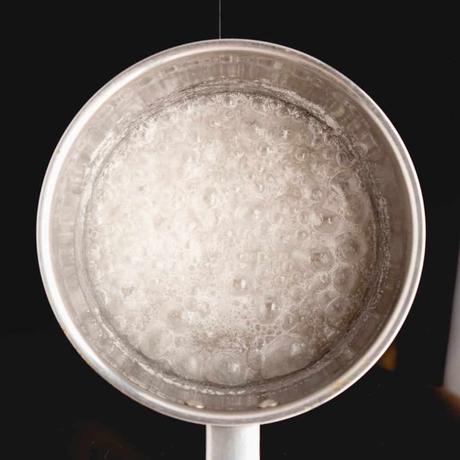 Add Cream: Once your sugar mixture turns a dark amber color, remove from the heat and immediately and carefully stir in your heavy cream.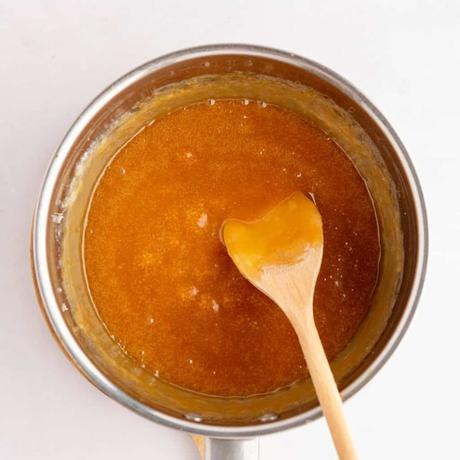 Finish The Caramel Mixture: Add your butter and sea salt and stir until homogenous. Pour your finished caramel sauce into a medium bowl or jar and allow to cool completely. Note: You will only need about 2 tablespoons of this caramel sauce to top your cheesecake, you can store the rest for use in other recipes!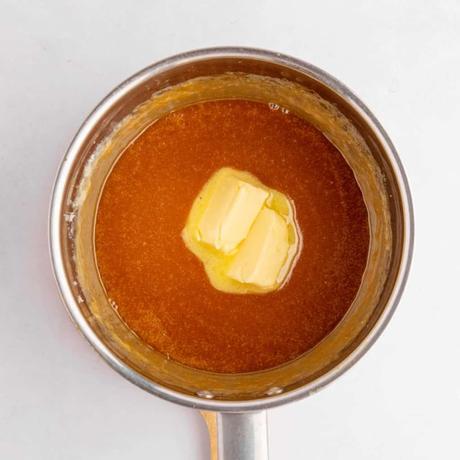 Make The Crust: While your salted caramel spread is cooling, create your biscuit base by adding your caramel biscuits to a food processor and blitzing until fine. Press your biscuit crumbs into the bottom of your springform pan, place pan in the fridge, and allow the crust to set. If you're making a graham cracker crust, you would follow these same instructions, but using graham crackers instead of the caramel biscuits.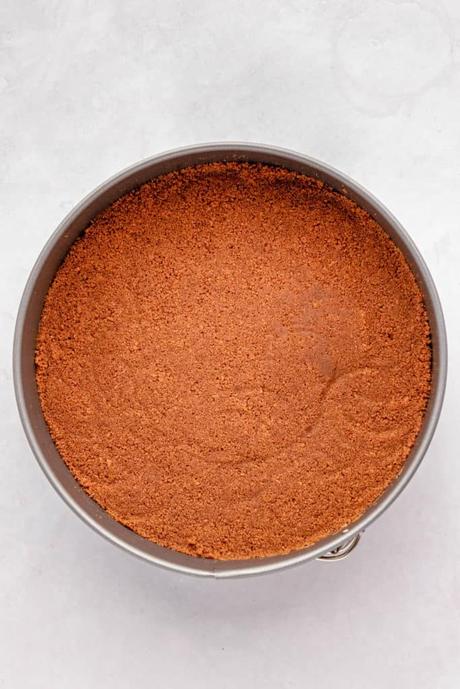 Make The Filling: Create your no bake cheesecake filling by adding heavy cream to the large bowl of a stand mixer and use the whisk attachment to whip your cream to stiff peaks. Start on low speed, then increase to medium speed and finally medium-high speed as the cream thickens while you're whipping it.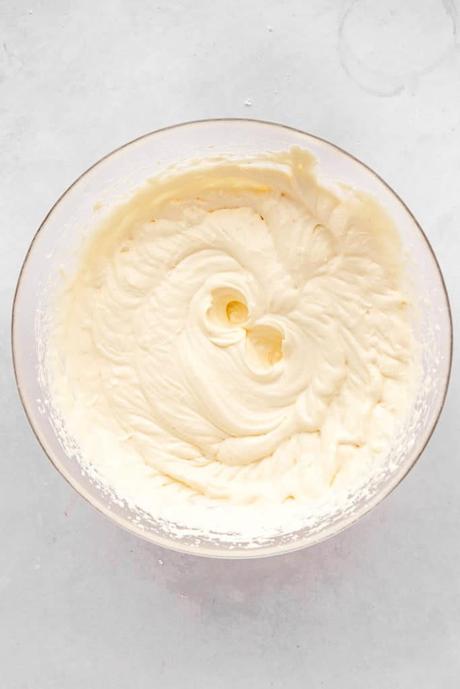 Finish The Filling: In a separate bowl, use a hand mixer to combine your cream cheese, sour cream, powdered sugar, salted caramel, and vanilla.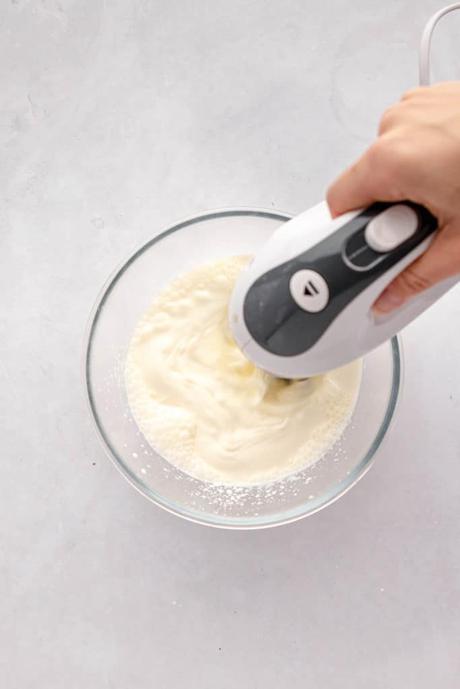 Add Filling To Crust: Gently fold your whipped cream into your cream cheese mixture and combine until there are no lumps, then spoon your finished filling into your springform pan. Spread in an even layer on top of the prepared crust.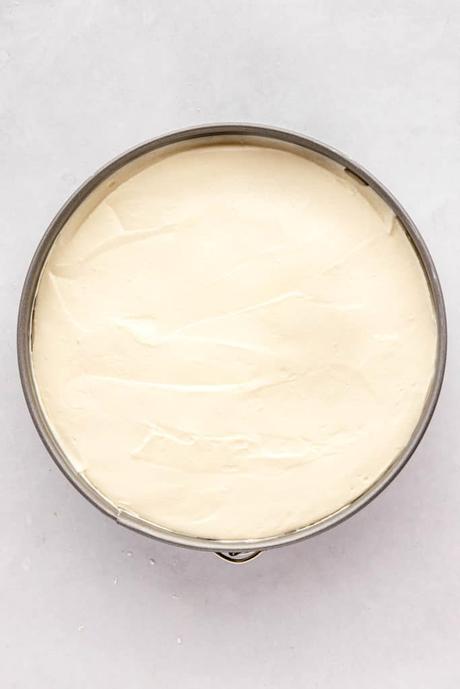 Chill: Cover with plastic wrap and allow this salted caramel no bake cheesecake recipe to set in the refrigerator for at least 8 hours.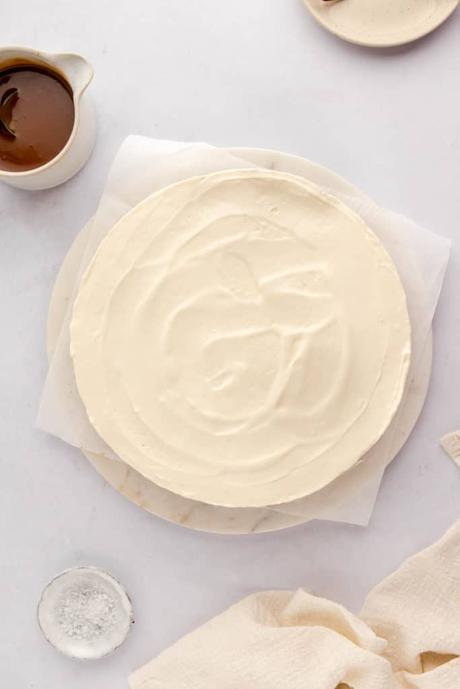 Serve: Right before serving, top the chilled cheesecake with swirls of salted caramel and sprinkle with sea salt. Serve cold.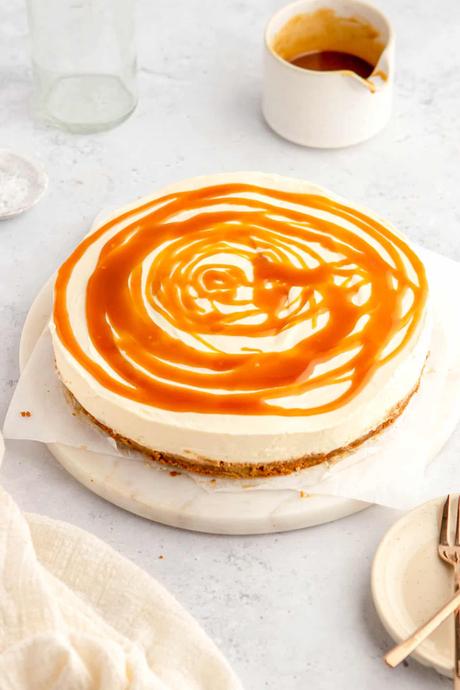 ❓Recipe FAQs
What to do with leftover caramel sauce?
Your leftover homemade caramel sauce will stay good in the fridge for up to 3 weeks and can be used in a variety of your favorite desserts. Add a drizzle to the top of brownies, cakes, cookies, sundaes, or try using your sauce to make caramel ice cream!
What is the difference between a baked and a no bake cheesecake?
Baked cheesecake recipes typically call for eggs to be added to the filling. These cakes are delicate and temperamental and must be baked in a water bath. No bake cheesecakes are far easier to make, set up in the fridge, and end up having a softer, more mousse-like texture. The other benefit of a no bake caramel cheesecake is that you won't get any cracks in the topping!
Why is my no bake cheesecake not firm?
Most likely, you haven't allowed your cheesecake to set up properly in the fridge. For the best results, I recommend allowing this no bake salted caramel cheesecake to set in the refrigerator overnight.
How do you remove a no bake cheesecake from the tin?
First, remove the band from the springform pan. Then, take a large knife and slowly run it under the bottom of the cheesecake to loosen it (you can also use a hard spatula). After that, you can gently push the cake with a spatula onto a serving platter, or you can just take the entire cake (including the bottom of the springform pan that it's still attached to) and place that on your serving platter.
🧊 How To Store
To Refrigerate, place any leftover caramel cheesecake into an airtight container and store in the fridge for up to 5 days.
To Freeze, I recommend slicing your cake before wrapping in plastic wrap and then placing in an airtight container. Store your slices of cheesecake in the freezer for up to 3 months.
👪 How To Serve
This no bake salted caramel cheesecake is a rather rich dessert, so I recommend serving it after a lighter entree such as my vegan enchilada casserole, Instant Pot broccoli cheddar soup, or vegan Thai green curry.
💭 Expert Tips
If you don't have a food processor, you can enclose your caramel biscuits in a ziplock bag and use a heavy rolling pin to smash them to bits.
Use room temperature ingredients when making your cheesecake filling. This will ensure that you end up with a lump-free, creamy cheesecake.
Be careful not to burn your sugar while making your salted caramel. Stay close while melting the sugar, once it starts to bubble it changes to amber color quickly.
The best way to get a super firm cheesecake is to let the cheesecake set in the refrigerator overnight.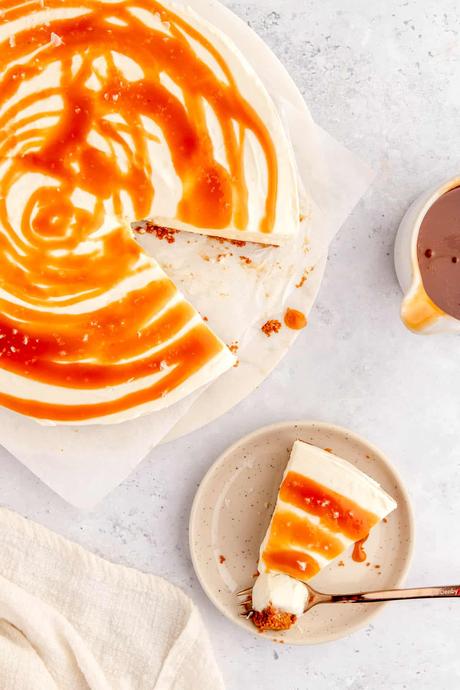 🍰 More Sweet No-Bake Dessert Recipes!
📋 Recipe Card
Salted Caramel Cheesecake No Bake Recipe