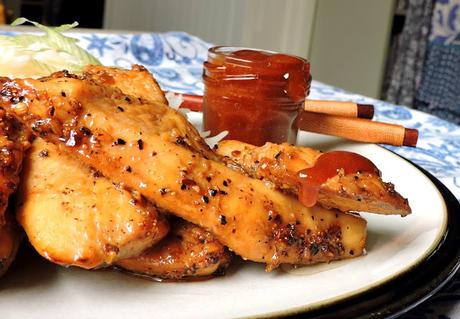 Salt & Pepper Chicken. The first time I tasted Salt & Pepper Chicken Wings was when I was in the UK. I adore Chinese food and probably about once a month we would order a Chinese meal from one of the local takeaway places. 
Chinese food in the UK was quite different than what I had been used to eating back home in Canada.  They didn't have the normal Chicken Wings I was used to.  Always my favorite part of the Chinese Buffet we used to go to pre-Pandemic.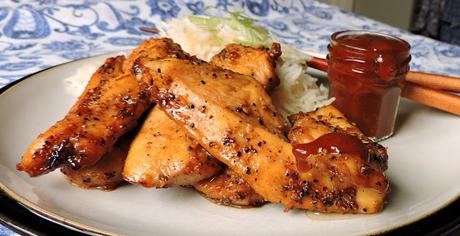 What is it about chicken wings that we all love so much?  I mean, there is very little meat on them. They are mostly bone, but my oh my, they have an incredibly moreish quality to them that everyone can't get enough of! 
Years and years ago when my children were quite young I used to be able to buy huge packs of chicken wings at the grocery store for about $2. Nobody wanted them.  It was a cheap way to feed my family chicken and we all loved them.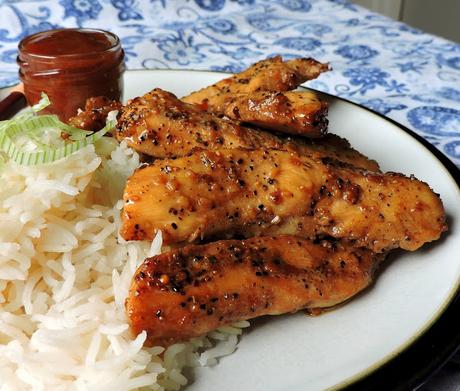 With five hungry birds in the nest they were a deliciously cheap and cheerful way to feed them.  I would just throw them into a large roasting tin, season them with some salt, pepper and summer savory and then bake them until they were crisp and golden brown.
DEEELICIOUS!
My sister cooks chicken wings in shake and bake every second week or so for my father as he loves them.  They are so expensive now.  We only get about 12 wings for $10.  Mucho dineros for what amounts to a small amount of meat and bone.  But yes, very tasty.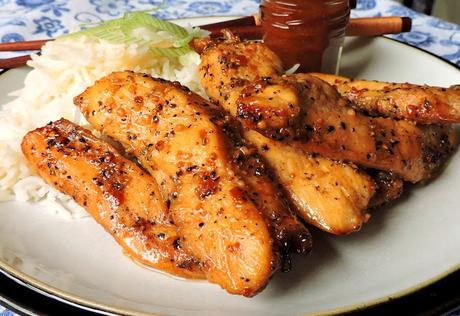 So what does that have to do with Salt & Pepper Chicken? Not a lot really.  I found myself craving the salt and pepper chicken wings from the UK, but didn't want to spend a whole lot of money buying wings right now, so I decided to adapt my recipe to using chicken breast strips instead of wings.
The recipe I am sharing today is a play on those, albeit a tad bit healthier for sure.  There is none of the fat and skin, but that doesn't mean that they are not delicious.  Who says you need to have skin and fat for something to be delicious!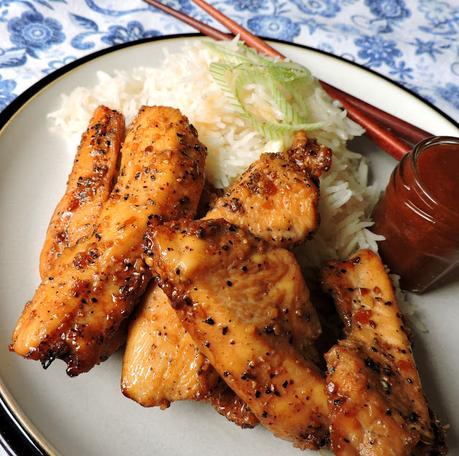 Boneless, skinless chicken breast meat is cut into strips and rolled in some soy sauce.  I like dark soy sauce myself, but you can use whatever kind you prefer.  
Once they are coated in the soy sauce, I roll them in a special spice mixture I have thrown together. Montreal steak spice, black pepper and lemon pepper.  Yes, they are peppery for sure, but that is the charm of salt and pepper chicken.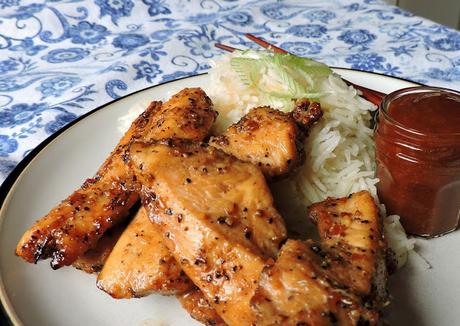 I know that lemon pepper seasoning can bee very difficult to find in the UK.  At least I could never find it. I soon learned how to make my own. It is very easy to make and I think, even better than the ready made stuff you find.
Make Your Own Lemon Pepper Seasoning:
Zest 5 whole lemons using a fine micro-plane zester and mix the zest together with 1/3 cup of black peppercorns and peppercorn medley. Spread out on a parchment paper lined baking sheet and bake until dried out on the very lowest setting of your oven. Stir every so often. (Mine takes about an hour.)   Grind this mixture to the texture of fine bread crumbs in a spice grinder, and then stir in 1/4 cup fine sea salt.  Mix well together. Store in an airtight container out of the light for up to six months.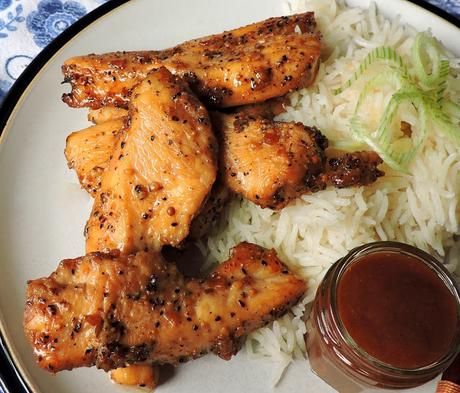 Once you have your chicken rolled in the spice mixture it is a simple matter of laying the strips out on a foil lined baking sheet. I like to spray it with some low fat cooking spray.
Then you just bake it.  Eight minutes on one side, flip the pieces over, and then four to six minutes on the other side.  Easy peasy.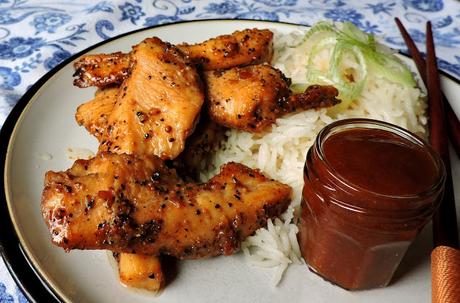 Perfectly cooked, delicious strips of chicken. Not dry in the least. Succulent and well flavoured.
Spicy and delicious. Yes, even finger lickingly tasty good.  But that's not all I do . . .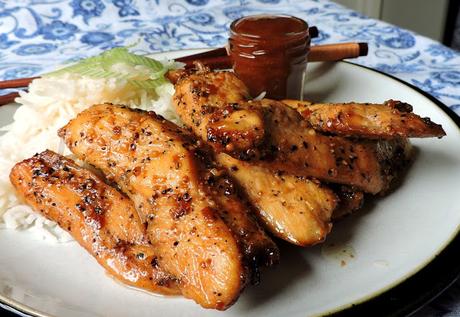 While the chicken is baking in the oven I put together a lush sweet and sour sauce for dipping them in. 
This more than makes up for the lack of skin and fat in the chicken itself.  Its also very easy to make. As you know I love easy things.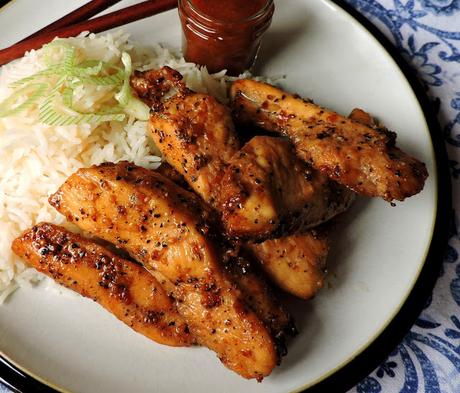 And chicken with a dipping sauce is one of my very favorite things to eat. Isn't it yours?  This is such a simple sauce.
You will find yourself making it and enjoying it with all sorts, not just these tasty Salt & Pepper Chicken Strips.  It goes with chicken nuggets, breaded chicken fingers, katsu style chicken cutlets, and all sorts.  
I dare say it even goes well with fish fingers.  Shhh . . .  don't tell anyone.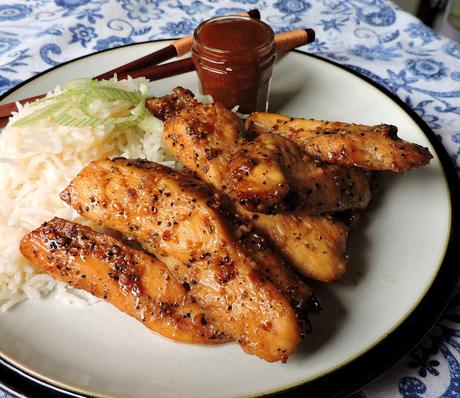 Making the sauce is a simple matter of blitzing together a few simple ingredients.  Nothing too out of the ordinary.
Apricot jam.  I like Bonne Maman. It has plenty of lovely bits of fruit in it. As well I add soy sauce, rice wine vinegar, tomato ketchup and some Worcestershire sauce.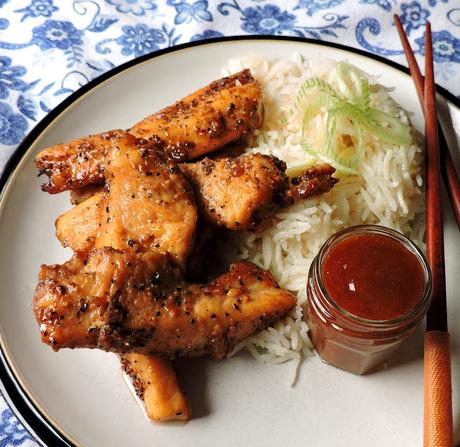 Simple ingredients.  Just stir them together and then blitz to a smooth sauce.  I use my immersion blender, but you can use a mini food processor as well, or even a regular sized blender.
I just find that the immersion blender does a great job of it and it is a lot easier to clean up afterwards.  To be honest I hardly ever use a full sized blender any more.  
The immersion blender is so much easier to use and clean, and does a wonderful job on things like this.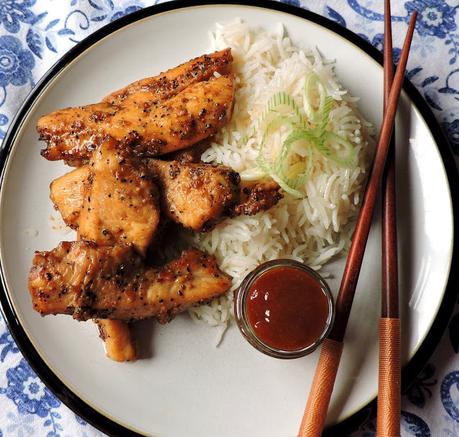 There is no need to cook the sauce.  Just pop it into little dipping pots and onto plates, ready for your family to dip their scrumptious chicken strips into.
Oh my, but this is some tasty.  Served with some steamed basmati rice, with a garnish of a few scallions, it always goes down a real treat.  
All the tastiness of salt and pepper wings, with half the fat and calories, and a tasty sauce to boot.  This be good eating, plain and simple and most delicious! No gfooling!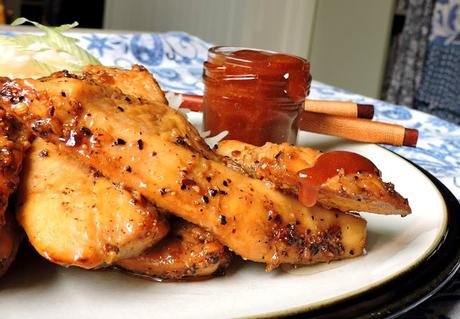 Salt & Pepper Chicken
Yield:
4
Author:
Marie Rayner
Prep time: 10 Min
Cook time: 15 Min
Total time: 25 Min
Spicy chicken strips served with a lush sweet and sour sauce. Very easy to make and oh so delicious! Finger licking good!
Ingredients
For the chicken:
900g boneless skinless chicken breast, cut into strips (2 pounds)
2 TBS soy sauce
2 tsp Montreal Steak Spice
1/2 tsp coarsely ground black pepper
1/2 tsp lemon pepper seasoning
For the sauce:
235g of apricot preserves (3/4 cup)
3 TBS soy sauce
3 TBS tomato ketchup
1 tsp rice wine vinegar
1 1/2 tsp Worcestershire sauce
Instructions
Pre-heat the oven to 220*C/425*F/ gas mark 7. Spray a foil lined baking sheet with nonstick cooking spray.
Place the soy sauce into a bowl. Combine the spices and seasonings in a plastic bag. 
Roll the chicken strips in the soy sauce and then shake them in the plastic bag to coat with the seasonings. 
Place in a single layer on the baking sheet. Bake for 8 minutes, flip over and bake for a further 5 to 6 minutes, or until the juices run clear, and they are golden brown.
While the chicken is cooking, put all of the sauce ingredients into a deep wide mouthed jar and blitz with a stick blender, or alternatively blitz together in a regular blender/food processor until smooth.
Serve the chicken strips hot with the dipping sauce.
Did you make this recipe?
Tag @marierayner5530 on instagram and hashtag it #marierayner5530Created using
The Recipes Generator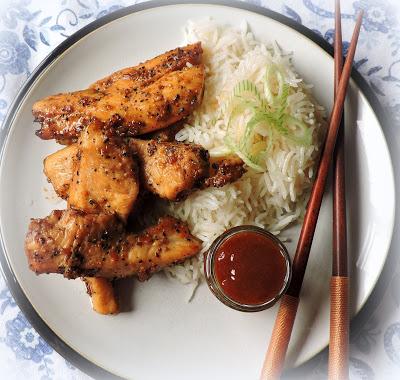 This content (written and photography) is the sole property of The English Kitchen. Any reposting or misuse is not permitted. If you are reading this elsewhere, please know that it is stolen content and you may report it to me at mariealicejoan at aol dot com. 
Follow my blog with Bloglovin