Published as:  American Delegation In 2013, Salone Satellite—Salone Internazionale del Mobile's younger companion, for which a jury led by Marva Griffin Wilshire selects exhibitors younger than 35—showcased six intrepid U.S. booths, from a Southern design school to one of Dwell's 2012 Young Guns honorees. Could one of these be the next Nendo or Patrick Jouin?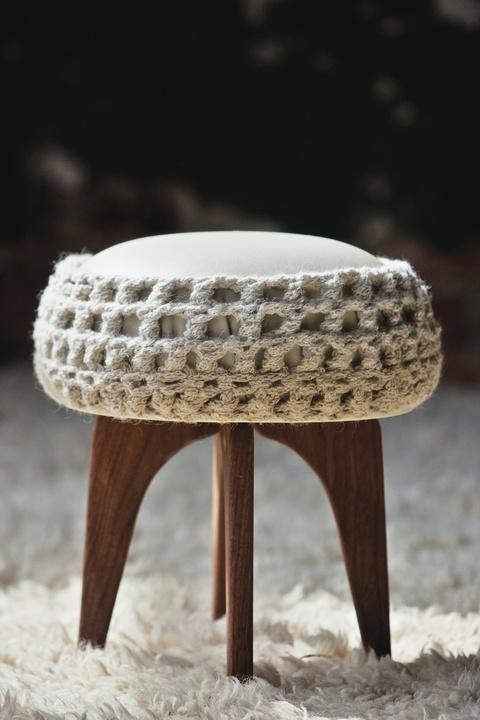 Jerri Hobdy's AMPY stool explores crochet as an experimental fabrication technique. It took Hobdy a week to construct the stool's crochet topper from a two-mile-long piece of yarn.
Savannah College of Art and Design student Jerri Hobdy made her first appearance at Salone Satellite with her AMPY stool, which explores crochet as an experimental fabrication technique. "It's heavily associated with craft and an old-world aesthetic, and I wanted to put it into more contemporary use," the Houston native says. The base is simple enough to be manufactured at a fast clip—Hobdy made hers in less than a day. The crochet topper took a week: She started out with a two-mile-long piece of single-chain stitch that "looks like a little braid," then compounded that module into a thicker braid.
Crochet uses a single yarn to construct a series of loops that builds upon itself in complex ways. "It doesn't translate to a mechanical process," says Hobdy. Though crochet machines do exist here and there, like those made by Italian manufacturer Comez, the result is more of a cousin to crochet that's stitched together with mechanized needles.
Hobdy is already reaping the benefits of appearing at Satellite, reporting that a New York company has ordered several stools for an interior design project. She won't be skimping on the fabrication process: "I'll be doing them by hand!" she says.