We roamed Milan's galleries and the Salone del Mobile show floors (check out our
recap here
) hunting down the best new design pieces. Here, we turn our eye to innovative materials. From the resurgence of Memphis's telltale terrazzo, as evidenced in grand scale by Max Lamb's Marmoreal, to new porcelain treatments, to revisiting one of the most time-tested materials (marble), there was no shortage of inspired work that appealed to the tactile senses.
Slideshow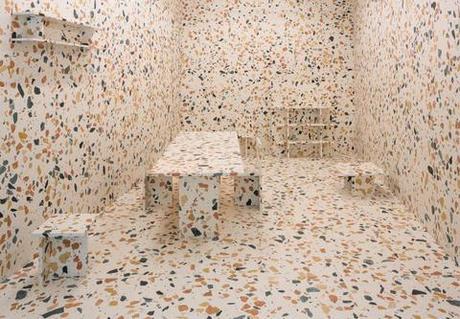 Marmoreal by Max Lamb for Dzek
It almost felt like the 1980s during the 2014 Milan Design Week as references to Memphis abounded. In a Shiro Kuramata-esque move, British-based practitioner Max Lamb created his own material called Marmoreal—an engineered material created by binding pieces of marble with a polyester resin. Unlike Kuramata's delicate terrazzo, the scale of Lamb's aggregates is super sized to create a grand visual effect. But similarly, the composite of Rosso Verona, Giallo Mori, Verde Alpi and Bianco Verona marbles can be deployed as a surface and material for furniture.