You may know the brand Salon Perfect as makers of amazing collections of lash and brow products but did you know they also make Nail lacquers? That's right, Salon Perfect introduces the Limited Edition 

Blooming with Color

, a collection of brilliant bright and soft pastel colors for Spring 2012. There's nothing like a fresh manicure with a bright, energetic polish to perk you up or a soft romantic pastel. It features 14 rich crème shades sure to put a spring in your step.




The rich crème shades include:


Perfectly Peach – Delicate peach




Lemon Zing – Sunny yellow




Kiwi Lime – Vibrant green




Blue Mint – Cheerful mint




Berry Blue – Classic periwinkle




Purple Sorbet – Dark lilac




Lavender Icing – Soft lilac




Spicy Tomato – Juicy red




Tangy Tangerine – Tart orange




Sour Apples – True blue-green




Blue Raspberry – Vivid azure




Plum Sorbet – Magenta with purple shimmer




Berry Pink – Bold flamingo pink




Bubblegum – Honeysuckle pink


Check out my colorblock mani using

Kiwi Lime

and

Sour Apples

below - already got compliments today on it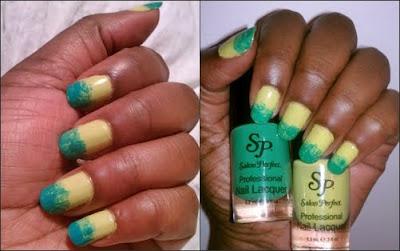 Salon Perfect's limited edition polish collection is available next month at approximately 1,700 Walmart locations nationwide for just $2.98 each! Celebrate spring with a bountiful array of

Salon Perfect® Blooming with Color

nail polishes!