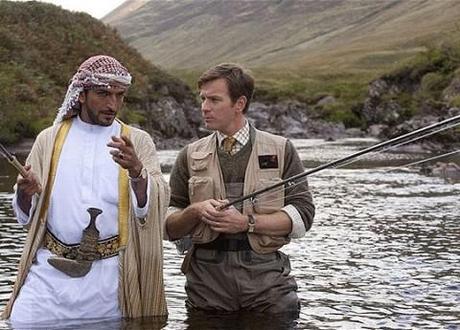 Ewan McGregor and the sheikh. Salmon fishing.
Salmon Fishing in the Yemen is a romantic comedy starring Ewan McGregor, Emily Blunt and Kristin Scott Thomas, and directed by Lasse Hallstrom (Chocolat). It tells the tale of two people brought together by a Middle Eastern water management project. McGregor plays Dr Alfed Jones, a scientist asked to bring, yes, you guessed it, salmon fishing to the Arabian gulf because a sheikh (Amr Waked) wants it. Blunt is Harriet Chetwode-Talbot, who is directing the project's financial side. It's based on Paul Torday's debut novel of the same name. Critics are underwhelmed.
Cineworld Cinema tweeted: "Salmon Fishing In The Yemen – salmon, we're salmon, hope you like salmon too. Brit-com more charming than a sack of kittens."
Holiday cottage stuff. It's "the kind of film you might find on the DVD shelf of a holiday cottage," said Robbie Collin in The Daily Telegraph. But that's "not necessarily a criticism." This is "cinema at its most easily digestible." McGregor and Blunt have "a wonderfully tingly chemistry." Scott Thomas has a "lip-smackingly vinegary turn", a "kind of Malcolm Tucker in a twinset." It's basically "a second-tier Ealing Comedy shot by the Boden catalog."
Farmed, not wild. It's "machine-tooled quirkiness", said Peter Bradshaw in The Guardian. "Bill Nighy isn't in it, for example, and yet afterwards I had an intense memory of Bill Nighy being in it, the way amputees can feel their toes itching." Collin is wrong: Scott Thomas, though with "much lip-pursing and eye-rolling", is dire. "The comedy's farmed, not wild."
Something for the export market. Give it a chance, said Catherine Shoard on the same paper. The film retains much of the novel's "salt and smoke." McGregor, in his first "truly middle-aged part,' does a good job; Blunt "keeps a cool head", whilst Scott Thomas does her thing "with gusto." But there's an "unease" when the film copes with "cultural negotiations." Whilst Brits might find it "a bit rich", it got a standing ovation in Toronto. The "export market looks likely to lap it up."
No bowel movements. "What's not to like?" asked Kate Muir in The Times. You may well ask. There's too much "saccharin", which dilutes the book's original satire. The "first third" is "rather amusing." We can be thankful for some things: "Fortunately the film leaves out Fred's daily discussions of his bowel movement, much featured in the diary sections of the novel." It does sag, though, and the sheikh's "plainly absurd utterances" are not questioned. As a whole, it's "restful on the eyes – and on the brain."
Mush. Give it some dues, said Anthony Quinn in The Independent. It should "fall flat on its face," but it doesn't – largely thanks to the "fine screenwriting by Simon Beaufoy." There's a smarter film struggling to get out of this one – which is let down by Hallstrom's "middlebrow sensibility and Dario Marianelli's mushy score."
Eric Pickles! Deborah Ross, in a marvelous post-modern review on The Spectator, quizzed herself about it. "Salmon Fishing in the Yemen, any good?" She answered herself briskly. "No." She called it a "mushy, corny, ghastly mess of the most trying kind," and added that it was like swimming upstream with Eric Pickles tied to your back. She disagreed with Quinn, and called the script "woeful." She ended: "So you wouldn't recommend this film?
I would not. And if you are tempted remember this: do I really want to swim upstream with Eric Pickles on my back? Can I just say, before you go, that I love your film reviews. It's the only reason I buy The Spectator. Aw. Shucks…"
It's just nuzzling. Elsewhere on the interweb, Tinymixtapes was also not impressed. "At its worst, Salmon Fishing makes pastel mincemeat out of ostensibly noble ideals like the diplomatic bridging of cultural gaps and fidelity to one's partner (or, for that matter, honoring that new feeling of love when it happens to pop into one's life). These things are fodder for Hallstrom's tenderized, though pleasantly stylish, romanticism, and by the end, it's confusing why he goes to such extreme plot ends just to create space for Ewan McGregor and Emily Blunt to nuzzle."
Watch the trailer!