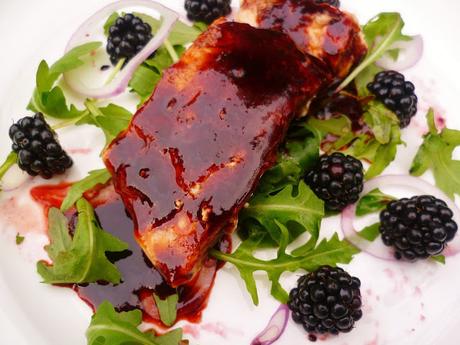 salmon and blackberry salad with blackberry dressing
I had this glorious Chinese-style blackberry sauce on a piece of salmon recently. It's sweet and tart and, if I say so myself, utterly divine. The sauce actually works rather well with grilled chicken too. I suspect it would be lovely with pork chops too.

I also included a few raw red onion slices in my salad. I suspect that most people might think that the onion might be a bit much, but if you slice the onion paper-thin, then you get the lovely sweet flavor of the onion which I think works perfectly with the salad. Partly as a result of developing carpal tunnel syndrome and clumsy knife skills, I bought an OXO Good Grips mandoline slicer, which means you can get beautifully thin and even slices.
I used a few brambles foraged from the lane by my house to make the salad. Sadly, there aren't many left, but then there is always next year to look forward to!

Serves 4
Skill level: Easy

ingredients:
4 salmon fillets, skin-on (about 150g each)
2 tbsp vegetable oil
salt and freshly ground black pepper
rocket leaves
red onion, very finely sliced into rings (optional)
sauce
250g blackberries (reserve a few for scattering over the salad)
50ml water
3 tbsp cider vinegar
2 tbsp brown sugar
2 tbsp dark soy sauce
4 slices fresh ginger
2 garlic cloves, smashed
1 star anise
directions:
Tip all the ingredients into a non-reactive pan. Bring to the boil and then simmer for 20 minutes. Discard the star anise.

Cool a little before transferring the mixture to a food processor and whizz until smoothish. Strain through a sieve, rubbing with a metal spoon or ladle to get all the juice and pulp, but none of the pips. Will store well in the fridge for a week.

Check the salmon for pin bones and remove. (I use a pair of tweezers to do this.) Pat dry and season with a little salt and pepper.

Heat the oil in a frying pan over a medium to high heat.

Working in two batches, cook the salmon fillets, skin-side down for about 8 minutes, turning once. (You may need to adjust the cooking time depending on how thick the fillets are. You may also need to add a little more oil to the pan if necessary before cooking the next batch of fish.)

Transfer fish to warmed plates. Spoon over the blackberry sauce before serving with a few rocket leaves, red onion slices and fresh blackberries.
tips:
Alternatively you can grill the fish. Heat the grill. Brush each salmon fillet with a little oil. Grill skin-side up for about 3 minutes. Flip over and continue to cook for another 4-5 minutes until the skin is crisp. (The whole fillet should take about 8 minutes, depending on how thick it is.). Serve the fish with sauce drizzled over.