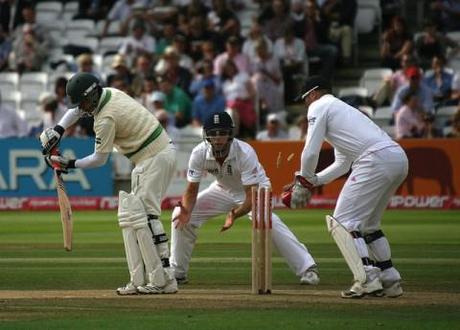 G.Swann Bowls Salman Butt During the 3rd day of the final test at Lords (Thursday, 26 August 2010). England win by an innings and 225 runs. Photo credit: SmithGreg
Pakistan cricketers Salman Butt and Mohammad Asif have been found guilty for their part in a spot-fixing betting scam. Former captain Butt and leading fast bowler Asif were both found guilty of conspiracy to cheat and conspiracy to accept corrupt payments, reported the BBC. Another bowler, 18-year-old Mohammad Amir, admitted the charges prior to the trial.
The players plotted to deliberately bowl no-balls during a Lord's Test match against England last summer. The revelations emerged last summer when a The News of the World undercover sting report alleged they took bribes to bowl deliberate no-balls.
The verdict has rocked the game of cricket, which, perhaps more than any other sport, prides itself on upholding the spirit of fair play. The fact that Butt was captain of the team is particularly damaging for the reputation of Pakistani cricket. At the start of the trial, Amir's lawyer read out a statement which appeared to suggest the 18-year-old had been pressured to accept corrupt payments: "Mohammad Amir accepts full responsibility for deliberately bowling two no-balls and, in due course, you will hear how this vulnerable 18-year-old boy was subjected to extreme pressure from those on whom he should have been able to rely."
In a bizarre twist, the BBC reported that Butt's wife, Gul Hassan, had given birth to a baby boy one hour before he was found guilty.
Jail for the cricketers? BBC Sport news correspondent James Pearce said Butt, Asif and Amir are facing the real prospect of jail terms when they are sentenced later this week. Conspiracy to accept corrupt payments carries a maximum prison term of seven years. Pearce added that the case "raises serious questions about the integrity of Test cricket."
Aftab Jafferjee QC, for the prosecution, said the case "revealed a depressing tale of rampant corruption at the heart of international cricket."
Amir's disgrace has disillusioned a generation of talented young Pakistani cricketers who idolized the prodigy, according to his former coach and mentor. Asif Bajwa, who nurtured Amir from the age of ten, told The Times (£) that the fast bowler's involvement in the betting scandal had dealt a "big blow" to the country's pride. "I know at least two dozen youngsters who aren't playing cricket anymore after this incident because they couldn't handle the involvement of their hero in such a disgraceful incident", Bajwa sighed.
Today is a joyous day for cricket. Steve James, ex-player turned The Sunday Telegraph's cricket correspondent, blogged that "today is not a sad day for cricket, as I have heard it described. It is a joyous day." He said that that Butt and Asif have been found guilty of their parts in a spot-fixing scam "can only be a good thing for cricket worldwide. This verdict can be the beginning of a major clean-up operation. For there clearly is a problem. All of us have known that for a long time. Even for me as former professional cricketer, it took some time to admit that. But there is a problem." James said that cricket has been hiding "some sinister secrets in its darkest recesses. That these cricketers now seem certain to face jail sentences is a very powerful deterrent."
"Message to Salman Butt and Mohammad Asif: you CHEATING B******S!!!! There, got it out of my system", tweeted Piers Morgan.
Watershed moment for cricket? Former England bowler Angus Fraser said the case could prove a "watershed" moment for cricket. "It shows young cricketers that there is a consequence to their behavior. In the past players have been banned and then they have come back," he told BBC 5Live.