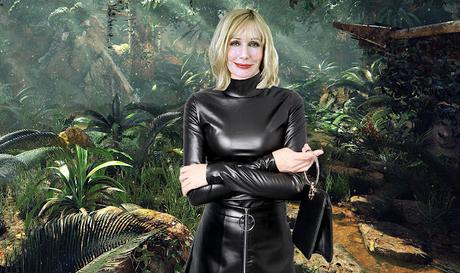 I had wanted to meet the iconic Sally Kellerman since about age ten, the first time I saw (a heavily-cut version of) Robert Altman's MASH on TV. After being an Altman devotee, I became an unabashed admirer of Kellerman's utterly unique blend of intelligent, offbeat sexiness, which made her a screen siren of the 1970s to be reckoned with. My dream to meet her finally came true in 2004. Sally was headlining at The Roxy, singing from The Great American Songbook, and was looking to promote her show, which quickly became a hot ticket in town. Venice Magazine sent me to learn more. 
Sally and her husband, the late producer Jonathan Krane, greeted me in their airy, ranch-style house on Woodrow Wilson Drive, in the Hollywood Hills, and made me feel instantly at ease. Their big Black Lab, whose name has been lost to time, gave me a friendly once-over, then escorted me into their living room, where Sally soon joined us with a pot of tea for us both. Our conversation flowed with ease over the next two hours. Several days later, two tickets arrived via messsenger for her show at The Roxy. When I took my date backstage to meet Sally, she embraced us both like family and another lengthy, effortless chat followed. Wish there had been more. Vale, dear lady. 
SALLY KELLERMAN: LADY SINGS THE BLUES By Alex Simon 
 There probably isn't a male on the planet who, when they saw the original M*A*S*H (1970) for the first time, didn't experience heart palpitations when the lovely, leggy Sally Kellerman was unceremoniously exposed during the film's legendary shower scene, by a crew of boozed up, frustrated, fellow front-line medics in Robert Altman's Korean war satire. Kellerman's hilarious, heartbreaking turn as Maj. Margaret "Hot Lips" Houlihan, a repressed, yet lusty army nurse, endured more humiliation in Altman's film than nearly any other leading lady of her time (who can forget her spastic lovemaking session with fellow establishment doc Robert Duvall, that is broadcast for the entire camp to enjoy?). While Hot Lips easily could have been a cartoonish villain, a buffoon of the establishment, Kellerman's dazzling, mulitlayered performance made her all too human. After more than a decade of struggling in bit parts, Kellerman earned a Best Supporting Actress nomination for her work, and became one of the iconic actresses of the 1970s, in films such as Altman's Brewster McCloud (1970), Last of the Red Hot Lovers (1972), Slither (1972), Welcome to L.A. (1977), and A Little Romance (1979), to name a few. Other notable work includes Serial (1980), Foxes (1980), Back to School (1986), and Altman's Pret-a-Porter (1994). 
Sally has recently been gracing the stage with her prodigious singing talent, performing sold out shows at the Roxy, delivering her own take on some of the great jazz standards that have filled smoky nightclubs for decades. The divine Ms. K. is a delight to watch as she melds her unique brand of sexiness with a wonderful cabaret style act that is both a homage to swingin' days gone by and a very contemporary journey in the life of a unique artist. Sally sat down with Venice recently in her Hollywood Hills home to reflect on her remarkable career, past and present. 
VENICE: Tell us when you began singing. 
 Sally Kellerman: Out of the womb! (laughs) I came out acting and singing. My best friend wrote plays in grammar school, and I always added a song. I always wanted to sing and act. I was under contract to Verve at 18, right out of high school. But I was so scared, I didn't know how to make anything happen. Today's young is very different from when I was young. It just seems like everyone today is totally together, but I was just nuts! After M*A*S*H, I recorded an album, although in those days, anybody with a hit movie could get an album deal. So Lou Adler, who produced Brewster McCloud, did my first demo, with Carole King's rhythm section. Gene Page was the arranger and he and his brother Billy produced my first album, for Decca, called Roll With the Feeling. I wanted to be Janis Joplin at that point. Anybody who bought my first album, I'd have home for dinner! (laughs) So over the years, I'd use any excuse I could to sing.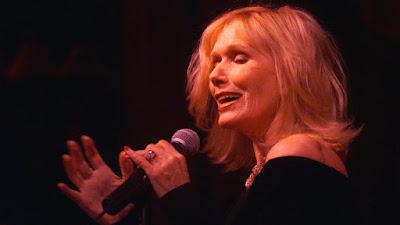 You'd tour a lot between films with your band? 
 Yeah, it was just a wonderful series of adventures. It was never about making deals or anything, I just loved singing as much as I loved being an actress. I tried to always keep learning. At this moment in my musical journey, I just finished a new CD of standards that have sort of a jazz flavor. I worked with a lot of very talented people on it. I was very lucky. Then I'm going to do an album with Mike Stoller and Jerry Leiber. 
Let's talk about your background. 
I spent my early years in the Valley, in Granada Hills, then we moved to Hollywood, to Park La Brea, when I was a teenager. It was beautiful in the Valley then: acres of flowers, eucalyptus groves, lots of places to hide and play in. That's what I did: I went on these long walks with my dog, Shadow, and sat by streams and daydreamed. 
Sounds like you were a tomboy. 
 (laughs) Yeah, I was. 
What did dad do? 
 He was a salesman, a born salesman. He was with Shell Oil for a few years, and we lived in Everett, Washington, but he decided if he wasn't a vice president by a certain time, he'd quit, and he did. We moved back here and he got into the trucking business. He was just a salesman down to his toes. My dad always said "If I die tomorrow, I've had a great life."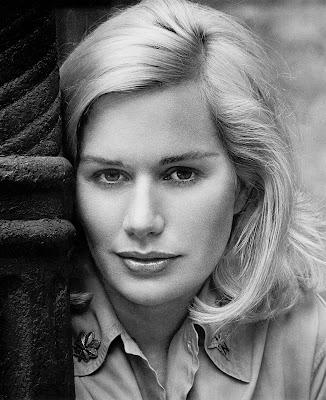 Kellerman in a publicity shot for MASH, 1970. 
Did your artistic side come from mom? 
 My mom was the greatest, too. She was from Arkansas, and went to school in New Orleans. She played piano and actually taught it when I was growing up. She was very creative and very supportive to me. 
You have an older sister as well. 
Yeah, Diana lives with a woman she's been with for 35 years, and they lived for years in this little, medieval village in the south of France. Now they live in Ojai. They're both musicians and play baroque instruments.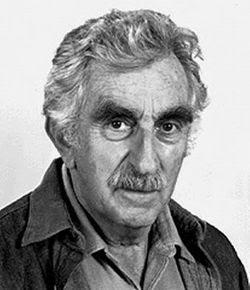 Legendary character actor and acting coach Jeff Corey. 
After graduating Hollywood High, you were in Jeff Corey's legendary acting class. It was like a who's-who of future stars. Oh, that was an amazing time. God, the people in that class: two of my best friends, Luana Anders and Carole Eastman (screenwriter of Five Easy Pieces), Jack Nicholson, Roger Corman, Robert Towne, Fred Roos, Marty Landau, Dick Chamberlain, Jim Coburn, Shirley Knight, Diane Varsi…  
You made your film debut in Reform School Girl in a bit, but your first really big exposure was a guest spot on the premiere episode of Star Trek, in 1966. 
Yes, and can you believe I'm finally going to my first Star Trek convention this year?! (laughs) It was this weird little pilot script my agent sent to me. It was just another job at the time, you know. I show up to the set and they hand me these powder blue stretch pants, which were not the most flattering things to wear, let me tell you! (laughs) I don't think Bill Shatner was too thrilled with his outfit either. Gary Lockwood was on that episode, also. He staged all the fights. Gary and I were sort of a guest star team in those days. We worked a lot together. I'd also worked with Leonard Nimoy before. He directed me in a play for the Angles Company. He's a wonderful director.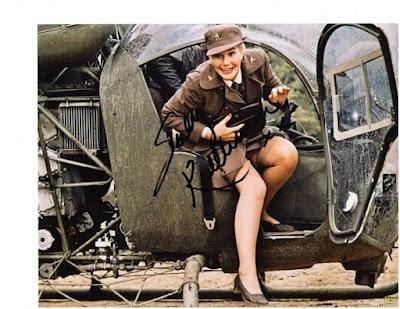 Kellerman's unforgettable enterance as Maj. Margaret "Hot Lips" Houlihan in MASH. 
Let's talk about M*A*S*H and "brother" Bob Altman, one of our favorite people. 
I originally went into read for Lt. Dish. I was dying to get into the movies, and had been auditioning for years. I did The Third Day with George Peppard, which was a big studio film, but it bombed. So I was back to square one. Anyway, I went to read for Lt. Dish. I go into this big room, and there's Bob sitting at this table with some other people, and he looks at me and says "I'll give you the best part in the picture: Hot Lips." I said 'You will?!' He always tells the story that I was chewing on his pant leg when I got the part. (laughs) So I go outside, like all great artists, and I check the script to see how much dialog I have, and there's like seven lines! I just turned to stone, and went home. My agent convinced me to go back and meet with Bob again. So I go back and I said "Look, I'm a woman. I'm not just a W.A.C. (Woman's Army Corps), or some bimbo. Why couldn't Hot Lips be this, or that…' and Bob just sat there, very calmly, and said "I dunno, why couldn't she?" I'll never forget that. I'd just come from TV where you couldn't change a word of the script. It was just one of the greatest times I've ever had, working with a director who loved who you were, and then being as creative as he is on top of that. That's one of the secrets that a lot of directors don't get: when you feel like you're appreciated, you feel free to take chances. And I think that's why everyone lines up to work with Bob. 
He leaves most of the performance up to the actor. 
Yeah, when I did the breakdown scene after the shower, I thought 'Well, I guess I'd better be loud…' I'm not sure how deep my thinking was, but I started so high, when I was yelling at Col. Blake, at such a fever pitch, that I just kept going, and Bob kept rolling, didn't say 'Cut.' I had gotten myself so worked up, I realized that my character was losing everything, so that's when I stared crying about 'My commission, my commission…' Bob yelled 'Cut!' then ran outside and said "I had no idea you were going to do it like that! That was amazing! You were vulnerable! You can stay in the movie now!" (laughs) So we just kind of made up the rest of it: go in this tent, sit with the poker players. Then the biggest thrill of my life: I got to be a cheerleader during the football game, because in high school I was so big, there was no way I would've been a cheerleader. It was as much fun to do it as it was to see it.    
Although a lot of the shoot early on was pretty volatile, right? Well, there's the famous story about Donald (Sutherland) and Elliott (Gould) trying to get Bob fired, but that didn't last long. Donald and Elliott were, of course, torturous to me, because I had a huge crush on Elliott and they knew it! They teased me non-stop, played practical jokes all the time. It was wonderful working with Bob, and I regret that we haven't worked together more, but I'm afraid I got a little arrogant after M*A*S*H and…it was too bad. I know he wanted me to do a part in Nashville (1976), and I said 'Well, if the part is good, you know,' and that was all Bob had to hear. I regret that. 
The person you worked closest with during most of the film was Robert Duvall. What are your memories of him? He would talk about his dreams for the future a lot, and even then, was talking about the idea that would become The Apostle (1997). He was just darling, so easy, so pleasant to work with. But I'll never forget that conversation with him, where he talked about all these plans and dreams, most of which I've seen him manifest over the years. Great actor. 
Unfortunately we can't talk about all the great films you've done, but let's skip ahead to A Little Romance. George Roy Hill was an amazing director. He was very proper and spoke with this patrician tone that, instead of offending you, it made you want to please him. His direction never interfered with your intent or your character. He really made me better. And Diane Lane was just so precious. She was on the cover of Time from that film. She was just discovering make-up and doing everything she could to try and be older. (laughs)
   
Tell us about Olivier. 
 Laurence Olivier shows up and of course, he's a hero to everyone on the set. We had all gotten letters saying that we had to call him "Larry." One day, I had a day off, and I was walking around the streets of Paris and I run into the film shoot. My makeup guy runs up to me "Larry's here! He's dying to meet you! Go into his trailer and introduce yourself." I didn't really feel comfortable doing that, to say the least, so I tried to beg off, but my makeup guy practically threw me inside Larry's trailer. He says "Uh yes…who's there?" 'Uh, hi Larry, it's…Sally Kellerman.' "Oh my dear! My beauty! I shall now sleep like a dear boy having met you!" (laughs) He was just so effusive and warm and adorable. I never actually had a scene with him, we just had one sort of exchange, across the street, but he still went out of his way to say: "My dear, working across the street from you is like heaven!" (laughs) 
You did another great movie around that time called Foxes, playing Jodie Foster's mom. 
Jodie was so amazing because while I'd be doing something mundane like brushing my hair, she'd be out in her trailer learning French. Then she'd come back to the set and know where every light was, and what every lens did. She was already so savvy as a kid, and just so good. That was Adrian Lyne's first film. There was this one scene where Jodie was having trouble with her lines, so on purpose, I went to Adrian and very loudly said 'Is this going to be all day, or what?!' and then, bam! She got it in one take. But I spent the rest of the shoot apologizing to the poor kid! I hope she knew I was doing it to help her. It was interesting because Adrian had such an English view of California with the dark skies and things, lots of smoke. He would shoot take after take. He knew what he wanted but wouldn't stop until he saw it.  
You did two hilarious comedies in the 80s: Serial and Back to School.
There was a lot of funny stuff in Serial, that scene with Tommy Smothers at the wedding: "Youness, meness, oneness, usness." (laughs) Back to School, of all the films I've done, that's the one that people still stop me the most for: "Call me when you've got no class!" I adored working with Rodney Dangerfield, which was my job on that film: to adore Rodney! Although, I wasn't sure at first that I wanted to do it. I wasn't really that familiar with his stuff, and then the producers weren't sure that they wanted me. But finally, I had a wonderful time on that. Rodney's a brilliant man, and an incredible tenacious worker. He'd be at the Sunset Marquis every night after the shoot, writing and re-writing the script. I went to see him in Vegas, after the shoot, and he's just a master of stand-up comedy, like a musician. Just a master of timing. 
Are you going to continue to focus on your singing between film roles? Yeah. When I was young, I didn't know that I could do both. I had no idea about career planning, so I'd turn these movies down and go on the road, and come back 50 thousand in the hole. I'd struggled for so long to get into the movies, and when I finally did, I couldn't wait to be a singer! But, I'm still standing. It's been a fascinating journey.