Photos and images from the very talented Lucy Greenhill Photography (check out her website here!!)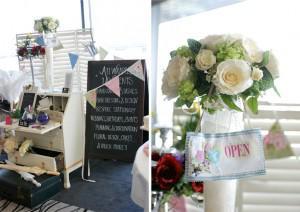 All Wrapped Up Wedding and Events were always going to do something special when they announced they were planning a wedding show. This wasn't to be just any old wedding fayre, this was all about inspiring couples and trying to shake things up a bit. Adding a bit of thought and creativity to something that's become a bit dull….
Roll up, roll up, it's the All Wrapped Up Wedding Carnival!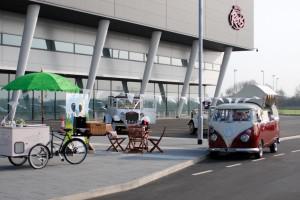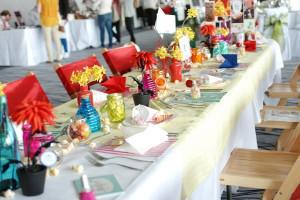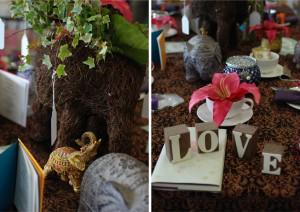 So, on what proved to be a glorious day I set off to Salford City Stadium nice and early so I had time to set up my space. It's easy to fall in to a trap of relying solely on a TV to sell my Love Gets Sweeter wedding films (although the Playstation does show them off really well on my LCD) so I tried to think creatively and came up with a little screening/ living room space. Complete with rug, chairs, coffee table, magazines (including Bride magazine where I feature) and a few of my favorite bits from my office!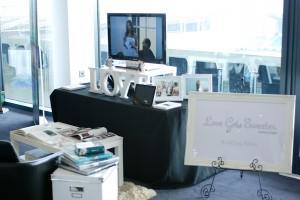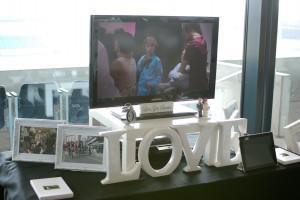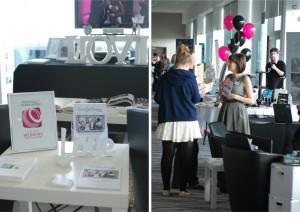 I even finished a little early so took the opportunity to have a nosey at other wedding suppliers spaces and introduce myself. But before we knew it the doors flew open and in streamed all the excited couples wide eyed in wonderment at what laid before them…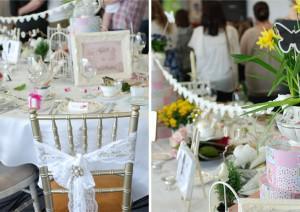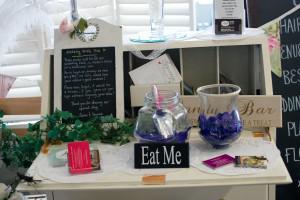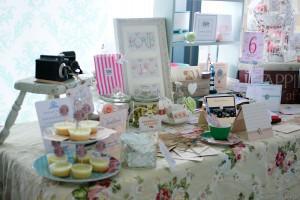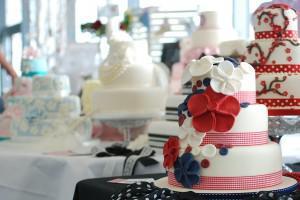 As well as a room full of talented suppliers, along the middle of the Salford City Stadium suite they had a selection of displays that were created to inspire everyone attending along with a funky catwalk show and two crafty demonstrations. I loved watching the cupcake decorating demonstration by Gimme Cake and a few Bride to Be's showed off their table decorations they'd made at the flower demo with Laura Coleman and her yellow tulips.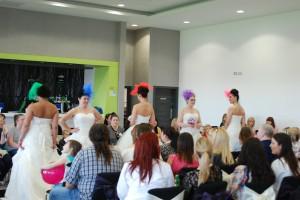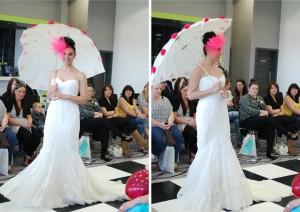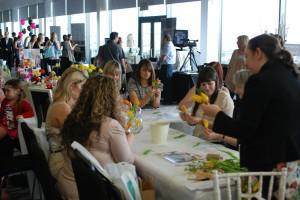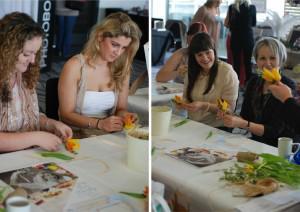 I had a great day. I got the chance to chat to so many couples and some even made use of my comfy seats to really take in my work on the HD screen. My fingers and toes are crossed that some of them liked my work enough to get in touch as they were all so lovely and their wedding plans sounded amazing! As well as chatting wedding films, I also got to talk all things wedding with so many amzing suppliers that I can't wait to catch up with them again soon! There was the lovely Lucy Greenhill who supplied me with these wonderful images that she captured from the show (you can see her blog post on the Wedding Carnival here).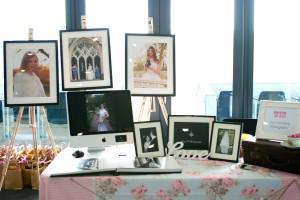 I also caught up with Debbie at Glamour Bolton who showcased some stunning wedding gowns on the catwalk and also showed of the work of Love Bouquets and Love Umbrellas to the eager crowd.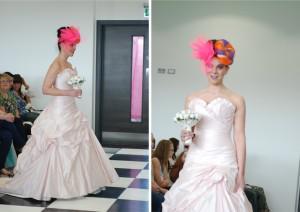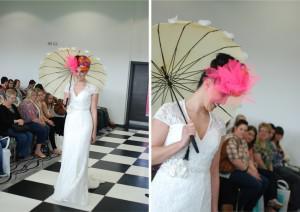 Me TV Video Booth entertained us all by encouraging a few of us to record messages on their device (cringe) and the postman has arrived so you can see that here.
Below are a list of the wedding suppliers that made the day so incredibly vibrant and inspiring…
All Blown Up Balloons www.allwrappedupevents.co.uk/ALL-BLOWN-UP-BALLOONS
B Lucky Casinos www.blucky.co.uk Brides up north bridesupnorth.com/ Borrowed and Blue www.borrowedandblue.co.uk Chair-Man Hire www.chairman-hire.co.uk/Welcome.html
Cherish Memory Dove www.cherishedmemoriesdoverelease.co.uk/ Cheshire Cat Cake Company www.cheshirecatcakeco.co.uk/ County Brides www.countybrides.com/ Cygnus Photography www.cygnusphotography.co.uk/
Dave K DJ and Lighting www.discoandkaraokewigan.co.uk/ Delicious Fruits and Fountain www.deliciousfruitsandfountains.co.uk/ Elle is for LOVE www.elleisforlove.co.uk/
Gimme Cake www.gimme-cake.co.uk/ Glamour Bridal – Bolton www.glamourbolton.com/ Greenwoods Mensware www.greenwoodsonline.com/
Groom Hire www.groomhire.co.uk/ Harry Jon Hair and Makeup www.harryjonmua.co.uk/ Horgans Cars www.horganscars.co.uk/ I Do designs www.idodesigns.org.uk/ Ice Cream Dub www.ice-creamdub.co.uk/
In Style Wedding Cars www.instyleweddingcars.co.uk/ It's a Mistry Jewellery itsamistrydesignstudio.blogspot.co.uk/ Jayne Rozario Jewellery www.rozariojewellerydesign.co.uk/ Kuoni Honeymoon www.kuoni.co.uk/en/honeymoons/pages/honeymoons.aspx Laura Coleman Flowers www.lauracolemanflowers.co.uk/
Libby Mac Jewellery www.libbymacjewellery.co.uk/ Little Bundles Bunting little-bundles.co.uk/ LOVE bouquets www.lovebouquets.co.uk/
Love Gets Sweeter www.lovegetssweeter.co.uk/ Love Umbrellas www.loveumbrellas.co.uk/
Lucy G Photography www.lucygphotography.co.uk/
Made With Love www.facebook.com/cakesandmakes Marry Me Ink www.marrymeink.co.uk/ Me TV Video Booth me-tv.co/ Memories by Victoria Holden Photography www.memoriesbyvictoriaholden.com/ Paul Rittler photography Peter Lockwood Wedding DJ and Up-lighting peterlockwood.co.uk/ Photobooth.co.uk www.photobooth.co.uk/ Piper For Hire www.daveallansolopiper.webs.com/ RT Acoustic Duo www.rebeccastanton.co.uk/ Salford City Stadium www.salfordcitystadium.com/ Simply bows & Chair Covers www.simplybowsandchaircovers.co.uk/ Smooch Rings www.smoochrings.co.uk/ Sweetie Trees www.sweetietree.co.uk The Design Element Florist www.designelementflowers.com/ The Dotted Crotchets www.thedottedcrotchets.co.uk/ The Perfect Ring Company http://www.theperfectringcompany.co.uk/ Toastmaster Richard G Aves www.richard-g-aves
Topz www.facebook.com/TopzManchester
Wedding to DVD www.weddingtodvd.co.uk/ Whole Hearted Designs www.wholehearteddesigns.co.uk/ Zank you UK www.zankyou.com/uk ZigZag Events www.zigzagevents.co.uk/
Can you believe there were that many of us?! You can read more about the wedding carnival on All Wrapped Up's very own site. Here you can keep up to date with their plans for the next Wedding Carnival and you can even check out their list of Elite wedding suppliers (which I am very proud to be included on).
If you want a wedding video that's as unique and inspiring as the Wedding Carnival then do have a look at my Portfolio. Love Gets Sweeter specialise in really personal, unique wedding films that reflect each couples personality. I'm really passionate about weddings and our wedding films and that really comes across in not only my work but my customer service (do feel free to click through to my testimonials). My background in TV and film editing enables me to really tell your story so your wedding film enables you to be taken right back to that day for years to come. You can relive all the excitement and emotion from your wedding as well as reliving all those special moments captured by our two cameras. We can get in with your guests so watching your film is like seeing it through your guests eyes!