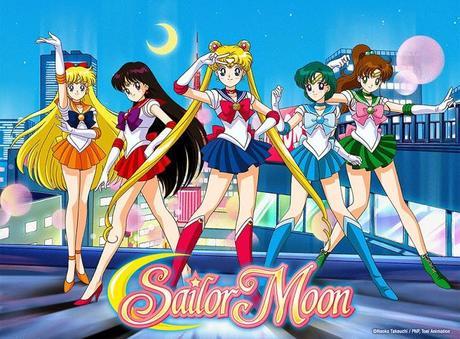 So basically, you can watch Usagi cry on the airplane if you so choose on certain devices.
July 16, 2014
DIGITAL DOWNLOADS OF SAILOR MOON SEASON ONE PART 1 NOW AVAILABLE FROM VIZ MEDIA
Episodes 1-23 Of The Iconic Original Girl Power Action Anime Series Now Available For High Definition Download From Leading Content Partners In The U.S. And Canada
VIZ Media, the largest distributor and licensor of manga and anime in North America, invites fans to catch the launch of the first part of season 1 of the legendary and beloved SAILOR MOON anime series for digital download from a range of top media content providers.
SAILOR MOON Season One (Subtitled Episodes 1-23; rated 'TV-PG') is available directly from digital partners, including Apple iTunes, GooglePlay, Amazon Instant Video, PlayStation Network and the Xbox Marketplace for $16.99 in Standard Definition, and $34.99 in HD. Individual episodes are also available, and carry an SRP of $0.99 each in Standard Definition and $1.99 each in High Definition format.
VIZ Media also features SAILOR MOON (subtitled) on its FREE NeonAlley.com anime streaming platform and also via the subscription-based Hulu Plus in High Definition. Visit www.NeonAlley.com and Hulu.com/sailormoon for more information.
The smash hit SAILOR MOON anime series is inspired by the bestselling manga (graphic novel) series created by Naoko Takeuchi (published in North America by Kodansha). In the series, Usagi Tsukino is a clumsy but kindhearted teenage girl who suddenly finds out her destiny involves transforming into the powerful guardian of love and justice, Sailor Moon. Meeting allies along the way who share the same fate, Usagi and the team of planetary Sailor Guardians must fight to protect their universe before villains destroy it all!
VIZ Media has licensed all 5 seasons of the original SAILOR MOON anime series (rated 'TV-14'), spanning 200 episodes, as well as three feature films. Included in the release slate is the long-running show's climactic 5th and final season "Sailor Stars," which has never-before been licensed for North American release. VIZ Media is producing an all-new, uncut English dub featuring a fresh voice cast, and will present SAILOR MOON for the first time digitally and also plans DVD and Deluxe Blu-ray box set editions for Holiday 2014 release.
For more information on SAILOR MOON, or other anime titles from VIZ Media, please visit www.VIZ.com.
The following two tabs change content below.

Justin
Justin is the founder of Organization Anti-Social Geniuses. Anime & manga fan that likes to blog about anime and manga, is addicted to sports, and weak to crossovers. You can follow Justin on Twitter
@Kami_nomi
.

Latest posts by Justin
(see all)
Sailor Moon Season 1 Part 1 Can Be Digitally Downloaded

- July 17, 2014

Justin's Appearance On Just Nerds At We Are Geeking Out

- July 16, 2014

Justin's Bizarre Anime Backlog Adventure, Week 13

- July 11, 2014

Notes of GTO 2014 Episode 1

- July 10, 2014

Date A Live Season 1 Review

- July 10, 2014