The Eastern wisdom describes seven working intelligences in creation which exist as seven principles on the cosmic plane. They are called the Seven Seers / Rishis or Seven Judges. They have incarnated as the seven stars of the Great Bear and have externalised as seven rays. This principle also expresses on earth as seven great sages, as seven layers of consciousness and as the seven energy centres of the human body.
Spiritual astrology explains that Sagittarius is the sign of judgment and that the seven judges are related to this sign. Sagittarius is the sign of aspiration to noble goals where the spiritual student dreams of becoming a seer whose plans are one with the cosmic plan.
At the start of this image, I worked on a photo of the Great Bear. Seven rays in the colours corresponding to the related Seven Seers come down to earth. There, the Seven Rishis are depicted as seven flames, which I superimposed on the shape of the Earth. One of the flames is radiating in a human silhouette, where a line in rainbow colours represents the seven centres. The silhouette is standing on a radiant blueish sphere, looking to the Earth. The globe, surrounded by a subtle aura, appears like the pupil of a great seer. The image has a background of blue, the color of Jupiter, ruler of Sagittarius.
See more pictures on the site with my paintings. If you want to print the image, you can download the file in medium and high resolution format.
The different zodiacal signs are clustered in groups – you can see here all my Sagittarius paintings.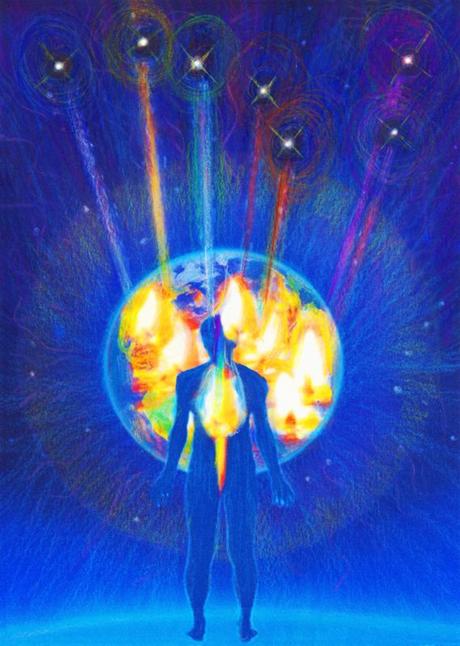 11 August 2016, pencils and photo work