When we arrived at Sagada, all we had in mind and we're looking forward to were the activities we were about to experience. As with most of our travels, we often neglect eating time as this can always be done along the way. This time around, we had our guides, Kuya Junefer and Kuya William, plan out where to dine. Mostly because they already knew where the best restaurants and carenderias can be found and the time frame for the activities.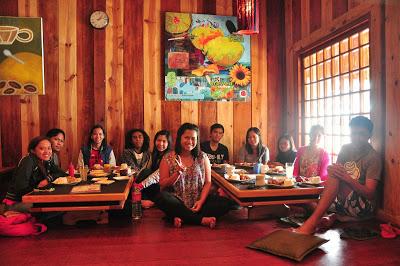 The gang at the Sagada Lemon Pie House. Photo by: Myraine
Sagada Lemon Pie House
Kuya Junefer suggested that we had lunch at the Sagada Lemon Pie House before proceeding with spelunking at the Lumiang-Sumaguing cave connection. He boasts that the fried chicken here is the best.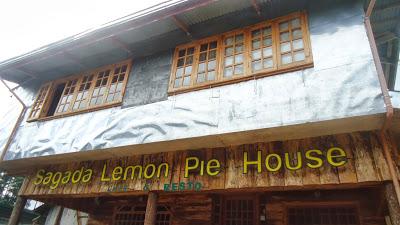 Sagada Lemon Pie House
The resto was almost empty, except for another group of tourists, when we arrived. The place is cozy and really homey and also kept us warm from the cold weather outside.
| | |
| --- | --- |
| Photo by: Myraine | Photo by: Myraine |
| | |
| --- | --- |
| Photo by: Myraine | Photo by: Myraine |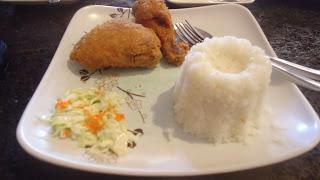 Fried Chicken.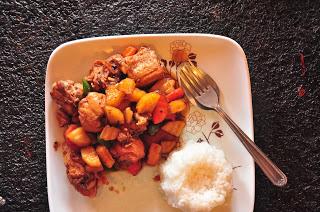 Chicken Adobo. Photo by: Myraine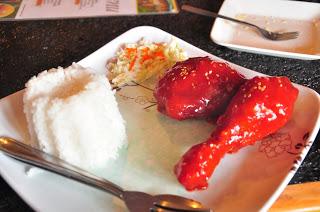 Red Spicy Chicken. Photo by: Myraine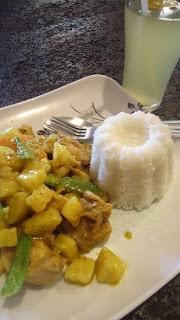 Chicken Curry.
It wouldn't be right if we went to the Lemon Pie House and don't even try the lemon pie. The lemon pies on display were so enticing, we ordered the pan (P200) first before the meals.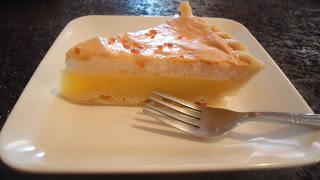 And of course, the Lemon Pie.
Comfy place paired with good food results in a happy tummy :) Sagada Lemon Pie House serves great chicken dishes. And their serving is quite large too. Just add an extra rice and it's a meal for two.
How much does a meal in Sagada Lemon Pie House costs:
Chicken Meals - P130
Lemon Pie - P30/slice or P200/pan
Mountain Tea - P15/cup
Lemon Tea - P15/cup
Brewed Coffee - P30/cup
Pinikpikan Haus
The grueling spelunking of the cave connection did not only left our muscles sore but also drained our mana pool. Our lunch at the Lemon Pie House seemed like ages away. We hurriedly washed up and got ready for dinner.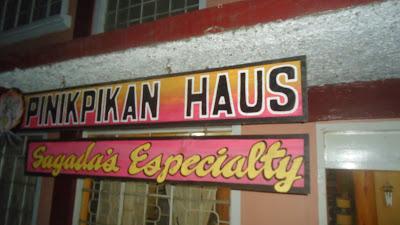 Pinikpikan Haus.
As requested by Herbert, we had dinner at the Pinikpikan Haus which serves the pinikpikan soup. It was the first time I have heard of this dish, thanks to Herbert. The pinikpikan is a popular chicken soup by the Ifugao in the Mountain Province. Prior to cooking, the live chicken is beaten by a stick to induce internal bleeding (
Pinikipan
wiki).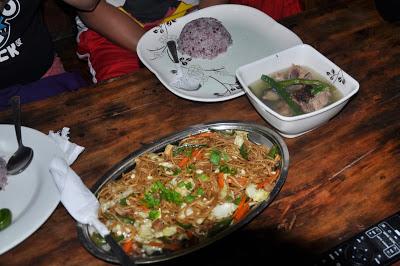 Pinikpikan Soup and Pancit Canton. Photo by: Myraine
I opted for the Pork Adobo as I already had chicken for lunch and the dinner the night before (I think I had too much chicken in my system..hehe). The serving was quite large and could be enough for two.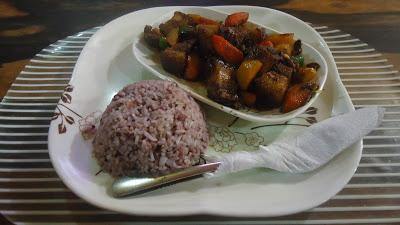 Pork Adobo.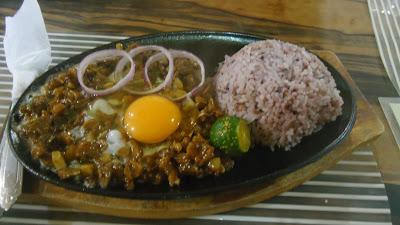 Sisig.
I tried some of the pinikpikan soup but did not really liked it. It has a distinct taste but was not a fan. The chicken was tender though and the soup was hot, great for the cold evening.
Meals at the Pinikpikan cost us:Pancit Canton - P150
Pinikpikan - P120
Pork Adobo - P120
Sisig - P120
There are other good places to visit if you wanted to go food tripping in Sagada (see
here
). We missed to visit the famous Yogurt House, one of the downsides of being on a scheduled tour. But it's on my list the next time I'll be on this great place.
More of Sagada:
Sagada: A Hidden Shangri-La