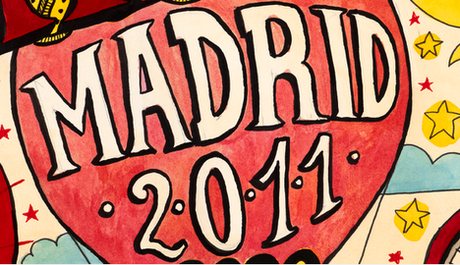 After shows in London & Houston,
SAFEWALLS
is now in Madrid and working with Miss Van, Ricardo Cavolo and Nuria Mora.
Each month, SAFEWALLS is pairing up with three cutting-edge artists to create original art posters inspired by Cirque du Soleil shows. With these artworks, SAFEWALLS tours the world following the trail of Cirque du Soleil shows to hold a monthly exhibition that grows in size as works from previous cities are added to the collection.
The first of the Madrid prints from Ricardo Cavolo went on sale over the weekend. Only 300 regular prints and 50 deluxe hand numbered and signed prints are available. They can be purchased from the Safewalls website along with the posters and prints from the previous two shows. Check out this video in which they interview the three artists featured as part of the Madrid show. We also suggest you keep a eye on the website for details of the forthcoming Miss Vans and Nuria posters and prints.