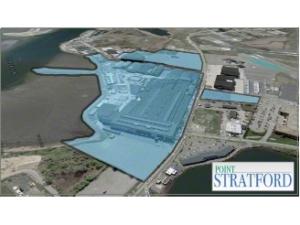 Sold?
Tuesday, August 21, 2012
(HARTFORD, Conn.) Today, Congresswoman Rosa DeLauro (D-CT-3), Senator Joseph Lieberman (I-CT), and Senator Richard Blumenthal (D-CT) announced that the General Services Administration (GSA) has selected developer Point Stratford Renewal, LLC (PSR) to enter into a purchase and sale agreement to redevelop the site of the former Stratford Army Engine Plant. This announcement allows PSR to acquire, remediate, and develop the 78-acre brownfield currently owned by the U.S. Army.
"This announcement is great news and is particularly gratifying after working so hard for the past 17 years to develop a new process for redeveloping the Stratford Army Engine Plant site," DeLauro said. "After almost two decades of disagreements and false starts, redevelopment will benefit Connecticut's economy and, most importantly, the people and Town of Stratford. I look forward to working with all parties and am optimistic and excited to see what the site will become in the future."
"Since the Stratford Army Engine Plant was shut down in 1995, we have worked to turn this closure into an opportunity for the community," said Lieberman. "I am glad we may finally move forward on redeveloping this important property, and I am hopeful that the project will now proceed in a timely manner."
"Better late than never – this step is a breakthrough for beneficial use of an historic site," Blumenthal said. "I look forward to redevelopment and renaissance, offering jobs, economic growth and other benefits to Stratford and the state. Sustained hard work by local officials and our Congressional delegation – especially Rosa DeLauro – enabled this major step forward."
In January of this year, Representative DeLauro met with the Army and GSA, and she, Senator Lieberman, and Senator Blumenthal followed up with a letter proposing a new path forward on the project after nearly two decades of false starts.
http://www.blumenthal.senate.gov/newsroom/press/release/connecticut-delegation-members-announce-progress-on-stratford-army-engine-plant-redevelopment
Not surprisingly, we can find nothing about Point Stratford Renewal, LLC nor who the principals might be. We will continue to work on this.