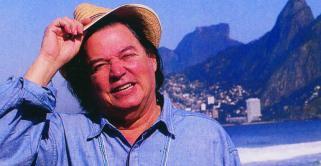 Tom Jobim in Rio
It's Not Easy Being Green
Aware of the transitory nature of fame in the artistic universe, "The Master" Tom Jobim gave a shout in his later years to the damage being done to the environment. "They want to destroy the thing they can't create," he warned, in Carlos Lacerda's wide-ranging magazine exposé. But it wasn't all gloom and doom from his part, not by a long shot.
"When a tree is cut down here on Earth," Jobim pondered wistfully, "it will grow again somewhere else. When I die, it is to this place that I want to go, where trees live in peace." Tom was thinking and acting "green" long before it became fashionable for celebrities in the spotlight to do so.
He expressed some of those same concerns to writer-lyricist Gene Lees, the person credited with the English-language versions of "Corcovado" ("Quiet Nights of Quiet Stars"), "Desafinado" ("Out of Tune"), "Chovendo na roseira" ("Double Rainbow"), and other Jobim favorites. "We are building a desert, my friend," Tom told him. Lees never forgot that ecological message, which he repeated verbatim in his liner notes to Jazz Masters 13: Antonio Carlos Jobim, a no-frills edition of excerpts compiled by Verve Records and released in 1994, the year of the composer's passing.
In 1995, Sony International issued Antonio Brasileiro, Jobim's commercial swan song. It presented a "killer" lineup of greats, among them Ron Carter and Tião Neto on bass, Marcio Montarroyos on trumpet and flugelhorn, living legend Dorival Caymmi on guest vocals, and Sting, the original Mr. Greenpeace, joining the bashful Brazilian in a breathy rendition of "How Insensitive." Norman Gimbel, who re-worked "The Girl from Ipanema" for the North American market, provided the idiomatic English text for that one as well.
The track also turned up on Antilles/Verve's Red, Hot & Rio anthology from 1996. Sinatra he wasn't, but the front-line rock star-cum-Amnesty International advocate, the Stinger, gave Ol' Blue Eyes a respectable run for his Vegas buck; it was light years ahead of Frank's deadly dull reading with Jobim (whose portion was taped in Rio by producer Phil Ramone) of the Bart Howard standard, "Fly Me to the Moon," on Duets II from Capitol.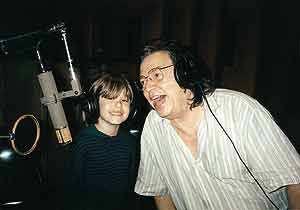 Maria Luiza Jobim & Dad (Ana Lontra / uol.com.br)
Tom's youngest daughter, Maria Luiza Jobim, contributed her own (at the time) slim vocal line to the languidly-paced "Forever Green," the moving lyrics of which say all that needed to be said about dad's desire to rescue the planet from man's self-destructive impulses:
Let there be flowers
Let there be spring
We have few hours
To save our dream
Let there be light
Let the bird sing
Let the forest be forever green
Little blue planet
In great need of care
Crystal clear streams
Lots of clean air
Let's save the Earth
What a wonderful thing
Let it be forever green
Her famously subdued parent even dedicated a fitting ode to his little girl. He dubbed it "Samba de Maria Luiza." Likewise, Vinicius, who himself had concocted over 400 songs in toto, was not above tossing a few melodic treats to kit and kin. During the period that he was living in France, and before clinching the deal with his future working partner Tom, the poet composed a lilting waltz tune, "Valsa de Susana," for his progeny to remember him by.
He later considered placing it into the proposed Orfeu da Conceição project, especially after playing the song for an enthusiastic Jobim. Naturally, the name was changed to protect the innocent. And so it went: from a ravishingly simple melody to a full-fledged orchestral passage with solo-guitar accompaniment, the rechristened "Valsa de Eurídice" (the title by which it is known to this day) can be heard, on an old Odeon recording, as part of the Overture to the poet's stage hit.
Most of the numbers on the ten-inch long-play were given to a single vocalist — Roberto Paiva, in fact; not what one would expect from an original-cast album, but good enough for the play's purposes. Because of Orfeu's obvious musical and lyrical inclinations, the songs were deliberately designed to emanate from his poetic lips only. (For the most part, both movie versions respected and/or maintained the tradition.)
The lone exception was the magical "Monólogo de Orfeu," beautifully intoned by the Brazilian bard himself, with Luiz Bonfá soloing on acoustic guitar and Tom Jobim leading the studio orchestra. It is the sole, surviving sonic record — an ancient relic from a long-forgotten musical past — of that legendary Rio stage production.
Stop the World, I Want to Get Off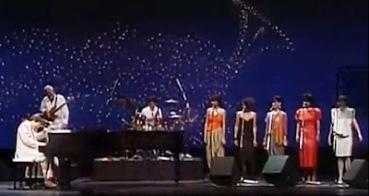 Tom & Banda Nova (nicinefilo.blogspot.com)
As the eighties and nineties wore on, Tom was anything but worn out. He took up touring again and, for good measure, brought along his Banda Nova ("New Band"), a crack ensemble of veteran players mixed with current Jobim-Caymmi-Morelenbaum family members (as well as the young Maúcha Adnet), to such estimable locales as Brazil, Europe, and the United States. These concerts were particularly well received by a newer generation of listeners, many of who had grown up without samba and bossa nova to kick around but were willing to give the composer's "romantically tinged" output a second spin.
It was in the summer of 1992 that Jobim finally settled his accounts with his fellow countryman (or maybe it was the other way around) by serving as the "theme" of a parade staged, in his honor, by the Mangueira Samba School of Rio.
We don't want to belabor the point that everything under the carioca sun ends in Carnival. Rather, let's look at it as a delayed reaction to all that "the most beautiful man in Brazil" had done for the land that once tried to tune his music out; only two years more, and he was gone from their midst.
Author Ruy Castro accurately pegged the national mood of the time as conciliatory toward Tom: "Brazil, sick and tired of so many mediocrities, saw in his work (and in him, as a man) a reflection of how it needed to have seen itself."
Jobim's classic number, "Se todos fossem iguais a você," translated word-for-word as "If Everyone Were Like You," helped push this sentiment along, with celebrants singing and playing the tune over and over again in the streets of his hometown. Posthumously adding Tom Jobim's name to Marvelous City's Galeão International Airport was another, far less musical means of addressing the issue. It may have been too little, but it was never too late.
In the end a mighty oak had been cut down on Earth, only to grow again somewhere else: Antonio Carlos Jobim found his eternal peace among the trees of Cemitério São João Batista (Cemetery of St. John the Baptist) in Rio de Janeiro, not far from the Botanical Garden of his youth, and near to the tomb of his good friend, Vinicius de Moraes. They were born fourteen years apart.
At his death, Jobim had followed the path that Vinicius earlier laid out for him by the same fourteen-year spread. Let it never be said of either artist that he who had come before — or after — wasn't fit to tie the other's bootstraps. (We could be wrong about this, but it's believed they preferred slippers and loafers to boots.)
For the poet, all was forgiven at last via his posthumous reinstatement, in September 2006, to his former post with the Ministry of Foreign Relations. Those relations were never cordial to begin with, but whatever animosity once existed between him and the Brazilian State Department was cast aside in lieu of services rendered, reinforced by the 2004 publication of the Vinicius de Moraes Songbook – Orfeu, followed in 2007 by part two of his Songbook – Biography and Selected Works.
(End of Part Ten)
Copyright © 2013 by Josmar F. Lopes