On Sunday 16 th of October, a team of volunteers organized by the Primate and Predator Project and Soutpansberg Centre for Biodiversity and Conservation, entered the Medike Mountain Sanctuary to conduct a snare sweep in a forested area near the Sand River. A total of seventy-five active snares were taken from the bush. Amongst the snares we found two bush buck carcasses, the remains of a juvenile baboon, and a jar of poison hidden away in the brush. The dense concentration of snares suggests this is not subsistence poaching, but instead points towards a larger bushmeat-trade syndicate operating in the area.
The following day, a grim discovery was made of a leopard carcass close to the area of the snare sweep. The carcass was still freshly skinned, with numerous dog tracks and footprints surrounding the scene. Coagulated blood around the neck and throat confirms that an illegal snare was the cause of death. LEDET Environmental Compliance and Law Enforcement as well as the South African Police Service are currently investigating this incident.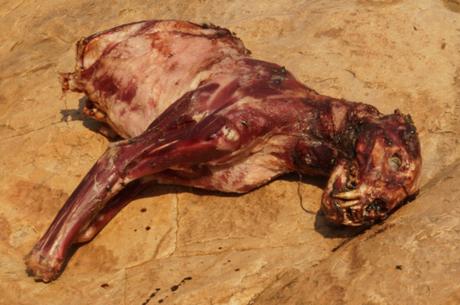 Freshly skinned leopard carcass found at Medike Mountain Sanctuary.
Wire snaring is a popular harvesting method for bushmeat, given that snares are inexpensive, effective, and easy to obtain, set and conceal. Snares are non-selective and can inflict significant by-catch (i.e. killing animals not intended for consumption). Unfortunately, the impact of snaring on our local wildlife is difficult to quantify due to the secretive nature of bushmeat poaching. Landowners often don't know about set snares on their land and poachers often move away from an area abandoning active snares. Snaring can especially impact large carnivore populations, such as the leopards in the Soutpansberg Mountains. These animals are particularly vulnerable to snaring given that they are wide ranging (have a high probability of running into an abandoned snare), occur in low densities (they have large territories), and are long-lived (only reaching sexual maturity after 2 years of age).
The general public can help by removing snares when found in the field and by reporting incidents of poaching directly to LEDET. In addition, landowners can get their employees to do a monthly snare sweep on their properties to remove any snares. The Primate and Predator Project have conducted several snare sweeps and removed hundreds of snares from the Soutpansberg Mountains. If you would like assistance from them please contact Philip at 071 841 8361 or [email protected].