Sabudana Khichadi Recipe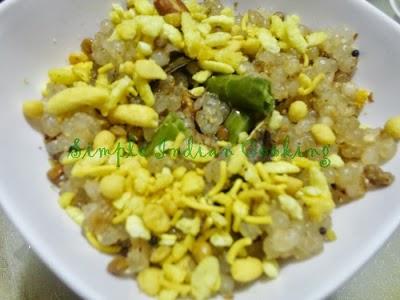 Sabudana Khichadi
I like Sabudana khichadi and my daughter likes it too(when the medium sized pearls are used). It is dish that is specially made during fasting. You can enjoy it as breakfast or as a light snack. It is very filling and is high in calories. Sabudana is made from the starch of a plant called tapioca. You can use the sabudana in preparing sabudana kheer which is again a dish that is made during fasting. Read on to know how it is made.
Preparation time: 3-8 hrs
Cooking time: 10 minutes
Serves: 2
Ingredients:
1 cup tapioca pearls/sago/sabudana
1 cup diced boiled potatoes
3 tablespoons finely chopped fresh coriander leaves
1 tablespoon lemon juice
¼ cup coarsely pounded roasted peanuts
2 tablespoons oil
½ teaspoon mustard seeds
½ teaspoon cumin seeds
4-5 curry leaves, finely chopped
1 teaspoon finely chopped green chillies
salt to taste
Method:
Wash the sabudana 2-3 times and soak them. the soaking time dependes on big pearls you are using if the pearls are very small them only 2-3 hrs if soaking time is enough but if you are using the medium size pearls then soak for 8 hrs at least or else it wont cook well. I usually soak them overnight for breakfast.
Boil the poatoes and cut them in small cubes. roast peanuts in a kadai and keep aside to get cooled. When cooled rub them between your both handa to remove the skin and crush them.
In that same kadai put some oil and add the cumin and mustard seeds. Let it splutter, then add the cutty leaves and green chillies. Fry them for few seconds.
Add the potatoes and cook for 2 min, then add the sabudana and mix well.
Keep the flame in low and let it cook for ew min. Also, stir the sabudana from time to time so that it doesn't stick to the kadai.
Add salt and some water to mix them well. Do not cover the kadai while cooking sabudana or else they will turn elastic and chewy.
When the sabudana is cooked it becomes translucent then turn the flame off and add the roasted peanuts and lemon juice and mix well.
Garnish with chopped corriander and some mixture(if it suits your taste buds).