'Tell me one of your inspirations?' asked teacher hoping her student knows what an inspiration means. Of course she was not disappointed. Frozen with an unholy fear of being asked a question in the middle of a class, 'Sachin Tendulkar' said I, after a moment, gathering words that suddenly struck. I was 9 then. He is such a savior.
We never knew cricket without him. Probably we are introduced rather addicted to this beautiful game because of the auras this legend carried in. He is the epitome of a classy cricketer. Cricket is fortunate for having him playing it. He is the pride of India.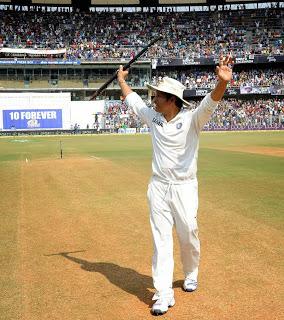 His retirement is painful to millions of his fans. But as they say 'life goes on'. His last speech left many eyes moist. I couldn't stop tears rolling down as he said each and every heartfelt word. I'm blogging his speech for many of my friends who wanna see it again. So here it is..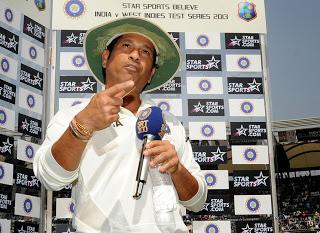 " All my friends, settle down let me talk,I'll get more and more emotional ." The crowd went berserk out there. "My life between 22 yards in the 24 years, it 's hard to believe that it 's coming to an end. I would like to thank all the people who have helped me in my life to get here. I have a list in my hand , please forgive me if I miss out on a few names. First , my father, he passed away in 1999 . He was very key for my career. he gave me freedom , chase your dreams and don't find shortcuts. He also told me to be a nice human being. My mother, I don't how she dealt with such a naughty like guy me . She took care of me to be healthy. She started praying for me even before I started my career and I think those prayers gave my strength . In my school days , I used to stay with my uncle and aunt as my school was far away . They treated me like their son.They gave me enough food that I can play well . My eldest brother , he used to tell me , I know you'd do everything right and I have the confidence in you.My sister, she gave my the first bat for me . A Kashmir Willow bat . She continues to fast when I bat . Ajit , I don't what do I talk about him. It all started from the age of 11, he took to Achrekar sir my coach. And my life changed . Even last night , he called me and we were discussing my dismissal. Various things we agreed upon , my technique . I have had a lot of chat with him. If I had not done that , I would have been a lesser cricketer . The most important one in 1991 , I met my wife Anjali. I know she was a doctor . When we decided to make it a family, she said, you continue with your cricket and I'll take care of the family .Without that I think I couldn't have played so much cricket . Thank you for all that you've done and it is the best partnership I've had in my life . Then Sara and Arjun are two precious diamonds in my life .Daughter is 16 and son is 14, time has flown by . I wasn 't able to be with them for the birthdays, annual days and stuff.Thanks for understanding all that, both of you have been so special to me . I 've not spent enough time with you but I promise you the rest is for you.My in- laws have been supporting. I discuss various things with them ,we have a strong family and thank you for allowing me to marry Anjali. There have been a lot of friends who have supported me .Leaving their work and coming to bowl at me when I called them . I thought my career was over when I was injured, by my friends called even at 3 AM and made me believe that it was not over .My career started at 11. My brother took me to Achrekar sir and that is the best to have happened to me . Sir would be taking me on his scooter allover Mumbai to ensure that I get enough match practice .On a lighter note, he 's never said well played to me so that I don' t get complacent. ""My cricket started right here at this ground. The dream was obviously to play for India . BCCI was fantastic , they believed my at the of 16 years and selected me . Thanks for the support and the freedom ,without that this couldn't have happened . I have played with many senior cricketers, thanks to everyone for helping me out . I see , Rahul,Laxman, Sourav and my teamates, you guys are like my family . It is going to be difficult without that dressing room, sharing those special moments.""When Dhoni gave me the 200th Test cap, I just said, we are all proud to be here as a team and I believe that you guys will take care of this country in the right spirit to the best of our abilities. I believe in you and all the best for your future . Thanks to all the doctors,physios,without your special efforts , I couldn 't have been fit. I don' t know how you all kept me in good shape. My dear friend , late Mark Mascerenhas, my first manager . Without him I couldn ' thave achieved all this. All those sponsorship deals etc. . thanks for your support . I miss you. My manager Vinod Naidu, he 's more like my family. He's given me so much time leaving his family to work with me. In the school days when I played well , the media backed be a lot . You've been doing that till now . Thank you to all of you, all those photographers. Those moments will remain with me for the career. I thank all the people who supported me a lot . Whether I scored a 0 or a 100. I've met a lot of people who does all sorts of things for me,thank you for all that you've done . Especially ,"Sachin . .. Sachin .." that will be ringing in my ears till I breath . Thank you very much. I am sorry if I have missed out on anything .

 


GOODBYE!!


can anything be more emotional. But something which lit everyone's face with joy is the much deserved BHARATRATNA, highest civilian award in India announced to him for his services to the game. Congratulations master..!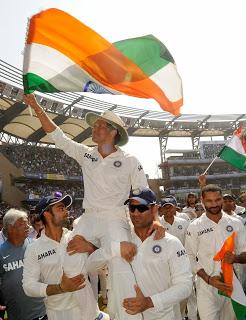 Your memories will be cherished
your place in our hearts will remain forever
and you will stay 'God of Cricket' for the rest of eternity.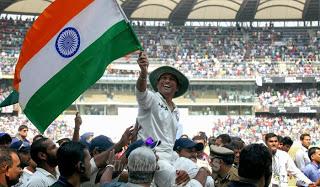 We miss you and love you forever
God bless.
And yes
Saachinn.....Sachin...
Thanks for stopping by....I would be glad to know your views in comments...:)