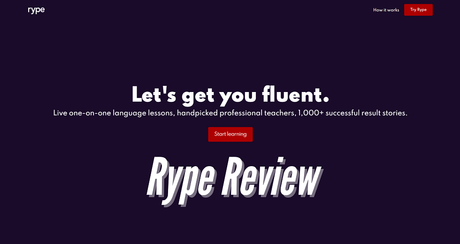 Learning a language takes time, dedication, and a lot of practice. Most of the best language-learning apps give you materials to learn, such as interactive exercises, podcasts and audio files, short readings, and so forth. At some point, however, you have to speak with another human being to keep improving. Rype is a service where you find and book one-on-one language tutoring sessions via video call. The price for lessons is extremely low, though at present, it requires that you buy a subscription-style package. Even so, a half-hour class costs less than $10, which is extremely affordable even if you have to pay for a few sessions up front. Rype is more flexible than other services, although all sessions are only 30 minutes, which may feel too short for some people to make real progress. If you are ready for one-on-one tutoring, Rype is definitely worth a look.
If you are in the market for more general language-learning programs, Rosetta Stone and are top picks. Rosetta Stone offers small class video-call tutoring, too, but it is highly scripted and tied to the Rosetta Stone program, unlike Rype's sessions, which are unique to each learner and instructor. Rosetta Stone is better for beginners, however, as you can learn the basics of a language at your own pace in the app and without a tutor. Duolingo is a wonderful app, too, and it is entirely free. It makes a great companion no matter where you are in the learning process.
What Is Rype?
Rype is a marketplace where language learners can find tutors or instructors. Rype vets the instructors, but it does not train them or provide them with teaching materials. Every instructor brings his or her own style, materials, and personality.
Unlike other marketplaces for tutors, however, the instructors do not set their own rates. Instead, learners pay for a subscription to Rype, which includes so many lessons per month (see the Pricing section for more details). In addition, Rype pays the instructors separately.
Each session is 30 minutes long, and most of them occur via Skype. They are always one-on-one, so there are no group classes.
Languages Offered on Rype
Rype offers tutoring in nine languages, plus English. If you are already an English speaker, you can use Rype to learn: Arabic, Chinese (Mandarin), French, German, Italian, Japanese, Portuguese, Russian, and Spanish.
While Rype does not distinguish between Latin American Spanish and Castilian or Brazilian Portuguese and European, you can look for and choose instructors who have a particular background or accent. For example, among the Spanish instructors, you can find people with linguistic backgrounds from Mexico, Argentina, Chile, and Spain.
Rype's Pricing and Plans
When you sign up for Rype, you must give a credit card number and choose a subscription plan, although you get seven days to try it free before the company charges you. A representative from the company said Rype would soon offer new options, such as a trial that includes three lessons without a time limit and the ability to buy a few classes à la carte without committing to a subscription. Those options are not yet released as of this writing, however.
The pricing is complicated, so let us simplify it first. A half-hour session costs anywhere from $7.08 to $9.99. For one-on-one tutoring, that is a remarkably low rate. Keep in mind, though, that this cost is based on buying a monthly subscription and booking all the classes that are included for the month. You end up paying for multiple classes up front, and if your schedule gets busy, you may not be able to use all your sessions in time. Rype does let you rollover up to half your total credits each month, however, and the price is so low that the worry of losing credits may not be a strong disincentive anyway.
The smallest package is a one-month commitment for four hours of lessons ($79.99), or eight classes. You can also prepay for six months of the same package at a rate of $59.99 per month, which means your total is $359.94.
If eight sessions per month is not enough, you can go up to 12 or 20 at a cost of $99.99 per month, or $509.94 for six months; or $179.99 per month or $959.94 for six months, respectively.
Keep in mind that the per-class price isn't wildly cheaper if you pay for six months up front versus one month at a time, so consider starting with a one-month subscription and see how it works for your schedule before committing to anything more.
How's Does Rype's Pricing Compare?
Look around, and you can find all kinds of online tutoring. A low rate would be considered about $30 per hour, although that does not always include face-to-face video sessions, which is what Rype offers.
VerbalPlanet and Preply (which we have not reviewed) are similar sites for finding a one-on-one language tutor. On these sites, the rate varies by instructor. VerbalPlanet offers 45-minute sessions that cost roughly $15 to $25. Preply has a similar cost, though it lists by the hour (about $20 to $30, on average).
Another interesting comparison is . Fluenz is online software for learning languages, but the company also offers in-person learning retreats and immersive classes by video. Rather than book individual sessions as needed, Fluenz asks you to commit to an entire course. A 30-hour course costs $2,800, which works out to be about $92 per hour, and there is a 15-hour Fast course for $1,500. The upfront cost is much higher than Rype, but Fluenz's courses are quite different in nature and structure. They last 90 minutes each, for example, and the price includes access to software. Rype's sessions are 30 minutes and you do not get any software. Rype is better if you need a lot of flexibility, as you can choose the time and date for each class and change instructors any time you want. Fluenz has a smaller pool of instructors and a much more rigorous approach to scheduling. There are some options, but you must choose a schedule in advance and commit to completing the program in anywhere from three to seven weeks.
Which type of course is better for you will depend on your prior experience, flexibility, goals for learning, and many other factors. Just know that different options are available.
Getting Started and Booking Sessions on Rype
The first steps in getting started with Rype are to pick your language, choose a subscription, put down a credit or debit card, and then look for an instructor. The page where you view the instructors shows a timeline at the top, and when you choose a date when you want to book a class, it automatically filters for teachers based on their availability. Instructors also have an average learner rating that appears next to their profile. If a teacher is too new to have ratings, their profile has a "New" tag on it.
When you book a session, you get all the details you need for joining. Many of the instructors use Skype to teach, and you will receive an email confirming the date and time of the class, plus the instructor's Skype handle.
The Rype Learning Experience
To test the service, we signed up for a class in Spanish. We recently completed an intensive course that was similarly done via video chat.
The instructor messaged us a few hours before the class to add us to her Skype contacts. She also asked about ours level, whether it was beginner, intermediate, or advanced. We explained that we had prior experience and very recently completed an intensive course, and that we would like to focus on fluidity in speaking and review some more advanced verb tenses.
Two minutes before the class, our instructor sent a message via Skype asking if we was ready to go. We began with some chitchat, and she asked us simple questions that forced us to use present tense, simple past tense, and future. She switched to English a few times, but mostly we spoke in Spanish.
When we finished our casual conversation and were ready to move into a lesson on verb tenses, the instructor shared her screen. She had a white board where she could type and write by hand, plus some slides. She was super-fast in pulling up the right materials, and we did not waste any time. We practiced a bit and even ended the class one or two minutes over our time. She ended by telling us a little bit, about what else she would have us work on if we were to book her again for another lesson.
Overall, the experience was great. When we first started, it was clear the instructor was sitting outside by a pool. She was relaxed, confident, and ready to help us. She had some bad weather, which sent her inside halfway through our lesson, but it did not affect the learning one bit.
A Rype representative confirmed that the teacher's materials, such as slides and images, are all their own. This is helpful to know because if you find an instructor whose materials and style work for you, you will want to stick with them. It also means that if you need to switch instructors for any reason, you will not likely have any continuity going forward.
The only downside in ours experience using Rype is that 30 minutes is not a lot of time for language learning, especially for speaking. We barely feel warmed up after 30 minutes. We would prefer a class that was 45 or 50 minutes. Not everyone will feel the same, of course, but it is worth noting that all Rype sessions are only 30 minutes long. Other language tutoring services, such as VerbalPlanet and Preply offer longer sessions should you prefer them.
Inexpensive and Flexible Language Tutoring
For keeping up with speaking and listening skills in a foreign language, there really is no substitute for having one-on-one time with an instructor or native speaker. If you are looking for low-cost tutoring with a flexible schedule, Rype delivers.
Whatever your skill level, you can always supplement your language learning with other tools. Duolingo is a long-time favorite, and its additional materials, such as Stories and Podcasts are worth exploring. Rosetta Stone has added new materials, too, like live streaming classes you can watch without participating in yourself, a good option for people with social difficulties. Both of these services are Editors' Choices. , a personal favorite, is great for learners at any level who are audio-focused. There is no shortage of language-learning tools, and there is no reason to stick to just one of them.
PROS
Inexpensive one-on-one tutoring
Good tools for finding instructors
CONS
Short sessions
May take time to find the right instructor
BOTTOM LINE Rype is an online marketplace where language learners can find tutors for one-on-one video-call sessions. The price is extremely low, although the sessions are only 30 minutes each.