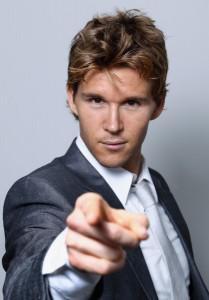 This past week, Collider got the opportunity to do an exclusive interview with the always charming Aussie actor and True Blood's Jason Stackhouse, Ryan Kwanten about his upcoming romantic dramedy Griff the Invisible, which follows an office worker by day, superhero by night who has his world turned upside down when he meets a beautiful young woman (Maeve Dermody), who is just as quirky as he is, but in her own ways. Below is part of that interview.
While they will run that portion of the interview closer to the film's August 19th release, the conversation also turned to the direction of his character, Jason Stackhouse, on the new season of the hit HBO vampire series True Blood, so they decided to post what he had to say.
In what is sure to be a crazy season for Jason, the actor talked about how interesting it was to have the year-forward jump in time, Jason's new position of authority and the fact that he's been forced to man-up, how nothing is what it seems in Season 4, how as long as the scripts stay as strong as they are now, he will continue to keep coming back to the show, and that he hopes they'll get at least a couple more seasons. He also talked about how amazing the experience of Comic-Con is, where this year he will be promoting True Blood, Griff the Invisible and Knights of Badassdom, in which he plays roommates with Peter Dinklage and Steve Zahn.
How do you feel about the direction they've taken Jason Stackhouse on True Blood this season? Were you surprised to find him in this new position of authority?
RYAN KWANTEN: Yeah. I thought it was a really interesting choice to suddenly cut to over a year later. It was great, from an acting perspective, because all we'd really seen of Jason up until that point was three weeks' worth. From Season 1 to Season 3 was just three weeks worth. Everything happened within the space of that time frame. So now, we pick things up and he's the young boy who's become a man. He's now a fully-fledged cop and he's now looking after an entire tribe of people in Bon Temps. It was really nice. He's still got that slightly bumbling nature, but now he's really forced to man-up.
Jason definitely gets taken to the edge this season. Do you think audience will surprised with how he comes out of what he's going through?
KWANTEN: I hope so. Out of anyone in this particular season, Jason definitely goes through the ringer more than anyone else. I'm usually the last one to say that because I love going through the torture, but Jason will be very lucky to survive this season.
Have their been times, in playing him, that you've wished you could grab him and shake him and say, "Don't do that! Don't make that decision!"?
KWANTEN: I know he definitely has his faults, but I can't look at it like that. I have to look at it like he's coming from a place of naivete and innocence. So, when I play it, it has to be that and not, "Okay, I know this is a silly decision, but I'm going to do it anyway." He doesn't think like that. He'll jump straight off a cliff without even questioning, and that's the liberation in playing the character, but it's also the downfall in playing it. You can't put too much thought into it.
What can you say about the relationship between Jason and Crystal, and how that develops this season?
KWANTEN: You put yourself in a life-and-death situation and it's amazing how much emotions can get heightened. As with anything on True Blood, nothing is what it seems. As much as Jason feels like he loves Crystal, he feels like the love, at some point, is not getting reciprocated and he's trying to figure out exactly why.
Are you looking forward to returning to Comic-Con with the show this year? Is there something that you enjoy about hearing that feedback from people who are so devoted to the show?
KWANTEN: Yeah, it's amazing! At Comic-Con this year, I've got True Blood, I've got Griff the Invisible, and I've got another film, Knights of Badassdom. You know that you're going there to promote things, but at the same time, it's easier to promote things, if you have fans. From previous years, the level of fans that turns out for Comic-Con are very well-researched. They all know their stuff, and sometimes they know my characters better than I do. They can quote lines, back and forth.
What can you say about Knights of Badassdom and who you play in that?
KWANTEN: I shot that last year in Spokane, and that was such a great experience. To be working with Peter Dinklage and Steve Zahn – the three of us play roommates – was rather interesting. I was the straight guy amidst those two. It's like a Dungeons & Dragons game, gone wild. I'm really looking forward to seeing how that premieres at Comic-Con.
What are you going to be working on next?
KWANTEN: I'm leaving on Monday to go start shooting another film, called 20 Something Survival Guide. That's sort of a romantic comedy, I guess.
How long do you see True Blood going on for?
KWANTEN: I don't know. Even after the end of the first season, I got incredibly nostalgic then, so you can only imagine how nostalgic I'm getting now, at the end of the fourth. So long as people continue to be entertained, and so long as the scripts continue to have as much poignancy and effort put into them as they are already, I'll continue to keep coming back. So, I'm hoping we get at least another couple seasons.
To read the rest of this interview, go to: collider.com