Want to see your favorite Deputy from True Blood, Ryan Kwanten this Valentine's Day?   As we perviously reported, you can watch him when he co-star's in the Valentine's Day episode of  Fox's "New Girl."
In the February 14 episode, Zooey Deschanel's Jess goes cruising at a bar in search of an emotion-free one-night stand and encounters Ryan's Oliver. "I save her from choking on a cherry," teases Ryan, who says Zooey welcomed him on set with open arms. "But he loves talking about food and turns out to be one of the most boring guys she's ever dated."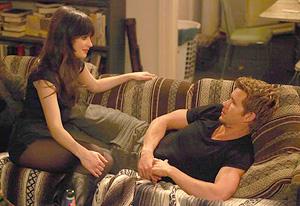 And what about True Blood? Read below:
As for his own V-Day history, Ryan says, "I've been single for so long that Valentine's Day seems like just another day." All together now: Awww….

The nights will be far steamier for Mr. Kwanten this summer when True Blood returns for its fifth insane season. "I'm already back shooting," he says. "Jason is definitely treading into uncharted territories with Jessica. For once, his one-track mind is focused on love." Wouldn't it be a shame if his ex-flame — Reverend Newlin's wife, Sarah — were to reappear in Bon Temps and mess everything up?
source: tvguide.com