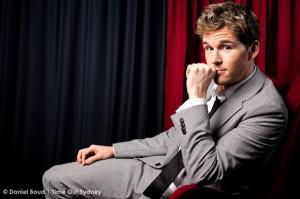 Season 4 of True Blood premieres in just four days, Truebies, and Celebuzz has posted an interview with Ryan Kwanten (Jason Stackhouse) to whet our withdrawal appetite. The humble actor talks about what's in store for Jason, whether he'll receive any Emmy love in September, and what he does to unwind outside of work.
Kwanten readily admits that his alter ego has experienced a lot of growth (if not the most growth of all the characters!) in the last three seasons. However, as we've come to see, it hasn't been without a price. Jason has gone through a lot of loss, and anyone who experiences such grief knows that it can completely turn your world upside down, making you reassess every component of your life. For Jason, his trials and tribulations over the past three seasons have definitely made him a stronger, better man:
"Jason got it so low on the evolutionary totem pole, so every season he grows more than any other character. This season is no different and probably his biggest growth period. Now a young boy turns into a grown man, and trusts his disposition of authority. He is supposed to look after the family that Crystal left him with so there is a real sense of authority that he really hasn't really had before. He has always lived a very selfish and self involved life and now he thinks of others before himself."
Kwanten's portrayal of Jason is impressive, to say the least. Watching him on screen, you might immediately assume he was born and raised in the south, played ball, and is an arrogant, selfish ladies man. Practically the opposite, really. Kwanten was born and raised near Sydney, Australia, dabbled in athletics (he has admitted that he loves being active), and is incredibly modest and unassuming. His flawless performance as Jason hasn't gone unnoticed by fans, some of which are petitioning to get Kwanten nominated for an Emmy:
"Really! Our fans are amazing. If people want to petition I am all for it, but I am not the best at tooting my own horn."
So what does Kwanten do to relax and unwind? He thinks about work!
"To be honest, I love working so much. I love this business, so even when I am not working I am very focused on my career. I am not a prude so I do have friends and go out but it's still a very private life. I try and let the drama be on screen."
To read Celebuzz's interview in its entirety please click here.
Season 4 premieres on June 26th at 9PM EST!
Source: Celebuzz – Obsessed: 'True Blood' Star Ryan Kwanten Talks Season 4, Emmy Chances and Those Naked Scenes
Photo Credit: Daniel Boud, Time Out Sydney