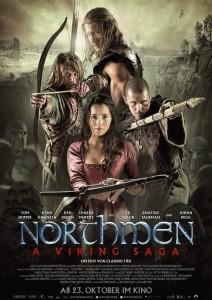 Ryan Kwanten's film, "Northmen – A Viking Saga has a new home at Starz. Representatives for the channel announced today they have landed the rights for the film from Ascot Elite Entertainment Group. The newly inked deal covers all distribution rights across all platforms including theatrical for the U.S. and Canada as well as a future exclusive U.S. pay TV premiere on the STARZ premium networks. Northmen is directed by Claudio Fäh and produced by Ralph S. Dietrich.  Samantha Horley of the Salt Company, which handles worldwide sales rights, negotiated the deal on behalf of Ascot Elite.
"Northmen is visually stunning, full of action and just the type of film fans will love across any platform," commented Kevin Kasha, head of acquisitions for Starz.  "We're so pleased the filmmakers selected Starz as the home for its film."

"We are extremely happy to be partnering with Starz in the U.S. and Canada for distribution of Northmen — A Viking Saga," added Ralph S. Dietrich, producer.  "As one of the most highly-regarded and respected distributors in North America, we're confident that Starz will bringNorthmen to its full potential in two of our most important territories."
We've already posted extensively about this film here at The Vault. CLICK HERE to see all of our postings about the film.