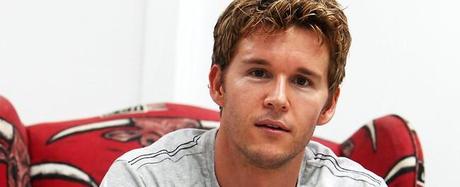 True Blood's Ryan Kwanten (Jason Stackhouse) is currently in London enjoying the Olympic games and he spoke to the Daily Telegraph about the talent of the athletes, the mystery of Australians, and keeping true to who he is.  As an athlete himself, Kwanten has been checking out the triathlon and boxing, but he says he is impressed by how hard the Olympians work at their respective sports.
When asked about the appeal of Australians and vampires alike, Kwanten quotes Einstein and says that the most beautiful thing people can experience is the mysterious and he thinks that both vampires and Aussies fit that description.
There is a mystery to us both. Americans want to realise what is so mysterious about Australians I think it is we are not afraid to be men, to wear our hearts on our sleeves, if you've done any form of travelling you will know we are a very welcoming culture, we have a great international reputation and that goes for any industry whether it's entertainment or business.
Kwanten says that while Australian's work really hard, for them work is not the primary focus in their lives.  Although he spends six months of the year filming True Blood and the other six months doing movies, he still considers Sydney's Northern Beaches his home and he visits as much as possible.  One thing that Kwanten prides himself on is that regardless of his success, he hasn't changed:
Anyone who knew me 10 years ago is still going to get that Ryan now. If you were to speak to my mum and dad I would hope they would say the same thing, 'he hasn't changed at all'.
Source: DailyTelegraph.com.au – 'Vampires and Aussies are mysterious', says True Blood star Ryan Kwanten
Image Credit: Nic Gibson