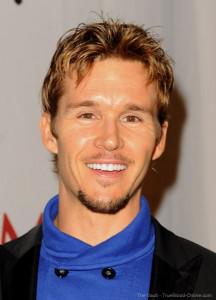 True Blood's Ryan Kwanten will star in Icon Film Distribution upcoming Australian feature Not Suitable for Children. As we all know, Ryan has recently appeared in two Australian films, Red Hill and one of the best local films of the year, Griff the Invisible.
Not Suitable for Children will be the first feature for Peter Templeman, who is best known for his television work on Bogan Pride and Lockie Leonard. Ryan will star as Jonah – a freewheeling guy in the prime of his life – who after learning he will be infertile in a month, has to find someone to have a baby with before it's too late!
Joining Ryan in the ensemble cast is the winner of the 2010 IF Out of the Box Award Ryan Corr (Packed to the Rafters, Underbelly: The Golden Mile), and emerging young actress Sarah Snook (Spirited, Blood Brothers), who was nominated for the 2011 Graham Kennedy TV WEEK LOGIE Award for Most Outstanding New Talent for her role in Sisters of War. Also joining the ensemble is Bojana Novakovic (Burning Man, Edge of Darkness).
Written by Michael Lucas (Offspring), the romantic comedy is being produced by Jodi Matterson (Razzle Dazzle) withBruna Papandrea (Milk) as executive producer.
In making the announcement, producer Jodi Matterson said: "Not Suitable for Children is a wonderful concept – for once it is the guy's biological clock that is ticking and that is something a female audience can look forward to! We are thrilled to have such an exciting and talented director and a knock-out young cast led by Ryan Kwanten."
Icon Film's Mark Gooder said "This is a very contemporary Australian romantic comedy with an exciting new director at the helm. Icon is proud to be involved with a commercial feature that will bring together some of our most talented young actors in a high concept comedy with a unique twist."
"After four years of development it's a huge thrill to be rolling cameras with such a fantastic cast and crew" said director Peter Templeman. "Although this film will not be suitable for kids, we do have some valuable lessons in it – like how to fit thirty-six people into a small bathroom and why this is good to do" he continued.
Screen Australia presents a Wild Eddie Production. In association with Fulcrum Media Finance, Screen NSW, Frame Set and Match and Exit Films. Not Suitable For Children will be distributed in Australia by Icon Film Distribution, with international sales by Arclight.
source: thereelbits.com