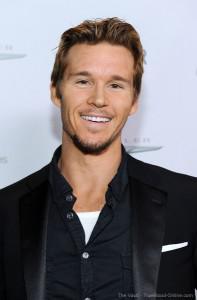 True Blood's Ryan Kwanten is to be in several new films that are coming up.  While some are still "in development", it's great to see that Ryan is keeping busy when not on the True Blood set playing Jason Stackhouse.
The one film that has gotten a lot of press though is one of those that is currently only "in development", the upcoming Manson family biopic called "The Family".  It  has  been said that he and director Scott Kosar will present their own interpretation of cult leader Charles Manson. We posted about this film in an earlier post here.
Ryan will play Manson in the film, which Kosar is adapting from his own script. Ryan previously admitted that the role will be a challenge.
Asked about playing a real-life person, Ryan said: "I've done it before but it's like anything in life – you have to prepare and do your research.
"With Manson there's so much to read and only so much one person can absorb but ultimately it comes down to me and the director to present our interpretation of him."
Ryan added that the project is currently "on the back burner", explaining: "I'm doing another film before it so hopefully we'll be doing the Manson film next year."
What other films is Ryan working on?  Well, here's the "short list":
The  film "Zebras" is currently in production which is the forthcoming sure-to-be-inspiring/based-on-at-true-story soccer pic will tell the story "of a music producer who discovers talented young soccer players in the ghettos of Soweto, South Africa, and forms them into a successful team dubbed the Zebras, because it brings together black and white players." The film was written by David Williamson ("Gallipoli") and will be helmed by Bruce Beresford.
He is also rumored to be in another film that is just in development right now called, "Truckstop".  In this story of Ryan is rumored to play Charles, a young man with cerebral palsy who works at truck stop along the New Jersey shore taking care of his father who is dying of AIDS. While at the truck stop, he befriends Vicki a troubled prostitute. Through their friendship, they find the strength that each needs to confront their obstacles.
source: digitalspy.com and imdb.com