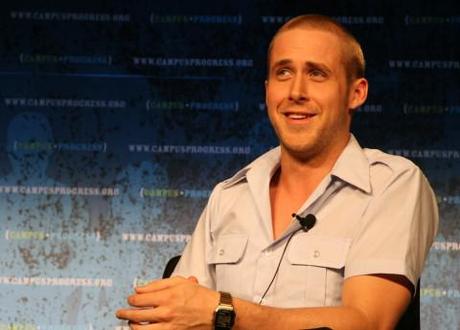 Ryan Gosling. Photo credit: Campus Progress.
Dressed in a white satin jacket (emblazoned with a natty gold scorpion across the back), Ryan Gosling steers his way through a "stripped down, semi-arty and quasi-existentialist action film" in Drive.  More than a lug-nut is borrowed from the trunk of genre classics like Driver and Bullitt, but director Nicholas Refn, who won the Cannes prize for best director, has been earning high praise for his steely addition to the stable.
'Driver,' as Gosling's character is philosophically christened, spends his days as a Hollywood stuntman and his nights as a heist-chauffeur par excellence. There's a touch of the lone samurai to this monosyllabic petrol-head, operating to his own particular code-of-honour, and never speaking a word when a grimace will do. Just as his professional ambitions of becoming a stock-car driver look like coming to fruition, he's drawn deep into the criminal underworld through his attachment to a pretty neighbour (Carey Mulligan) and her ex-con husband. Cue car-chases and increasingly gory killings.
Stunning Style. Peter Debruge of leading Hollywood trade paper Variety was mighty impressed by Drive's palette: "Whereas most muscle-car action pics are visually and narratively flat, however, Drive displays stunning style." Refn's career could be launched by this film. The tone is held together by the score of tense synthesisers and catchy club anthems. Earning a deserved whoop from the crowds in Cannes was "a white-knuckle car chase that once again reminds how scarce fancy driving has gotten onscreen." All the same, it's surprising that a film called Drive features comparatively little actual driving. Fans of 2Fast2Furious be warned.
Tender touch. Down at The AV Club, Mike D'Angelo had at least half a dozen scenes burned into his memory for life, "including not one but two of the most jarring, heartbreaking juxtapositions of tenderness and violence this side of classic Kitano." One of the most intriguing acts of violence the film pulls off is the sight of Albert Brooks, cast brilliantly against type, "torching his neurotic persona." At its best, Drive is "pure genre bliss."
No-frills thrills or simply threadbare? The storytelling economy admired by Debruge all felt a little threadbare to Todd McCarthy of The Hollywood Reporter. With lines like "'Irene: Whaddaya do?' Driver: 'I drive'" the film's sparseness touches wheels with absurdity. Screenwriter Hossein Amini's adaptation of James Sallis' novel feels vacant; there's not "enough subtext and layering beneath the surface of the characters and dialogue; the tough talk is simply not loaded the way it is in the best noirs." In The Guardian, Xan Brooks agreed that "it's … a series of cool, blank surfaces as opposed to a rounded, textured drama," but nevertheless enjoyed the film as a B-movie of "giddy intensity."