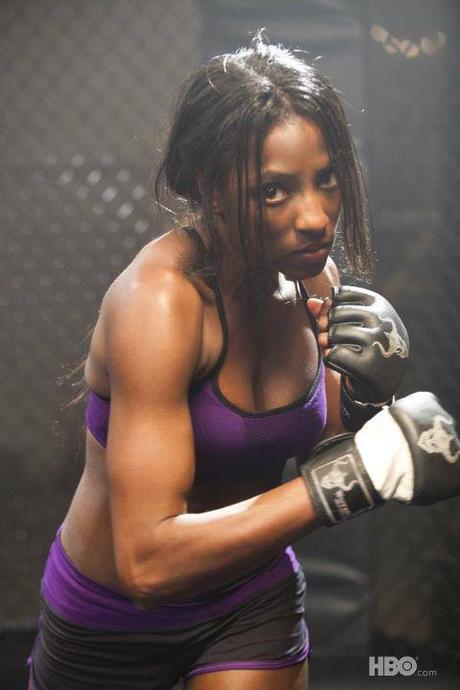 Rutina Wesley is a popular lady after the death of poor Tara last night on the season finale of True Blood.
In this interview below, she speaks to Michael Ausiello about Tara's death, or is it a death? As you will read, since Rutina has a contract for Season 5, its certainly possible that she will return. 
In the closing minutes of Sunday's True Blood finale, the actress' seemingly cursed alter ego, Tara, jumped in front of a bullet intended for her BFF Sookie and got her brains blown out. Literally.
"I have to say it was actually kind of cool having my brains blown out," confesses Wesley with a laugh. "All of the special effects and everything… It was cool."
If she sounds surprisingly chipper for someone who just lost her job on one of TV's most successful shows, it's probably because well…she didn't actually lose her job. In the following Q&A with TVLine, Wesley confirms that she will be back for True Blood's fifth season — but that's only half the story.
TVLINE | When did you first find out Tara was getting shot in the head?
[Series creator] Alan Ball himself pulled me aside early on and told me that this was happening. And I was like, 'OK, that's cool.' I know I'm coming back in some capacity, I just don't know how I'm coming back. It's scary as an actor to be in that position. Whatever they do, I think it's the Golden Hour for Tara. But I don't know how they're going to revive me or if I'm dead. And that's the big question: Can she be saved?
TVLINE | Has your contract option for Season 5 been officially picked up?
Yes. I know I'm coming back. I just don't know in what capacity.
TVLINE | If she is brought back to life, it seems unlikely she'll just be the same old Tara.
I like playing a human on the show. I like not having any powers. I like being the voice of reason. But it wouldn't be a drama if we didn't have a shift in things. Everything's up in the air because half of my head is missing. [Laughs] I know Alan has big plans for me next season. But has he shared those plans with me? Not really.
source: tvline.com