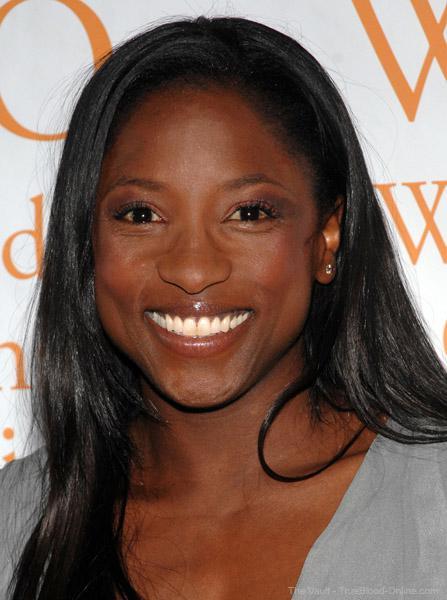 Just yesterday we brought you an interivew with True Blood's Rutina Wesley. Now, here's another one that is even more "indepth" by Julie Zied at xfinitytv.
Below is part of that interview:
After suffering through three season's worth of indescribable trauma, in last year's "True Blood" finale, perpetual victim Tara Thornton made an executive decision: she chopped off her hair and hit the road on a journey of self discovery. On June 26, when "True Blood" returns for a fourth season, the angry, fearful, braided-haired Tara will be a thing of the past. In her place will be a calmer, happier Tara – with a new hairstyle to match. In a recent interview, Rutina Wesley, who plays Tara, talked about what brings these changes about, and explained why summer's guiltiest pleasure keeps getting better.
What was behind the decision to chop off Tara's hair last season? Did you ask to do it, or did [creator] Alan Ball want it?
We sort of made it together. It seemed right for Tara to have change. I had also talked about possibly changing my hair next season, and it just sort of seemed to make sense. It was like her trademark in a way. For me as an actor it was nice to have braids. You don't see that a lot on television. What's nice, is that with Tara's new hair, it's sort of a little bit softer. This hair frames my face differently and I think now with Tara we'll see her have a little bit of happiness, and she's sort of found herself. She's got this inner strength and she's gonna smile and laugh. It's like she's breathed in a breath of fresh hair.
Does that happiness involve a love interest, perhaps?
You'll have to wait and see. I will say this – I think because Tara has found a way to love herself, she can finally find a way to open herself up and love others. If you've ever noticed, when someone gets too close to Tara, she runs away. I think she has issues with men in general, and commitment – probably because of her upbringing. I think now she's had time to think about herself and what she wants. Now she's gonna be able to live her life fully and I think be open to love.
So does this mean we won't see crazy-eyed, lip quivering Tara anymore?
What is with everyone and the lip quivering [Laughs]? If there are vampires tying you to a toilet in a hotel room trying to bite your neck, I'm sure your lips would be quivering too! That's pretty scary stuff. I think we're going to see more of a calm Tara. There's still going to be a lot of drama. But she's not going to be whining and crying.
The thing with the lip quivering is that you just do it so well.
[Laughs] It's kind of funny, though, because when I cry on screen, that's how I cry in real life. I don't have an "actor cry." I don't sit there thinking, Ooh, it would be really cool if I, like, quiver my lips.
So people have mentioned this to you before?
Everyone has noticed it now as one of Tara's trademarks. But I'm like, 'I'm not doing it on purpose!' Sometimes stuff like that can make you self conscious as an actor, though.
Last season Tara had a big blow-up with Sookie. How will their relationship be now?
I think they're always going to be best friends. They're practically sisters. Sookie ultimately has Tara's back at the end of the day. If stuff were to hit the fan, I think either one of them would be there. Yes, they had their little catfight at the end of the season, and yes Tara despises vampires, but I think that's her best friend – that's her girl. I have to sort of try as best I can to support her.
Where did Tara ride off to? And what brings her back to Bon Temps?
I think Tara goes off somewhere, and we will find out where she's been and what she's been doing right away. Then of course she ultimately gets swept back into Bon Temps, and into the world of vampires, and a whole other world you could never even dream of. Tara is once again in some kind of peril [laughs].
Read the rest of this article at the source: xfinitytv.comcast.net