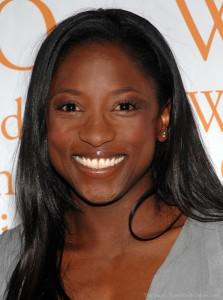 Rutina Wesley, WireImage
True Blood's Rutina Wesley has surely had a tough time on the show in her role of Tara.  She has lost pretty much all she had, which wasn't much and last year she was almost turned into a vampire.  I can't wait to see what Tara will be up to this season. In the interview with freep.com, Rutina talks about her part of Tara and her big surprise that the show has been such a huge hit.
Growing up in Las Vegas, Rutina Wesley saw plenty of surreal sights in the go-all-night world of Sin City. But what might be the wildest scene of all for the 32-year-old actress, best known as Tara Thornton, Sookie Stackhouse's (Anna Paquin) best friend in HBO's supernatural series "True Blood," is the ravenous response the show has received since it premiered in the summer of 2008.
"When we go do something like Comic Con in San Diego and there's a huge ballroom filled with 5,000 people just screaming like mad for all of us …you realize how big of a phenomenon this really is," she said.
And with the fourth season's magical spell about to be cast tonight, Wesley and her "True Blood" mates are looking forward to delivering even more thrills.
"This is a dream come true," she says. "Our fans, all the ones who dress up as Sookie during Halloween or want to bite me in pictures, they're the reason we're on TV. It's inspiring to know that our storytelling has connected so deeply with so many people. It's a very humbling experience and when this happens, you really don't want it to ever end."
QUESTION: Before we sink our teeth into "True Blood," can you talk about the news that you are going to star as Immaculée Ilibagiza in the film adaptation of her harrowing book, "Left To Tell: Discovering God Amidst the Rwandan Holocaust" (Hay House, $14.95)?
ANSWER: I'm really excited about this film. I read her book, and her story is so — it really moved me. The entire story of the Rwandan genocide is so personal, touching, devastating, so dramatic.
I am completely in awe by the strength of this woman. Everything she went through, and then to still be able to tell her story! Her entire family was massacred and she … still found the strength to share this story.
I had a chance to meet her, and she's so lovely. There's this light to her, a joy in her eyes, and to carry herself in this way, with such confidence after everything she went through. …She's an inspirational woman.
Q: So many people are completely freaking out for the fourth season of "True Blood" to begin. I've seen the first three episodes and …
A: Shh, you can't say anything about the new season (laughs)! You know, it still blows my mind how popular this show is, how much the audience keeps growing. I mean there's (creator) Alan Ball and so many talented actors and it's on HBO, so we went into it believing that we were going to make a great show. But as an actor, you never think you're going to be on this huge hit. I remember when we first started working on the series we were just hoping that it was going to work. …
It's out of this world. I still can't believe I'm even on TV.
Q: Do you ever get a little jealous that your character, Tara Thornton, is just a regular human being?
A: (Laughs) No! I like being human. … The human reaction to all the insane supernatural powers that are going on all around us, that's like the comedy and the drama that the audience relates to. Us humans, we're always running around like chickens with our heads cut off.
Read the rest of this interview by going to: freep.com