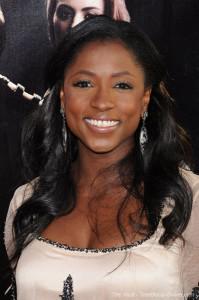 We're so glad that Tara seems to have found at least some temporary happiness this season; she sure had it tough last season.
The Las Vegas native chatted with ESSENCE.com about how Tara's changed, whether she'll be saving her cousin Lafayette this time around and the time a "True Blood" fan tried to bite her.
ESSENCE: Congratulations on your fourth season of "True Blood," are you excited?
RUTINA WESLEY: I'm very excited. It's our best season yet, it just gets better and better. There are a lot of surprises that are going to floor people. We also have some new people who've joined our cast that are phenomenal actors like Fiona Shaw.
ESSENCE: What's different about Tara this season?
WESLEY: My character is going on a very different journey. What I love about Tara is she has calmed down. She's learned to love herself and perhaps open up and love someone else.
ESSENCE: Following Tara's cousin Lafayette, played by Nelsan Ellis, and his storyline with his boyfriend, the warlock, is it your turn to save him as he's done in the past for Tara?
WESLEY: Ultimately, Tara gets swept back up into Bon Temps, then vampires and then she's taken on this journey which she never dreamed possible. She may or may not be involved with the witches …
Read the other questions that Rutina answered by going to: essence.com