Ruth La'Ontra sophomore album "I Got You" is doing big things on Billboard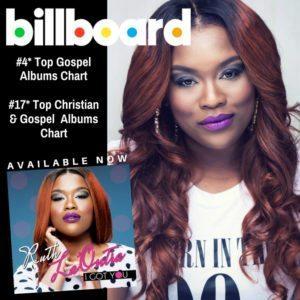 Ruth La'Ontra latest album has debuted at No. 4 on Billboard's Gospel Albums sales chart.
Produced by award-winner Anthony Brown, this ten song set showcases the powerful vocals of the North Carolina native. Her sophomore release, 
I Got You
 includes the high-octane lead single "Kingdom" plus "Come Through," "In My Name," and others.
The singer took to Instagram to thank her fans for helping her album sales.
I'm just like……...GOD IS DOPE MAAAAAAN LIKE HE REALLY REALLY IS. 
Thank you to everyone for your amazing support. 
Furthermore, Ruth La'Ontra is a gospel powerhouse who is making a name for herself in the Gospel music industry.