This post may contain affiliate links. As an Amazon Associate, I earn from qualifying purchases. Please read my disclosure.
Homemade pizza gets a rustic makeover with caramelized onions, mushrooms, and plenty of cheese! This rustic mushroom and garlic pizza is ready to eat in less than 30 minutes. A whole-wheat crust is the perfect base for meaty mushrooms and nutty garlic. Enjoy as-is or customize with your favorite toppings. Pizza night has never been so delicious!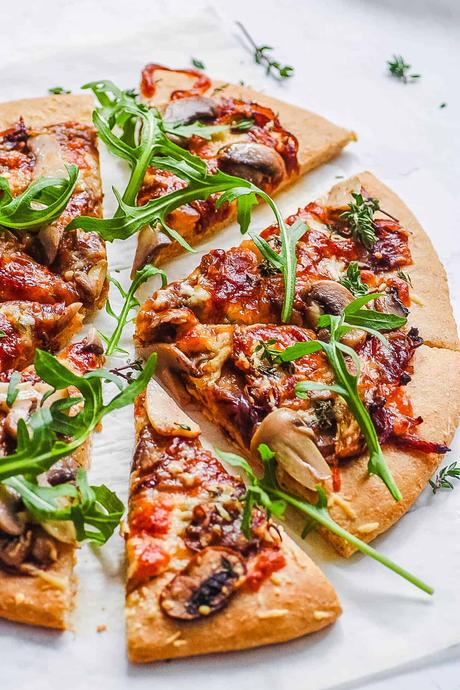 To say I'm a fan of easy recipes is an understatement. And this rustic pizza recipe is anything but complicated. Making your own dough can feel daunting but it's actually easy. I've simplified the process by using baking powder in place of yeast. This results in a golden brown, thin crust that's impossible to mess up. If you still aren't convinced, you can also use your favorite pizza dough in its place for an easy shortcut!
Latest Recipe Video!
This rustic mushroom and garlic pizza recipe is a family favorite. Once cooked, red onions and garlic transform from spicy to sweet. Garlic and melty cheese are a match made in pizza heaven!
If you aren't a fan of mushrooms, know this easy rustic pizza is customizable! Omit what you don't like and add what you do. Change up the base, switch up the veggies, or top with extra cheese. It's your pizza and that means anything goes! The best pizza is the one made in your own kitchen.
If you're looking to upgrade pizza night, this garlic pizza is the answer. It seems fancy but it comes together in a snap!
👩🏽‍🍳 Why This Recipe Works
Whole wheat flour and veggies pack in added nutrients!
Mushroom and garlic pizza is easy to customize
A great pizza with a golden brown crust in 25 minutes
Easy to make this cheesy garlic pizza vegan or gluten-free with a simple ingredient swap.
Totally foolproof pizza dough
Tons of flavor
Perfect for pizza night with the whole family!
🥘 Ingredients
You can find these simple ingredients at your local grocery store. Pantry staples, fresh produce, and cheese are the main ingredients for this rustic pizza recipe.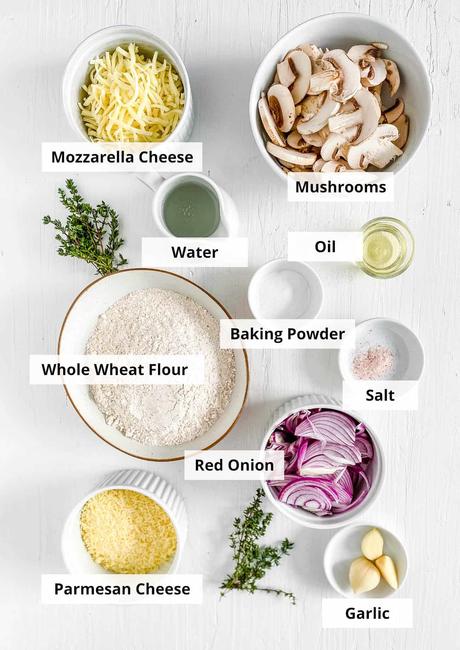 Whole Wheat Flour: I like to use whole wheat flour for the added nutrients, fiber, and nutty flavor. It's an easy ingredient swap to make pizza healthier but taste just as good! You can use all-purpose flour if you prefer.
Baking Powder: Baking powder causes the dough to rise. It's a simple and quick alternative to yeast.
Salt: Salt is essential to a flavorful dough. Don't skimp on the salt - trust me on this one.
Water: Water makes the dough soft and pliable for kneading.
Olive Oil: I use heart-healthy olive oil for its delicate flavor. Any neutral oil works great though.
Red Onion: Onions have a strong flavor that mellow once cooked. Caramelized onions have a sweet and savory flavor that taste amazing on pizza. You can use white, sweet, yellow, or red onions.
Mushrooms: I used button mushrooms for this garlic and mushroom pizza, you can find them whole or pre-sliced. They have a mild but earthy flavor. If you don't like mushrooms, you can leave them out. The best mushrooms for pizza are cremini, button, shiitake, or morel mushrooms.
Fresh Garlic Cloves: Raw garlic has a strong bite, but garlic sweetens as it caramelizes. It tastes delicious on homemade pizza! For a milder garlic flavor, omit half of the garlic. For even more garlic flavor, add a sprinkle of garlic powder or garlic paste.
Thyme: Fresh herbs are a great way to add flavor.
Cheese: Salty parmesan cheese and creamy mozzarella cheese pair well with the caramelized veggies.
📖 Variations
Make this rustic mushroom and garlic pizza as-is or enjoy with additional toppings! Here are some delicious options:
Vegan Pizza: Use your favorite vegan cheese!
Gluten-Free Pizza: Use an all-purpose gluten-free flour in place of the whole wheat flour. Bob's Red Mill 1:1 is a delicious option with a gluten-like taste and texture.
Sauce: Red sauce, traditional pizza sauce, alfredo sauce, garlic butter sauce, or olive oil make a delicious base for the toppings. You can make this into a white sauce pizza as well.
Veggies: Artichoke hearts, fresh spinach, roasted garlic, black olives, and bell peppers are great options.
Cheese: Switch up the cheese! Fontina, gruyere, gouda, goat cheese, or pecorino romano are perfect additions.
Heat: Add some spice to this pizza by topping it with jalapeño slices or red chili flakes.
Garlic Bread Pizza: Instead of the pizza dough, use pre-made garlic bread as your base! Then top with toppings and cheese and bake until the cheese has melted.
🔪 Instructions
Preheat Oven & Prep Ingredients: Preheat the oven to 390F/200C. Mix the dry ingredients in a large bowl.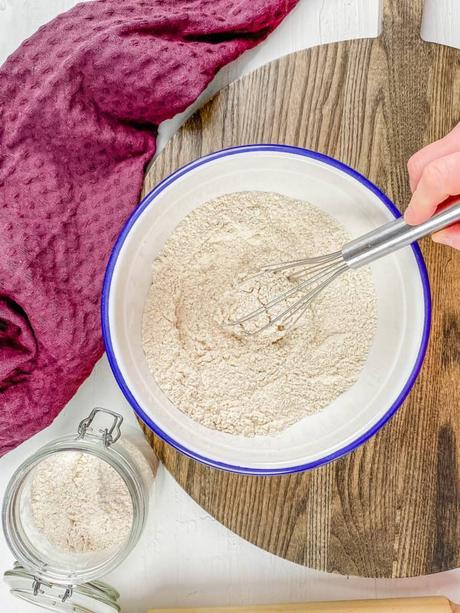 Make the Dough: Add the olive oil and cold water to the flour mixture. Mix to form a dough.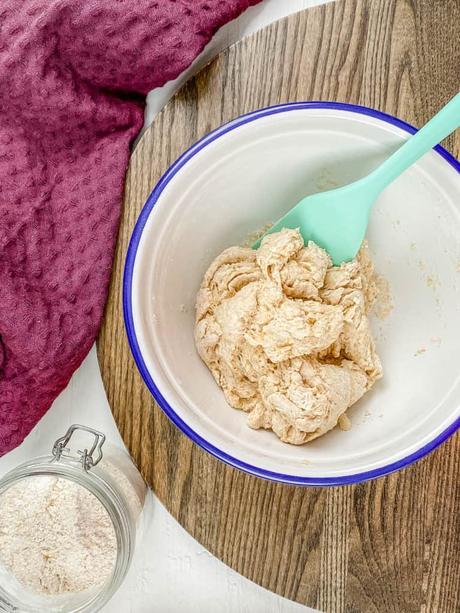 Knead Dough, Rest: Turn the dough onto a lightly floured surface and knead until smooth. Let the dough rest in a clean bowl for 10 minutes.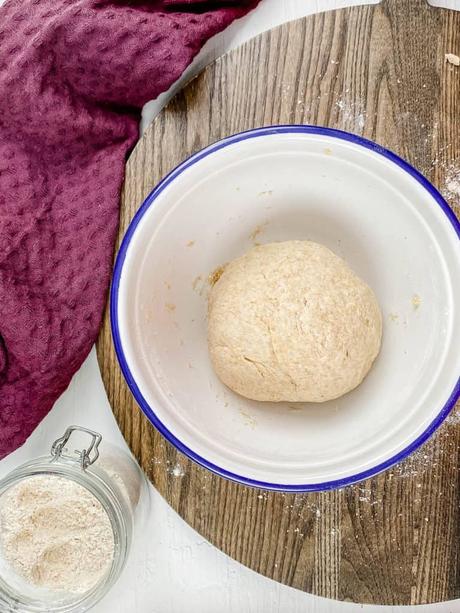 Cook the Toppings: Heat oil in a pan and sauté the onions until caramelized. Add the mushrooms and garlic to the pan and cook until fragrant. Drain any liquid and then set the mixture aside.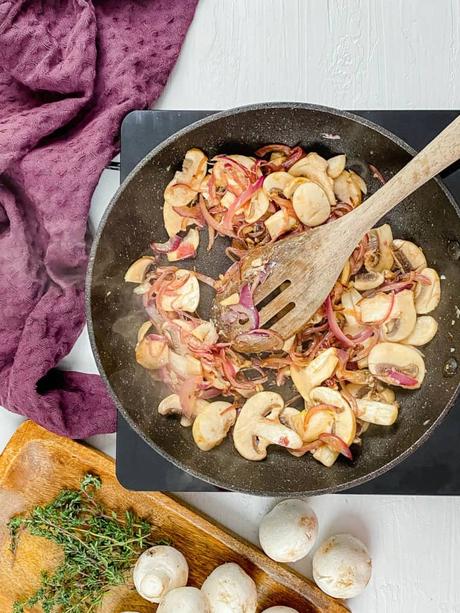 Cut Dough: Cut the dough in half to make two dough balls.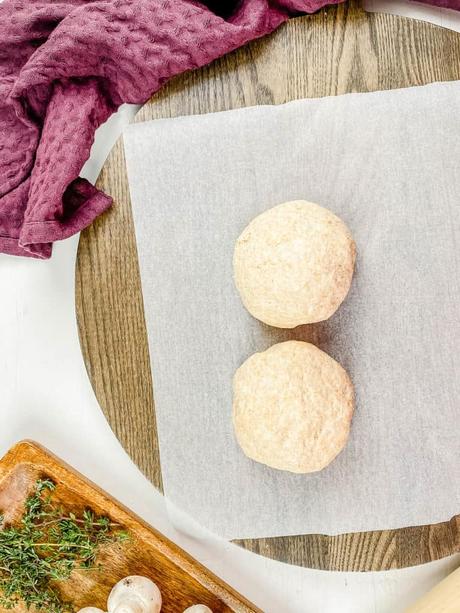 Roll the dough out in between two sheets of parchment paper. Remove the top sheet of paper.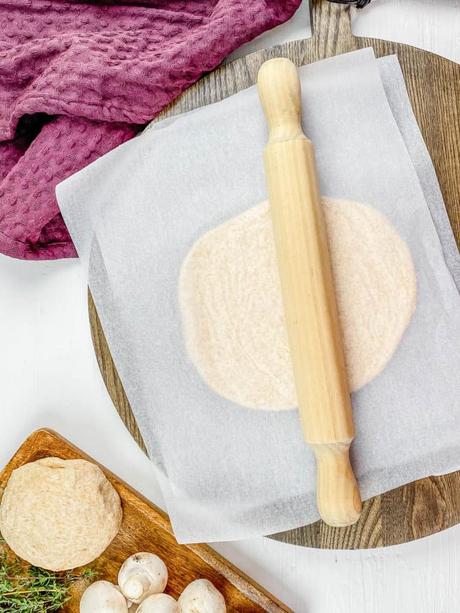 Top the Pizzas: In a bowl, mix the cheeses together. Place dough on a baking sheet, pizza pan, or on a pizza peel, and divide the toppings between them. Sprinkle each pizza with half the cheese and fresh thyme.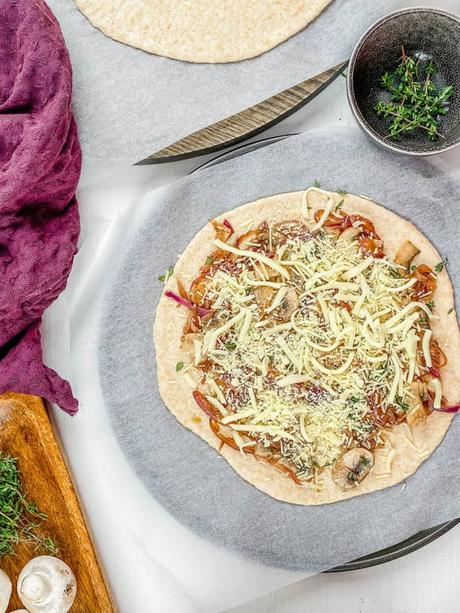 Bake, Serve: Bake the pizzas for 10 to 15 minutes in a preheated oven. Cut the pizza and serve with more fresh thyme.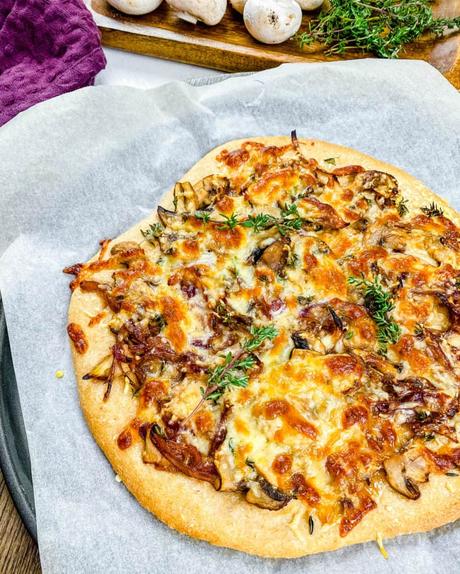 ❓Recipe FAQs
Do you cook mushrooms before putting them on pizza?
Yes, it's best to cook mushrooms before adding them to a pizza. Their flavor is more pronounced when cooked. This also prevents them from drying out in the oven.
Which type of mushroom is best for pizza?
This is a matter of preference more than anything. Shitake, button, cremini, wild mushrooms, morel, and portobello are all delicious on homemade pizza. Mushrooms all have a different flavor profile. Button mushrooms are very mild, while Portobello mushrooms have a meaty flavor.
Why is my homemade pizza soggy?
Nobody likes a soggy pizza! Be sure to preheat the oven before cooking your pizza. Also, it's important to add a light layer of sauce and toppings. If you add too much, it can weigh down the pizza and prevent it getting crisp. Lastly, make sure the veggie mixture isn't watery before topping your pizza (get rid of excess water by draining it).
What is the secret to crispy pizza crust?
If you want a crispier crust, use a preheated pizza stone to bake the pizzas. This way the crusts will instantly start cooking as soon as they hit the hot stone.
💭 Expert Tips
Do not over-knead the dough or the pizza crust will be chewy and tough.
Dough can be made into two eight-inch pizzas or one large pizza.
Allow the dough to rest on the bench before rolling out.
Whole wheat flour can be substituted with an all-purpose gluten-free flour. Be sure it contains xanthan gum for best results.
Let this rustic pizza come to room temperature then store the pizza in an airtight container in the refrigerator for up to five days.
Reheat the pizza in the oven at 350 degrees until warmed through. If you reheat pizza in the microwave, it tends to get greasy and soggy.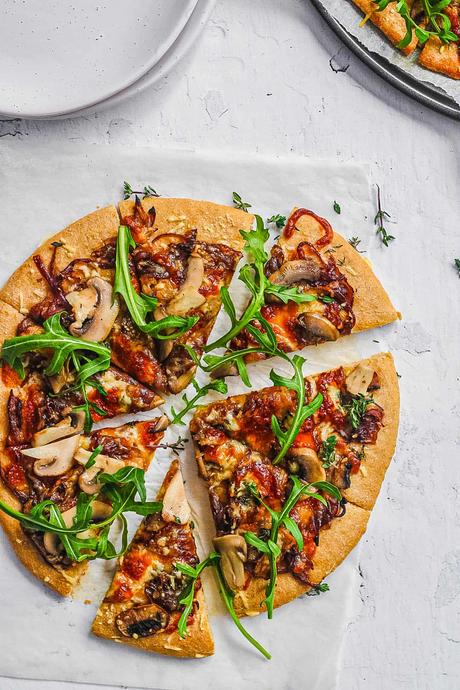 🍕 More Delicious Pizza Recipes!
📋 Recipe Card
Rustic Pizza Recipe With Garlic And Mushrooms