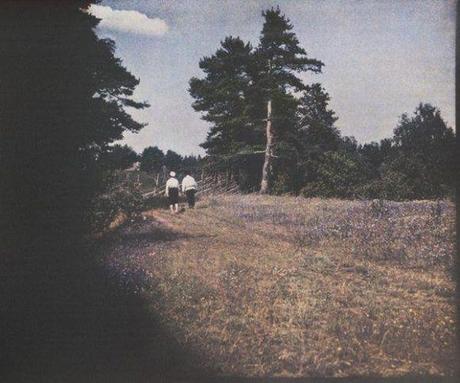 After Russia 4-1 Czech Republic, group stage.
This photograph by Leonid Andreyev, the writer and illustrator of countless Chekhov editions, comes from 'silver age' Russia: a period of tension between reactionary, fearful forces and the speedy exhilaration of modern times, which brought audiences of millions of people, transformed newspapers into media empires and created soccer stadiums as well, even though this is the aspect of that transition considered less worthy of study by the historians, happy to store our memories into digestible Polaroid equivalents. Anxiety and vertigo took hold of everyday life, mass production controlled anything that landed into the dinner plates. Football styles often regarded as idyllic as a sunshine radiating over a picnic (like Trusevich, the acrobatic goalkeeper with a family history deep in the circus and roots in the operatic city of Odessa) were about to be shattered by these new forces. A furious form of paranoia drove lavish technical details toward destruction.
It is this rift that is now played by Russia in this Euro 2012—the same fracture that makes the music of Gustav Mahler what it is, a deep breath ranging from the realm of the Elysian to kaleidoscopic cinema. Without the insisting modes of Guardiola's Fauvism, the team wants to play a system, wants to win with and for the system. Their formation is half Soviet efficiency and half belle époque, part steel and part liberty flourishes. They are not the first to see tactical things this way. One should recall at least Mircea Lucescu at Shakhtar, who has organized a robust defense by drafting tall players from Eastern Europe and a rank of skillful strikers and playmakers by assembling them mostly from Brazil and Portugal. But they are the first, in recent memory, to have brought the fracture to a standstill. Their overall shape, a 4—3—3, is in fact a cross-pollination between two distinct philosophies of the game, one counter-reactive and the other sublime for its courage and avant-gardism. Spalletti's Zenit played obviously great part in this vision, and five of the starting eleven who soundly defeated the Czech Republic in the opening fixture of their group have developed an instinctive understanding of where they could be found on the pitch at St. Petersburg. But the rising star of Dzagoev does not belong there, and the full-backs appear to be less interested in the old sword-and-buckler plot here in the national team.
Don't be fooled by comparisons with purely reactive teams like Napoli; don't let the slumbering approach deceive you either. The artistry depicted by Arshavin's passes and in the movements of his companions is richer and far more radical than in the reports of mainstream media. Like Mahler, the Russian squad concentrates on the pastoral not to glamorize the passing of time but to hint indirectly at that fracture of modern times. Unwrap the silhouettes of husbandry, and behind the shepherds you'll find the marauding Bolsheviks of old. This tournament in the Ukraine, perhaps, will seal the return to those heroic times in which, at Kiev, getting into the stadium costed too much but in the middle of German military operations you could still climb the ramparts and count on Goncharenko scoring as if it was his last day on heart; for now, Russia is playing to stamp out the possibility that finding a pair of boots at the end of a razor-cross could ever be the capricious result of chance. ♦