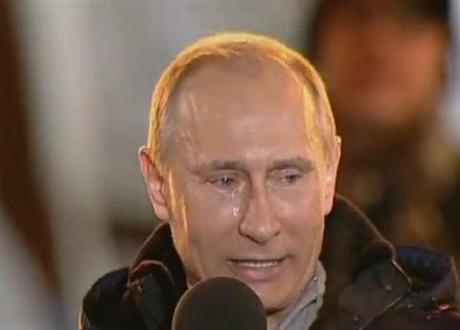 Vladimir Putin's victory speech: He's not crying, he just has something in his eye
Russian Prime Minister Vladimir Putin is set for a return to the presidency after claiming victory in the elections on Sunday. Putin, who took 63 percent of the vote in the first round, thanked supporters at a rally outside the Kremlin, and declared: "Glory to Russia."
But not everyone is celebrating. Opposition activists have reacted with fury to the result, reported Miriam Elder for The Guardian, alleging "widespread fraud", including ballot stuffing and repeat voting, as well as accusing Putin of using state-run television to boost his campaign. According to Sky News, at least 30,000 people are due to attend a "Russia Without Putin" demonstration in the capital. The Russian PM has seen a dip in popularity in recent months, partly due to allegations of serious fraud against his United Russia party in the December 2011 parliamentary elections and partly because of growing unease at the prospect of another Putin presidency.
Putin held the Russian presidency from 2000-2008, and has served as prime minister for the last four years.  He will be able to serve as president for at least six years, after outgoing president Dmitry Medvedev instigated changes to the Russian constitution to extend the term.
Legitimate victory. Russian state-owned news agency RIA Novosti quoted political experts as saying Putin's victory was convincing, and that opposition attempts to question the legitimacy of the result were all too predictable. "The elections were valid, and this is clear to everyone, even to the opposition. Even if we sum up all violations which took place – and they, naturally, did – this won't affect the existing results in any way. Putin was to win in the first round, he is just more popular. Figures are figures," said Grigory Fyodorov, first deputy secretary of the Russian Public Chamber. State-funded RT reported that the result was in line with both government and independent pre-election opinion polls, and highlighted the fact that webcams were placed in Russian polling stations to ensure fairness: "The elections can easily be calledthe most transparent in Russian history. All this makes accusations that they were unfair sound somewhat hard to believe."
Russian markets "opened on a mildly positive note" after the election result, reported The Wall Street Journal. According to the WSJ, financial analysts were concerned that the result would trigger a wave of protests, but so far, it looks as if Vladimir Putin's victory has provided a measure of stability.
Putin needs to change. A Guardian editorial agreed that the result was in line with opinion polls, but suggested that the manner of the victory was the problem: "The battle that will unfold over the next 24 hours will be less over the fact that Putin got re-elected as president than it will be over the cheating that went on." According to the editorial, the once and future Russian president needs to start taking notice of the "democratic awakening" in Russia and address the public's concerns: "His opponents know one thing: the more Putin rubs his power into their faces, the more he risks provoking the explosion nobody in Russia wants."
The big question: did Russian PM and soon-to-be President (again) Putin really cry during his victory speech? The New Yorker reported that the Russian hardman politician admitted he had shed a few tears – but only because of the wind.
Putin in the firing line. The 2012 presidential elections are a "fatal turning point for the Putin regime", argued Edward Lucas in The Telegraph, suggesting that Putin has lost the confidence of middle-class voters. "His promises of higher salaries, pensions, and state spending, are threadbare and wildly unrealistic," said Lucas. However, this doesn't mean regime change any time soon, as the opposition is still too weak. A more likely outcome is an internal power struggle: "The big danger for Mr Putin is that his ex-KGB cronies will see him as a liability more than an asset. His presidential term lasts six years in theory. I give him two," Lucas wrote.
Most political leaders are keen to cling to power, said Peter McKay in The Daily Mail – just look at UK Prime Minister David Cameron: "Putin has manipulated the system to remain in power. So has Cameron, who made a pact with the Liberal Democrats which ensures him a full, five-year Parliamentary term."
Victory raises questions. The election result leaves Russia facing two important questions, said a Financial Times editorial: how long will Putin actually serve as president; and after he does leave, would another Russian leader be capable of, or willing to, continue the "Putin system"? According to the editorial, the West must pursue a balanced strategy towards Russia: "Without interfering, it should do everything possible to help ensure the Putin era ends not in disorder, but with a calm transition to a more democratic, rules-based future."
Outgoing Russian President Dmitry Medvedev has ordered a review of the conviction of billionaire Mikhail Khodorkovsky, who has been in prison on financial charges since 2005, reported the BBC. Khodorkovsky has claimed his imprisonment was politically motivated and recently wrote a piece for The Guardian's Comment is Free calling for political change in Russia.
Russia and China: What's next? Writing on a Washington Post blog, Jackson Diehl argued that the situation in Russia mirrors that in China: both countries have autocratic regimes that have enjoyed financial prosperity and suppressed dissent; and neither regime is sustainable. "The emerging middle classes in China and Russia won't tolerate exclusion from political decision making for another 10 years," wrote Diehl. Change is "inevitable", but nobody knows how it will come about in either country, Diehl said.