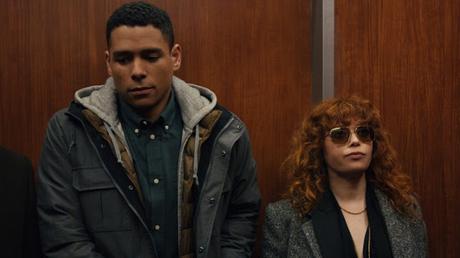 I think there are many different ways in which people can watch this show and interpret it, which speaks to Natasha Lyonne's ability to create something that reaches out so furiously and loudly. To me, this fantastic piece of storytelling, this weird tale about two people finding themselves dying over and over again, waking up again and again in the same bathroom, to act out the same things again, until their time runs out inevitably, makes the most sense seen through the idea of those breaks in human lives. Those before/after moments divide lives and turn what is usually mundane, and so far away from the structure of traditional stories, into something that may be worthy of some kind of audience for once, as traumatising or forever scarring as they may be. This is a lot clearer with Alan (Charlie Barnett) than with his polar opposite Nadia Vulvokov (Natasha Lyonne). Charlie's day which repeats over and over again is when he attempted to propose to his long-term girlfriend, only to find out that Beatrice was having an affair with a moral black hole of a man, a man who refers to himself as the hole where a choice should be. It cuts Alan's life apart, as he tries to figure out what it means, and why it happened, inbetweenst dying again and again. Nadia's repeated reawakening seems more surprising and mundane - it starts with a birthday party in her friends' apartment, a former Jewish Yeshiva, in which she makes a number of decisions that all are far from appreciating what her best friends have organised. She gets drunk and high and takes off with a man who seems awful (who later, ironically, turns out to be the very man that Beatrice is seeing behind Alan's back). She ignores a man that she used to be serious enough with to almost meet his daughter. She falls down the stairwell often enough that she believes it haunted, so that instead of investigating that idea (maybe she wouldn't fall if she weren't afraid of falling), she chooses the fire escape instead. It takes a few episodes for us to fully realize that this is not some time travel story - the true horror begins when things begin to disappear from the world, the more often Alan and Nadia die. They wake up to emptier rooms, fewer fish, fewer people, less furniture, and ripening then dying fruit and flowers. The world hasn't stopped - time is still moving forward - but all the people are arrested in the re-enactment of the same events, perhaps to teach Alan and Nadia a lesson, perhaps to pose them a question. But in a way, when they both begin to approach the mystery as some kind of riddle that requires solving, when they play with the variables, and investigate possible historical or religious meanings, things go even more wrong. The more careful they navigate their surroundings, the more inevitable death becomes. With their own theories - Alan insists that they are in purgatory because they have sinned in some way - they attempt to change their actions, or to fulfill some kind of destiny, to change what is happening. 
They resemble humanity as a whole, desperately clawing for theories and explanations for the inexplicable, endlessly horrified by the idea that something as significant as what is happening to them may have no explanation. Alan tries a hundred ways to act differently to Beatrice, but never until the end really hears her when she explains to him that she grew tired of having to care for him, for his insecurities, for his inability to think of himself enough. Nadia never quite makes it to the breakfast with her exes' daughter, as vital as it appears to her mind to share her favorite childhood book with a girl that she has never met. She even, after an episode, abandons the idea of finding the stray cat that has been visiting her but is now lost, until in the end, that cat turns out to be one of the keys. In their desperate search for meaning, they seem doomed to miss what is right in front of them - that Alan has to attempt to become a full person on his own, that Beatrice has to stop to push people away because of how her childhood has scarred her. 
And all the while, there's humour, there's absurdity, there's a truly unique way in which this kafkaesque New York nightmare ("I'd like to report a gas leak every fucking day, please. Every day I'd like to report a gas leak.") becomes something that feels profoundly personal to Natasha Lyonne, who shines, like a whole career finally coming to full fruition after so much labouring. A story that is sometimes deeply sad - when Alan realises how he died the first time, by accidentally ending up in the same spot again, with no emotional progress - or with young Nadia, somehow saving herself from a mother incapable of caring for her. 
This is a masterpiece. 
2019, created by Leslye Headland, Natasha Lyonne, Amy Poehler, starring Natasha Lyonne, Charlie Barnett, Greta Lee, Elizabeth Ashley, Jeremy Bobb, Rebecca Henderson ,Ritesh Rajan, Dascha Polanco.