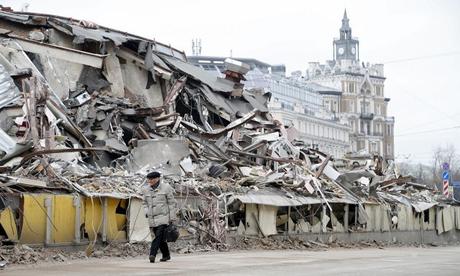 Photo: The Guardian
With shocking disregard for property rights, due process and the rule of law, overnight on February 9 the Moscow city government set out around city to raze hundreds of small businesses. The demolition took place in spite of the fact that many of these businesses had the proper paperwork to operate a business in that location, and in some cases court orders staying any proposed demolition. While the Moscow city government can rely on revenue from other sources, these kiosks and mini-malls supported hundreds of small shops that provided employment for over 2,000 Moscow residents according to the city's own estimates.
During CIPE's decades-long work in Russia, this organization's staff often heard through chamber partners that property rights were constantly under threat and that the issue of corporate raiding existed not only at the oligarch level, but was a fact of life for many entrepreneurs and small business owners. What CIPE hadn't seen to this point was such a large scale and overt taking of business property and assets by government authorities with absolutely no consideration given to the business owner.
News reports noted that many Muscovites and business owners have taken the cynical view that the city government needs to make way for new officials to establish themselves through the network of kickback schemes that enriched their predecessors. It is widely accepted that Moscow city officials allowed these structures to be built in the first place, mostly during the mid-1990s under long-time Moscow mayor Yury Luzhkov, by accepting some sort of consideration from the business owners in return for rights to build and operate on the premises.
This turn of events may signal a much darker chapter for small and medium sized businesses in the country as a new generation of bureaucrats take over civic operations, where long-agreed-upon property rights and licenses to operate are suddenly up for renegotiation. The actions of the Moscow city government show clearly that the Russian state itself is the only true owner of property in Russia.
Regardless of the process of the initial transaction, in the United States all fifty states have adopted the English common law doctrine of adverse possession through statute, which exists primarily to remedy defects in the title of real estate. While I do not profess to be an expert on Russian law, I do know that Russia's civil law-based code also contains the doctrine of adverse possession, and given the lengthy time these properties were occupied, documentation of ownership/property transfer and other factors it will be an interesting test of the judiciary system.
Eric Hontz is a Program Officer for Eurasia at CIPE.