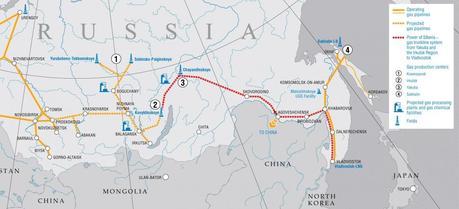 Developing gas resources and shaping gas transmission system in Eastern Russia. (Credit: Gazprom)
Alexey Miller, Chairman of the Gazprom's Management Committee and Zhou Jiping, Chairman of China National Petroleum Corporation (CNPC) signed a contract to supply pipeline gas from Russia to China via the eastern route.
The parties signed the document in the presence of Russian President Vladimir Putin and Chinese President Xi Jinping in Shanghai. The 30-year contract stipulates that 38 billion cubic meters of Russian gas will be annually supplied to China. The contract contains such major provisions as the price formula linked to oil prices and the 'take-or-pay' clause.
SEE ALSO: Richard Branson: "We Rely Too Heavily on Russia for Energy Supplies"
"Russia and China have signed the biggest contract in the entire history of the USSR and Gazprom—over 1 trillion cubic meters of gas will be supplied during a whole contractual period. Russian gas will be sold at a brand new market with a huge potential. The arrangement of Russian pipeline gas supplies is the biggest investment project on a global scale. $55 billion will be invested in the construction of production and transmission facilities in Russia. An extensive gas infrastructure network will be set up in Russia's East, which will drive the local economy forward. Great impetus will be given to entire economic sectors, namely metallurgy, pipe and machine building," said Alexey Miller.
Queen's University energy policy expert Warren Mabee commented that "in the long term, this development could soften natural gas prices in the Asia-Pacific market and erode the profitability of long-range ocean delivery."
The major gas sources are the Kovyktinskoye Gas Field in the Irkutsk Region and the Chayandinskoye Gas Field in Yakutia. Gazprom will be responsible for gas field development and construction of the gas processing plants and pipeline sections in Russia, whereas CNPC will be in charge of the construction of pipeline sections, gas storage facilities and other supporting facilities in China.
According to CNPC, the imported gas will mainly supply China's Northeast, Beijing-Tianjin-Hebei, and the Yangtze River Delta regions, helping meet increasing clean energy demand, improve air quality, optimize energy utilization structure, diversify energy imports, and drive the development of relevant industries along the pipeline.