he Rusk company was founded by Irvine and Rita Rusk and is now a part of the Conair group. Their slogan is "Fashion, Culture, Attitude" and they specialise in styling and hair care products for hair salons. However, some of their products are available directly to consumers.
We wanted to look at three popular hair dryers from the company to see how good they are. The W8less, CTC 7500 and of course the Speed Freak.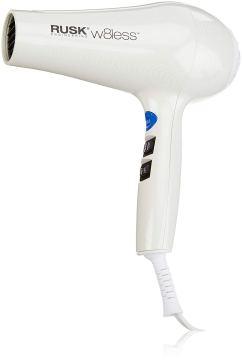 The Rusk W8Less Professional Lightweight Ceramic Tourmaline Hair Dryer is unique; not only does it have a high-powered, effective motor, but it is also incredibly lightweight. The tourmaline technology is meant to make your hair softer and shinier than conventional blow dryers. The biggest difference between the two rusk blow dryers is the weight. While the speed freak is 1.9lbs, the W8less weighs just under 1 pound.
Tech. Specs.
It weighs just 1lb!
Dimensions Handle 5"; Barrel 8" Nozzle 1 ¾" Concentrator 2" diameter
​2000 watt motor with an ion generator for power
​7 Settings which break down into Speed: High & Low Heat: Hot, Warm & Cool and a cool shot button.
8 foot long power cord (weights 40z; not swivel)
Ceramic grill filled with tourmaline
Removable filter for cleaning.
1 concentrator nozzle
What's it like to use?
Many women have commented that this particular hair dryer works well on all types of hair. One woman said that she was specifically looking for a hair dryer that wouldn't leave her fine hair in tangles, and she found exactly that in the W8Less. A lot of fine hair users said that it dried their hair quickly without causing frizz or damaging their hair.
Some hair dryers only get really hot, which works well for those with thick hair, but could bring disastrous results for those with fine hair. Fortunately, the W8Less comes with 7 heat and speed settings, so customers can adjust their dryers to the right setting for them.
The W8less dryer seems to have nailed the heat settings. The low setting is great for thin hair yet is still powerful. The hottest setting is very effective without burning your scalp.
A lot of customers online have left plenty of reviews that confirm that the W8less dries hair faster than other hair dryers. One woman even said that it dries her very thick hair in just minutes.
It is a rare combination that a hair dryer is lightweight, yet high-powered, but that is exactly what the W8Less is. One Amazon reviewer said that this would be the perfect hair dryer for anyone with nerve compression, or for anyone who struggles to hold hair dryers for longer periods of time.
Multiple users have reported that the hair dryer makes their hair shinier and softer. A woman who had only purchased drugstore hair dryers her whole life said that she had no idea what kind of difference a quality, more expensive (but not too pricey) dryer could really make. She said that her hair now feels slicker and less frizzy, now that she regularly uses the Rusk W8Less.
It is very durable. A few people said they have accidentally dropped a W8less but it did not break it. In terms of how noisy this dryer is, people say that it is much quieter than budget models and about the same as similar priced models. Check out the video below which will give you an indication to how noisy it is.
Rusk was correct when they claimed that their products will last for a long time. In one Amazon review first written in 2012, the reviewer currently said that she still loves her hair dryer and has not experienced any problems with - even after 3 years!
Any Negatives?
One minor complaint is that this model does not come with a diffuser. However, some people say that they have been using universal fit diffusers without any issues. It is worth measuring the hair dryer or take it into the store before you buy one just to make sure it fits. This hair dryer is not as hot as the speed freak so while it is fast at drying, it is not as fast as the speed freak.
A lot of the 3 star reviews on Amazon are due to people having an issue with the placement of the buttons. There are various levels of frustration at accidentally knocking the controls but generally this is not a regular problem. If it is an issue, holding the hair dryer slightly higher up the handle eliminates the problem completely. There were also a few complaints about the type of cord used on the product. It a fantastic long length but can twist and tangle if you move around.
There have been a few issues that required people to return their models due to a strong smell of plastic or it simply stopped working after a month. Some people complained that the air flow isn't even. They said that the dryer blows too hard and makes their hair really frizzy. It is worth keeping your warranty if this happens and contacting the supplier immediately.
On the questions, a few people asked about the voltage for this hair dryer. The hair dryer is a 125 voltage, and unfortunately, it isn't duel voltage like some Babyliss dryers. It is important for travelers or those who live in other countries to pay attention to this before they decide to buy this product.
Get the Rusk W8less blow dryer if ...
Get this if you are looking for a versatile dryer that can be used on a variety of different hair thicknesses and types thought it is very effective on fine hair.
The price has dropped in recent months to under $60, making it an excellent entry point into the world of professional blow dryers for home use. It is lightweight yet durable as well and should last you for years.
The wait is over. After years of trying T3, Solano, Sedu, Chi and cheapy dryers I have find the perfect model for me! My hair is fine and straight and dry it every day. I was looking for something that would dry my hair quickly but also give it volume without damaging my hair.
It is lightweight, feels great in my hands and despite what other people say, I think the buttons are ideally placed. I never have an issue with frizz when using this blow dryer. The rusk W8less hair dryer outperforms all the other premium dryers I have tried and is half the price. I cannot recommend this blow dryer enough.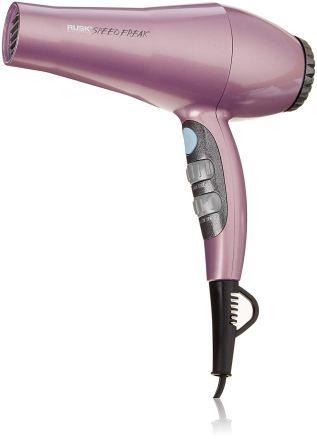 This blow dryer probably has the best name for explaining what it does well and that is dry hair incredibly quickly. In fact, it is one of the fastest on the market for blow drying hair. It has a very powerful 2000 watts but is not too noisy for all that power.
There are lots of settings on this rusk blow dryer so you can customise it to the right setting for you. The downside of so many options is that the controls can be quite confusing. Some users also complained that they kept knocking the controls with their thumb by accident. The cool button is fine though. You just need to hold the cool button down to use it but it is positioned in the ideal location to do this without any discomfort and you don't need to press hard. If you have very long thick hair then using the rusk speed freak hair dryer could save you a lot of time.
Cons
Like we said earlier, this dries your hair very quickly. You might not be surprised to hear then that this also has it also has one of the hottest air flows. A number of people have burnt themselves using it. You might want to consider using a heat protection product to protect your hair, especially if you use the concentrator. If you have kids, definitely keep them away from this dryer!
The speed freak weighs 1.9 lbs which meant some users found it to be heavy, especially during long drying sessions. They also said it feels quite slippery in your hands and is not as comfortable to hold as other dryers they have owned. One or two people with frizzy hair said it took longer to dry their hair and also made it even frizzier.
Get the Rusk Spead Freak if ...
You want a blow dryer that dries hair lightning. Especially if you have long thick hair.
I have THICK African American hair that falls down to my butt. With my old blow dryer, it took about just under an hour to dry my hair and I still had about 40 minutes of flat ironing to do to get it straight. This hair dryer gets my whole head dry, stick straight, and silky in just twenty minutes without needing a flat iron! This blow dryer gives me back seventy five minutes of my life just by using it.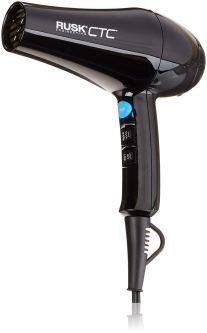 The Rusk CTC 7500 is a top performance 2000 watt Hair Dryer that is meant to last for a long time. Rusk claims that the dryer has extremely intense air pressure and airflow at 780 feet per minute.
On Amazon, the product has an impressive rating with 4.5 out 5-stars and compares well to other companies like Elchim. Customers love this hair for its ability to dry hair faster.
Comes with diffuser and concentrator nozzles
Ceramic grill filled with titanium Removable stainless filter for easy cleaning
Cold shot button
Weighs under 1 pound
Using the Dryer
Many reviewers online have agreed that the Rusk CTC is excellent for thick or coarse hair that is difficult to manage. One woman with ethnic, coarse hair noted that after using the dryer for the first time, her hair was noticeably softer and smoother than before. She said that she never believed a hair dryer could actually make her hair softer, but now she does.
Similarly, another woman said that her favorite thing about the Rusk CTC is how it blows curly hair straight. She said that her coworker uses the dryer daily and always come to work with hair that looks professionally done. This is a common theme among most of the positive Amazon reviews.
Women also love how less time-consuming the Rusk CTC is. Women with difficult to manage hair agree that their hair styling time is nearly cut in half when they use this dryer.
Negative Comments
Though many women with thick or curly hair have had a lot of positive words to say about this product, a few of them said that they still had to use a flat-iron to touch up their ends. In one review, a woman wrote that she was really hoping that this hair dryer would solve that problem for her.
A common recurring complaint is to do with the attachments coming off during use. A few people said this was especially true when used on the highest air setting. If you use attachments a lot, this is worth considering.
An Australian customer complained that because the dryer can only be used with 110 volts, it didn't work for her, as Australia uses 240 volts. She said that she could find no warning about this anywhere on the Amazon page, even in the specifications. This was especially upsetting to her, because she read that their was available shipping in Australia. This is very important for people from countries to note.
Some people who complaints about the product even had said that they were so minimal that they were willing to compromise because they were so happy with it.
Get the CTC Lite if ...
Overall, the Rusk CTC Lite is ideal for ladies with very thick, curly or coarse hair who normally spend ages drying their hair. This is the perfect time saving buy for any woman who struggles with hair that is hard to keep up with.