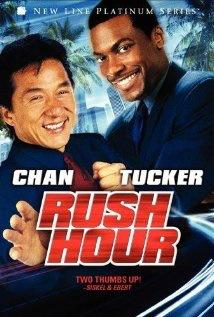 Director: Brett Ratner
Writer: Jim Kouf, Ross LaManna (Screenplay) Ross LaManna (Story)
Starring: Jackie Chan, Chris Tucker, Tom Wilkinson, Tzi Ma, Chris Penn, Ken Leung, Rex Linn, Elizabeth Pena, Philip Baker Hall, John Hawkes
Plot: Two cops team up to get back a kidnapped daughter.
There may be spoilers the rest of the review
Verdict: Classic Entertainment
Story: Rush Hour starts by showing Officer Lee (Chan) closing a big case for his boss Consul Han (Ma) who is leaving the city in the hands of Griffin (Wilkinson). Moving to Los Angeles we meet Carter (Tucker) an undercover officer who shows he is all talk but capable of completing the job. Consul Han starting his new job in Los Angeles when his daughter is kidnapped, with the FBI involved Han wants his own man involved. This brings Lee over but when the FBI want to leave him out the picture they call the LAPD leading to Carter being put on the assignment as a punishment.
Carter talks too much believing that Lee doesn't speak any English leading to the comedy tension between the two starting early. Carter and Lee being pushed off the case decide to look into the case on their own free will. They couple find themselves in the middle of the battle after Lee loses Carter. When it becomes apparent that Lee is going to be up against an old enemy Sang (Leung) it becomes clear that the kidnapping is personal.
Carter and Lee have to put aside their differences and go against the orders of the FBI to save the girl from the infamous yet elusive Juntao.
Rush Hour is a style of film that put together correctly works to high levels, Rush Hour reaches those levels with the brilliant pairing of Jackie Chan and Chris Tucker. The story is simple to follow and relies on the twos action to keep us entertained. It will go down as one of the last great buddy cop films because certain parts wouldn't be accepted in the cinema nowadays. We get to see Tucker's wise cracking joking spitting character mix with Chan's all action character to give us a great blend of comedy and action that really keeps us fully entertained. (9/10)
Actor Review
Jackie Chan: Lee brilliant detective from China who gets bought to America to help find the kidnapped daughter, but once there he gets treated like a tourist. He ends up teaming up with the unlikely Carter to make for a great team when it comes to solving the kidnapping. Jackie is always going to give us great action scenes but moving his style into comedy worked perfectly here. (8/10)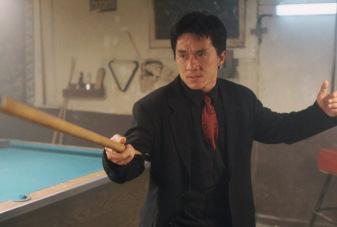 Chris Tucker: Carter loud talking streetwise detective who's against the books techniques lands him on babysitting duties with Lee. Carter's connections do end up helping solve the kidnapping. Chris does a good job to create a character that you actually hate but love at the same time because when it comes down to business he always comes through. (8/10)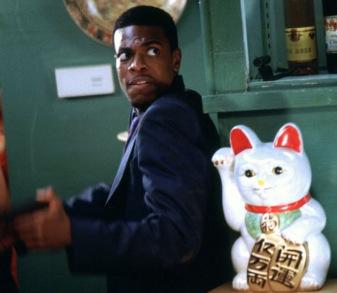 Tom Wilkinson: Griffin/Juntao we do see Griffin as a friend of the Consul but we do also see that he is the infamous Juntao who is the evil businessman. Tom gives a solid performance as the typical generic evil business man. (6/10)
Ken Leung: Sang the main henchman for Juntao, he ends up going up against Lee on multiple occasions always seeming escaping the duel. Ken does a good job but we are waiting for a battle between him and Lee which never happens. (7/10)
Support Cast: Rush Hour has a supporting cast that includes the FBI who are the typical stupid characters. The Consul and his family who play the victims well. We also have the typical henchman there to give Jackie Chan a chance to kick ass.
Director Review: Brett Ratner – Brett does a good job directing this action comedy that still feels fresh today over 15 years later. (8/10)
Action: Rush Hour has plenty of fight scenes, chase scenes and a giant shoot out at the end which all work well for the genre. (9/10)
Comedy: Rush Hour has plenty of laughs through the clashes in culture between the two leads. (8/10)
Thriller: Rush Hour doesn't have the thriller level that the story could have but this is more about the comedy anyway. (5/10)
Chemistry: Rush Hour uses Chan and Tucker's chemistry to make this film a stand out 90s film. (9/10)
Settings: Rush Hour LA always makes for a good setting but we don't see any landmarks that make the settings truly memorable. (5/10)
Suggestion: Rush Hour has to really be seen at least once by everyone it has a great blend of action and comedy. (Watch)
Best Part: Restaurant fight scene.
Worst Part: Tucker can get annoying at times.
Action Scene Of The Film: Restaurant fight.
Funniest Scene: Lee breaks into the consul's home.
Believability: No (0/10)
Chances of Tears: No (0/10)
Chances of Sequel: Has 2
Post Credits Scene: Bloopers through the credits.
Similar Too: 48 Hours
Oscar Chances: No
Box Office: $244 Million
Budget: $33 Million
Runtime: 1 Hour 33 Minutes
Tagline: Pals Forever. If they can get past today.
Trivia: According to director Brett Ratner, this film is the first one released in the U.S. featuring Jackie Chan in an English-speaking role without any kind of dubbing. According to Ratner, before this film Chan always had his voice dubbed over in his English-speaking roles because of his uncertainty in speaking the language. For this film, however, Ratner convinced him to forgo the dubbing as it would lend to the authenticity of his character.
Overall: Buddy Cop Comedy Entertainment
Rating