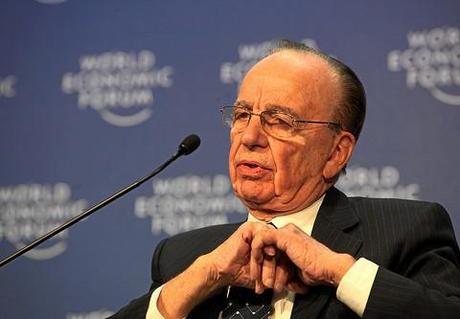 Rupert Murdoch
. Photocredit: World Economic Forum
The background
Rupert Murdoch's media empire is due to be split. His publishing, education and Australian branches (will be separated from his television companies. Murdoch claims that it has nothing to do with the recent phone hacking scandal, which saw the News of the World (a Murdoch paper) closed. Rupert Murdoch will be chairman of both companies, and CEO of the entertainment company. The Murdoch family is expected to keep control of both companies. Investors are keen – shares in News Corp have gone up 9 per cent already.
The entertainment arm is the profitable one, valued at £47 billion; the publishing one, by contrast, has declining revenues as the newspaper industry struggles. Murdoch's newspapers include The Wall Street Journal, The Times, The Sunday Times, The Sun, and the New York Post; he also owns the publishing house Harper Collins.  The entertainment side contains Fox broadcasting, satellite stations, and 20th Century Fox. The move to split the company came after News Corp's board voted unanimously on the matter. Commentators are wondering whether he will continue to put his efforts into the print side; he's CEO of the larger, entertainment side for a reason, but he won't go down without a fight, is the consensus.
"It's difficult to imagine any other reason for doing this other than to isolate [the papers] with a view to sale," said Simon Davis, CEO of Walker Media," quoted on The Independent.
 The publishing side will continue to interest Murdoch
Michael Wolff in The Guardian said that the company had made a real effort to pretend that this was a long-debated move, and not in response to the phone hacking scandal. This obviously isn't true. Nothing is even settled yet. He may even be hoping that it might not have to happen. His CEO role of the entertainment side "has more ritual than operating significance"; he will continue to lavish his love on the publishing side. The Murdochs are "incapable" of not struggling. "The fun is just beginning."
No, the publishing side will die
Ian Burrell in The Independent disagreed. He said that despite Murdoch's "bullish" talk, it was clear that the newspaper arm of his business will struggle. He's put up the price of The Sunday Times; circulation of The Sun is down 8 per cent. There's still damage to be expected from police inquiries into phone hacking.
Murdoch is a chameleon
Murdoch's "endured more crises" than "Richard Nixon and Odysseus combined," said Jack Shafer in Reuters Magazine. He's even been called "not fit" to run an international company by "the British Parliament." He "craves competition." He's very good at changing himself to meet opportunities. This split is "a trap door that will either send his enemies to the dungeon or provide for his own escape."
Murdoch is disposing of a non core asset
But it's not even a split, said Rob Cox on Slate. The print half doesn't even amount to 6 per cent of the media half's value. The print side "may punch above its weight in influence." But really it's "disposal of a non-core asset." That side will produce $362 million of income in the coming year – 11 per cent of the profit from the entertainment side. Basically, they're jettisoning "an unwanted liability."