Runcorn presented itself to me like the perfect diversion before I made it to Liverpool, that Cheshire town had me walking through a former television set. Of course, I asked for 'Two Pints Of Lager & A Packet Of Crisps? Keeping things loyal to the show, I kept things local with a 'Pound Bakery' breakfast! Promise this, Runcorn's cascade of rain-showers didn't impress me!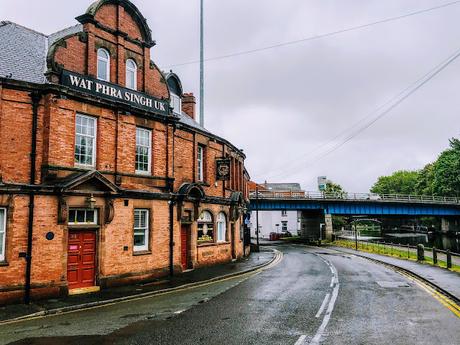 Runcorn wasn't going to complicate things, with the train passing through that town on the way to Liverpool, I made the decision to challenge myself with a little 'self-guided' visit. Each and every time before that 2022 moment, I had passed 'Runcorn' on the train with a sense of curiosity surrounding that former 'BBC' comedy series. Being breakfast time, I thought it would be best to have a walk around the town center before finding the nearest Wetherspoons. Greeted with an almighty downpour, I waited inside Runcorn's 'pint-sized' train station because there wasn't any chance I would be getting drenched! No! I had done my research about the 'Two Pints' filming locations that were all in Runcorn, something told me that keeping things within the town center would provide me with enough of an opportunity to see the exteriors with ease. My first landmark had to be the 'pub' that's featured in the opening credits of 'Two Pints'. Filmed exclusively in Runcorn, sure I saw an impressive amount of the town quite quickly! Let's get it!
After a few paces from Runcorn's train station, I was able to see the former 'Archer Hotel' from my 'Waterloo Bridge' position. Contrary to report, the former public house was only used for exterior shots during the filming of 'Two Points', taking things seriously I had my sources covered having done some research. Present day, the former actual pub stood as a 'Buddhist Temple' with the name 'Wat Phra Singh UK'. Of course, imagining the popular former use of that once pub had me remembering the show, regardless of that current spiritual use. What would 'Gaz' and 'Johnny' make of the 'Archer Hotel' being a 'Buddhist Temple' rather than their local pub? The 'Bridgewater Canal' sat right next to the former filming location with the same energy found on the show, the visit was definitely a random choice but it was great to see Runcorn for real! Even though the 'Archer Hotel' was no more, the present day purpose of the building served a sense of healing. Places evolve with the times, that was evident! Runcorn, I'm hungry!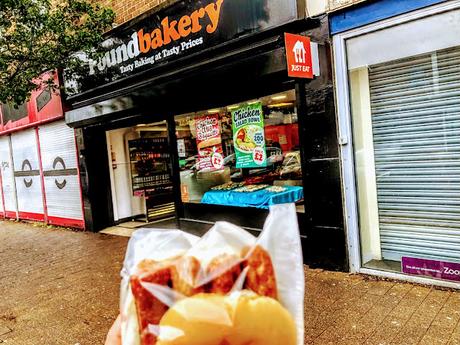 Taking things from that former iconic 'pub', I made my way to 'Church Street' to see two landmarks in one! Firstly, I was able to catch a glimpse of 'Gaz's Flat' with yet another 'like for like' sighting. Half looking like a crazy person, I took my photo of that former fiction 'Bachelor Pad'. Respecting the privacy of those who currently reside in that property, I didn't feel it was necessary to include that image in this blog feature. Runcorn had an honest vibe, it didn't have an agenda. Constantly being served up vibes from 'Two Pints', it was honestly like walking into the set of that former 'comedy series'. Before constructing this blog, I went back to the beginning of the 'Two Pints' journey to recapture those exterior filming locations, sure a greater sense was gained. Typically tourist, I did try my best to stay on the 'down low' because I sensed Runcorn didn't possess 'tourist trap settings'. Was there a tenant in 'Gaz's Flat?' I definitely didn't linger or loiter around that Church Street corner, would you? Anyway, where was that breakfast spot?
Featured in the opening credits with occasional mentions in the show, 'Janet Keogh's' work location became something of a point of reference. That 'Pound Bakery' was most certainly on my list, without a doubt I was well up for a spot of breakfast from that working establishment. Known as the working woman, 'Janet' would work in the bakery during the series with the emphasis played that she worked and 'Johnny' most certainly did not! Walking into the Church Street 'Pound Bakery' had me listening to those 'Scouse-like' conversations, I checked my location because I hadn't yet set foot in Liverpool. Oh, they were speaking with 'similar' tones! Making my choice, I bought a 'sausage butty' because I wanted one! Crossing off another 'Two Pints' location had me feeling very smug, I went undetected from place to place. Loving the 'down to earth' nature of Runcorn's Pound Bakery had me feeling closer to the former TV Series! With the 'Pub', 'Gaz's Flat' and 'Janet's Workplace' bossed, which location would follow next, R?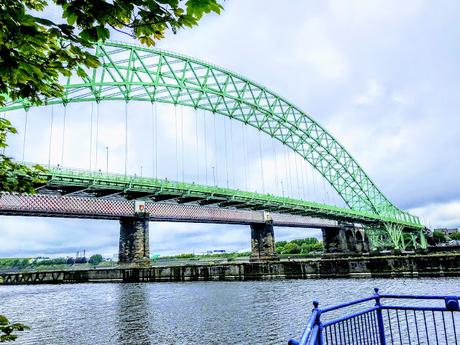 Spanning the width of the mighty 'River Mersey' next to Runcorn, the 'Silver Jubilee Bridge' already had my attention! During those former Liverpool train arrivals, my former train services would cross the 'Mersey' with a window side view of that 'emerald green' shade bridge. Adding another arched bridge to my list, I took great care to find yet another reference from the legacy of 'Two Pints'. That cult part of the opening credits really should have put Runcorn on the map, for me I know it was one of the reasons why I had switched up my 2022 return to Liverpool. The rain had dampened the ground that covered the industrial looking 'Runcorn Promenade' but I wasn't mad about that addition to my 'River Mersey' view. Opening in 1961, Runcorn's Silver Jubilee Bridge replaced the former 'Widnes-Runcorn Transporter Bridge'. After a little bit of post-Runcorn research, I have gone on to find out that the second piece of water beside the Mersey was in-fact the 'Manchester Ship Canal' Runcorn had me connecting with the Mersey! 
Walking away from the Silver Jubilee Bridge along Runcorn Promenade had me fronting several rows of houses that reminded me of the show once more! With the arched nature of that 'green' Silver Jubilee Bridge in the shadows, I had my own view of the show 'Two Pints' without any BBC channel switched one! With everything viewed in real-life, I soaked in the feeling of 'Lord Street' as I made my way back to the Wetherspoons on Church Street. There would be a day in the week ahead for me to binge watch 'Two Pints' without any shame felt! Trust and believe! Surprisingly, my morning in Runcorn had been full-packed without denting my day all that much! I did pass a few pubs on my way to the Wetherspoons but one stuck out to me, 'The Clarendon' did resemble the show because the corner pub had mirrored such nighttime scenes from 'Two Pints'. The 'Fab Five' best get back together for a 'Last Orders' reboot because those 'Runcorn' laughs are very much needed! Feeling thirsty, I needed to make one final request. Oh!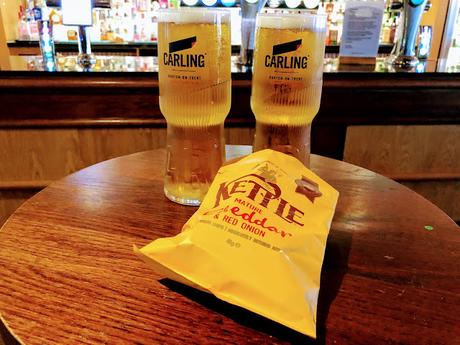 Walking into the 'Ferry Boat' along Church Street saw me uttering those famous 'cult' words from the show, 'Two Pints'. Without any shame, I asked the lady who was behind the bar for 'Two Pints Of Lager & A Packet Of Crisps? Her face did adopt a puzzled expression for a few seconds but in my defence, I did forewarn her that my request was going to sound cheesy! I had to order those pints and crisps whilst I was still in Runcorn, like where would 'Johnny' be able to afford to drink at with his 'Universal Credit?' It had to be a Wetherspoons! I chose to drink two pints of Carling, the crisp department served me well with a snack of the 'Kettle' kind! Of course, I loved people watching and then some! My pints were just right, the crisps had me fulfilling my 'Two Pints' experience without any questions! I could totally envisage 'Gaz' and 'Johnny' both sat down with their respective 'Two Pints' and that famous 'Packet Of Crisps!' Absolutely, Runcorn's 'Ferry Boat' served me with some sights but with my 'Two Pints' I was in no place to judge! Sure! 
Please believe me, I definitely don't make morning drinking a regular thing! It was after-all in the name of research, those 'Two Pints' and the 'Packet Of Crisps' might have been consumed before 10 in the morning because it was all in the name of the show! Runcorn served me with five prime locations and moments, the former 'BBC' show had been brought to life for me in that Cheshire town with less than ten pounds spent all morning! I was able to meet again with the Mersey, after some five years away from that part of the country, 'Two Pints' added something different to my almost 'Merseyside' experience! I will always be glad to know that I challenged a road less travelled, Runcorn isn't a tourist destination but a former filming location, I made those 'telly sights' count for something! Now, I would love to see a 'present day' version of 'Two Pints' back on my screen in the near future! Get 'Sheridan Smith' back in the fold and then there's a better chance 'Last Orders' might happen! Back on the train, Liverpool called me back! 
I'll Have A Cold Wet Glass With Bubbles In It! 
Desperately Seeking Adventure